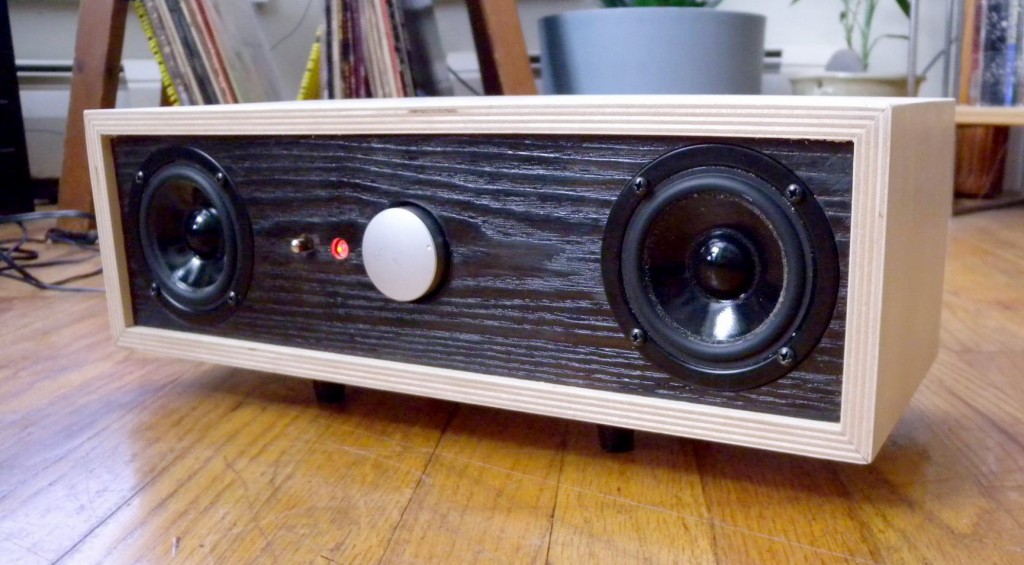 Aries Bluetooth Stereo
---
Designer:
4Matdesign
Project Category:
Home Electronics
Project Level:
Intermediate
Project Time:
8-20 Hours
Project Cost:
$100 – $500
Project Description:
A countertop/shelf mini Bluetooth stereo with several case material options to suit any space.
Design Goals:
My goal was to design a mini amplifier speaker unit that incorporates bluetooth for modern convenience while embracing the classic styling from the 1970-80's. Maximum sound quality and output in the smallest case were a must. This device connects to a laptop, smart-phone or the 1/8″ cable for direct input. using materials of local wood or concrete results in a more natural alternative to the black plastic 'boom tubes" and soundbars
Driver Selection:
Dayton Audio DSA90-8 3″ Designer Series Aluminum Cone Full-Range Driver 8 Ohm
Dayton Audio DS90-8 3″ Designer Series Full-Range Driver 8 Ohm
Enclosure Design:
The concept was to fit the 3″ drivers into the smallest case possible while still keeping the optimum speaker box size with venting. The result was a 16″ long x 6.5″ deep x 5″ tall without legs. The wall panels to be 1/2″ thick. Starting with Baltic Birch plywood for the beta version, a charred local white ash face plate was fabricated. Next was a solid cherry case for both box and face plate. Lastly a Concrete box with charred white ash wood face was created.
Front panel includes direct power source switch and light indicator as well as master volume knob. Rear panel has a 2.5mm power jack and 1/8″ input cable.
Tips & Tricks:
Wire your speakers polarity correct.
Conclusion:
The case design and styling was of equal importance to the sound quality. I had to struggle to achieve this. The wool batting was changed to polyfill with better results. Still testing the concrete unit for sound quality but the cherry sounds great… chosen for its local availability and resonance.
About the Designer:
I'm an Architect with a new found interest in recreating 1970-80's audio with modern convenience and classic styling.
Project Parts List: