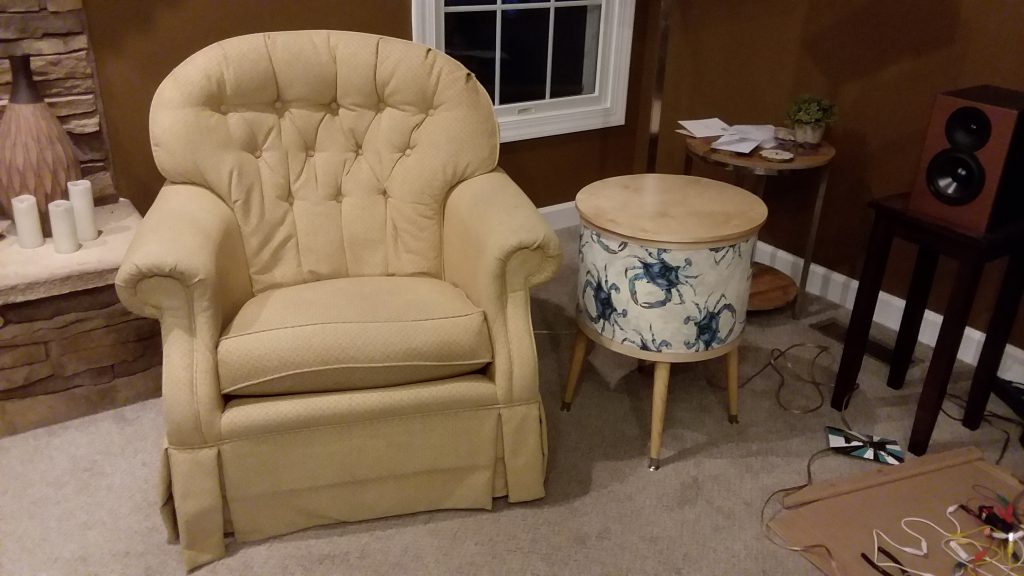 Crab Pot Subwoofer
---
Designer:
Colonel7
Project Category:
Subwoofers
Project Level:
Intermediate
Project Time:
8-20 Hours
Project Cost:
$100 – $500
Project Description:
The Crab Pot Subwoofer. It is a downfiring 12″ high excursion subwoofer that doubles as a unique drum style table. The fabric is decorated with blue claw crabs that are native to Maryland.
Design Goals:
A sealed subwoofer that can produce any orchestral music and has good in-room low frequency output when watching movies.
Driver Selection:
I chose the GRS12SW-4HE (Part #292-820). This high excursion driver models well in a sealed configuration with a bass boost to get good and low in-room response.
Enclosure Design:
The enclosure is made from a 16″ concrete tube form, commonly called a sonosub. An 18″ form would have been better for ease of leg placement but are difficult to source right now. The enclosure is ~1.2 cubic feet, stuffed with a pound of polyfil, and has 3 vertical 7/8″ dowels for additional bracing. The tabletop is 1/2″ mdf to close the tube and is topped with a 1/2″ piece of birch veneered 18″ circumference plywood. The baffle is 1/2″ mdf glued and backed by 3/4″ plywood. The driver is secured with hex nuts. The tube has batting glued to it with 3M 77 adhesive spray and then an outdoor fabric glued the same way. The banding is made from additional cuts of the concrete tub with veneered edge banding ironed on. Finish is 2 coats of natural Danish oil and 4 coats of wipe-on polyurethane.
Enclosure Assembly:
Baffle and top of the sonosub were secured with wood screws and a combination of wood glue and liquid nails. I went with the dowels but the concrete form without it is still incredibly strong because of the cylinder shape. Once finished it is about 35 lbs.
Tips & Tricks:
Using a concrete form requires a lot of patience. My 16″ form was a shade over 16.5″ on average. I say on average because it is not nearly perfectly round when you purchase it and can even vary somewhat in the same tube.
Conclusion:
A fun project that adds a lot of low frequency presence and is a conversation starter too. Plus it's a great place to put my coffee.
About the Designer:
I enjoy all things DIY when it comes to audio and would much rather have less than perfect results with something I designed and made. I'll always think it sounds better than a finished commercial product anyway.