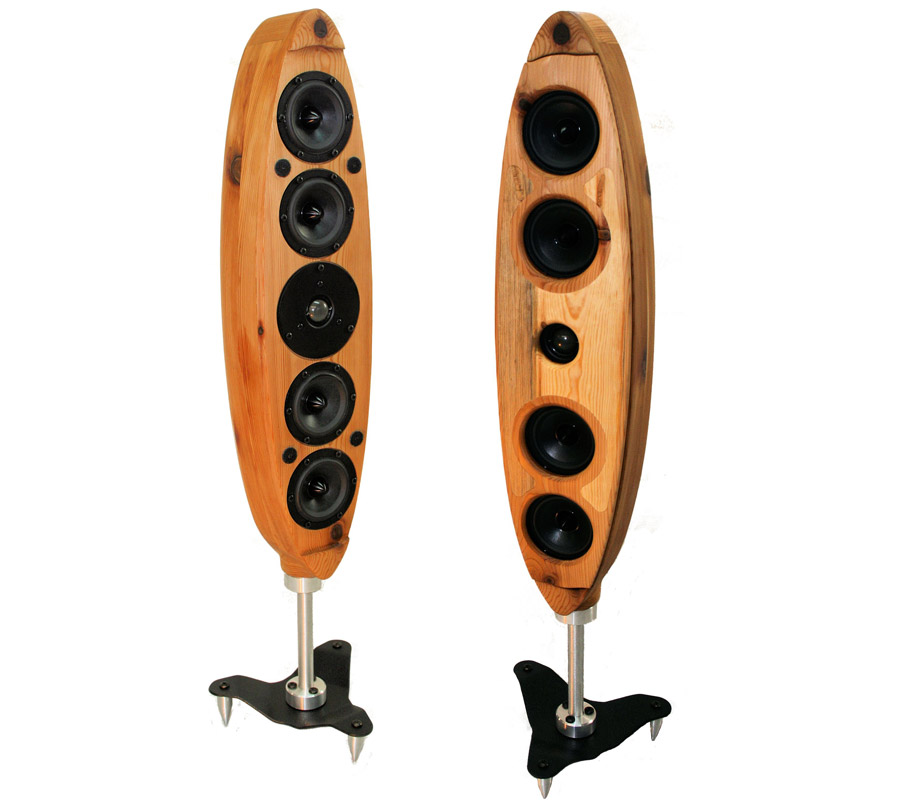 E104
---
Designer: Bret A. Britz

Project Time: 20+ hours
Project Complexity: Advanced
Project cost: $600
Design Goals
I have always liked building speaker enclosures but so much of the traditional design is based on rectangular shaped or similar squared edged enclosures. I wanted to attempt something a little different while still being maintaining a quality, rigid enclosure and would also challenge my wood working skill level. The enclosures are intended to be of smaller design to maintain a small footprint that can be used at most locations in a home and since subwoofers are popular, these will lend themselves nicely to a properly used subwoofer to add low end dynamics while providing quality musical sound throughout the remainder of the listening range.
Driver selection
The E104 speaker uses 4 Dayton Audio RS100-4, 4" woofers and 1 Dayton Audio DC28F, 1-1/8: silk tweeter per enclosure. The design intent was to develop a reasonably small enclosure and still maintain the quality bass and upper midrange. The RS100-4 woofers are closer in size to a 3" woofer than a 4" woofer so I wanted a quantity of 4 to compensate for their small size and limited bass. Dayton Audio has always been one of my favorite manufacturers since I know I will always get a quality product at a fair price.
Enclosure Design
The enclosure is a closed box design with a Qtc at 0.77. I wanted to stay reasonably neutral for the bass dynamics and was focused on quality sound reproduction rather than boomy or bright. The natural box roll off is around 120 Hz so these speakers lend themselves to a quality powered subwoofer to hit the lowest lows without overdriving the 4" woofers. I analyzed many woofers and enclosure types to find a compact combination and ended with the most simple of all, a closed box design that provides quality full range sound and being a good size to fit most any location within the home.
Enclosure Assembly
The enclosure itself is made from White Cedar and the faceplate has a Blue Pine inlay. Both are soft woods and are native to northern Washington State. Several of the parts were made using a CNC router but my design approach did not require CNC and traditional shop tools can be used. I also wanted to design a box that was to not a typical rectangular shape so I started with an ellipse and made the box more organic yet functional. The enclosure is held together using white wood glue. All surfaces were planed and sanded flat, glued, and clamped using lots of clamps. While the individual cutouts gave initial shape to the box, the final shape was sanded to sculpt the organic appearance. Many traditional sanding steps were used and finished with 600 grit in order to bring out the natural gloss of the wood. The final finish was simply a clear wax, although for a more durable finish, a polyurethane or similar could have been used. The stand was machined aluminum with the exception of the mounting plate which was 12 gage CRS.
Amplifier and Crossover
These speakers have a single input and utilize an off the shelf crossover. The crossover I choose was a Dayton Audio XO2W-3K and wired with speaker grade 14 gauge wire. The wiring for the woofers was parallel for each grouping of 2 and in series with the second 2 for a 4 Ohm load. The tweeter measures about 6 Ohms and the final crossover option was set for the 4 Ohm load. Based on the driver specifications, these speakers can be driven at 30W RMS with an estimated max at about 45 watts. I drove these to what I considered 'danger threshold' using an Audio Source A110 amplifier and they were clean with no distortion and probably had watts to spare.
Conclusion
Bottom line, anytime you get to play in a shop and make a set of speakers, it's always a blast. My intent for the E104s is to make detailed plans along with digital files that are available now at BritzDesigns on ETSY others could also enjoy building these as well. This was a fun and rewarding project and anyone who attempts these will not be disappointed. If you would like additional information, you can also find me at BritzDesigns on Facebook and YouTube.
About the Designer
Bret A. Britz is a professional Mechanical Engineer with degrees in Mechanical Engineering, Physics, and Business (MBA). He currently works in the high technology networking industry and in his spare time enjoys wood and metal working. Bret has been building speaker enclosures as a hobby for many years and has recently designed various non-standard shaped enclosures that make use of quality components. Bret lives in Spokane, WA with his lovely wife and 2 children.