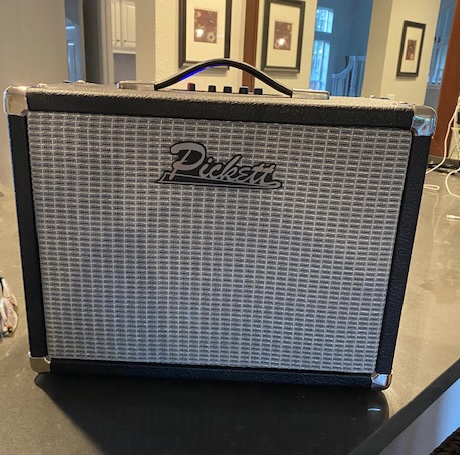 Fender Style BlastBox
---
Designer:
Chris Pickett



Project Category:
Portable Speakers



Project Level:
Intermediate



Project Time:
20+ Hours



Project Cost:
$100-$500
Project Description:
 I built two BlastBox kits for Christmas presents and I wanted to modify the standard BlastBox kit to pay tribute to Fender amps. Both of the of the people I'm giving them to are musicians, so they' really loved the final product.


Design Goals:
Keep the enclosure dimensions standard for sound quality purposes, but to have it look like a standard Fender amp. Also add the battery level and an auxiliary input. Lastly, I didn't like the way the standard box puts the amp dead center of the box. I wanted to move them towards the back, as they are with many Fender style amps, and so that they wouldn't be in the way of the handle.
Driver Selection:
Stock Kit
Enclosure Design:
Stock Kit
Crossover Design:
Stock Kit
Tips & Tricks:
 I watched a lot of YouTube videos on how to wrap amp cases… it's an art for sure, so I made two small practice boxes to figure it out. By the end my corners were pretty darn good. With the metal corner covers they don't have to be perfect, but I wanted to see how good I could get them. Lastly, by upgrading the battery board, you need to shift the locations of it and the crossovers. I stressed over all that but it tuned out okay. 😀
Conclusion:
Loved the build process… lots of problem solving to make it look right. Learned how to wrap the amp and was really happy with the final results. LASTLY, this thing sounds awesome! To my ear it can sound a bit "bright", but either the right adjustments you can dial it in pretty nicely. Both people that got the amps love them and their friends all want to know where to get one.
About the Designer:
 Woodworking background, filth and sixth kit build.

Project Parts List:
| | | |
| --- | --- | --- |
| Part # | Description | Qty. |
| 300-7162 | Blast Box 200 Watt Portable Bluetooth Speaker Kit | 1 |