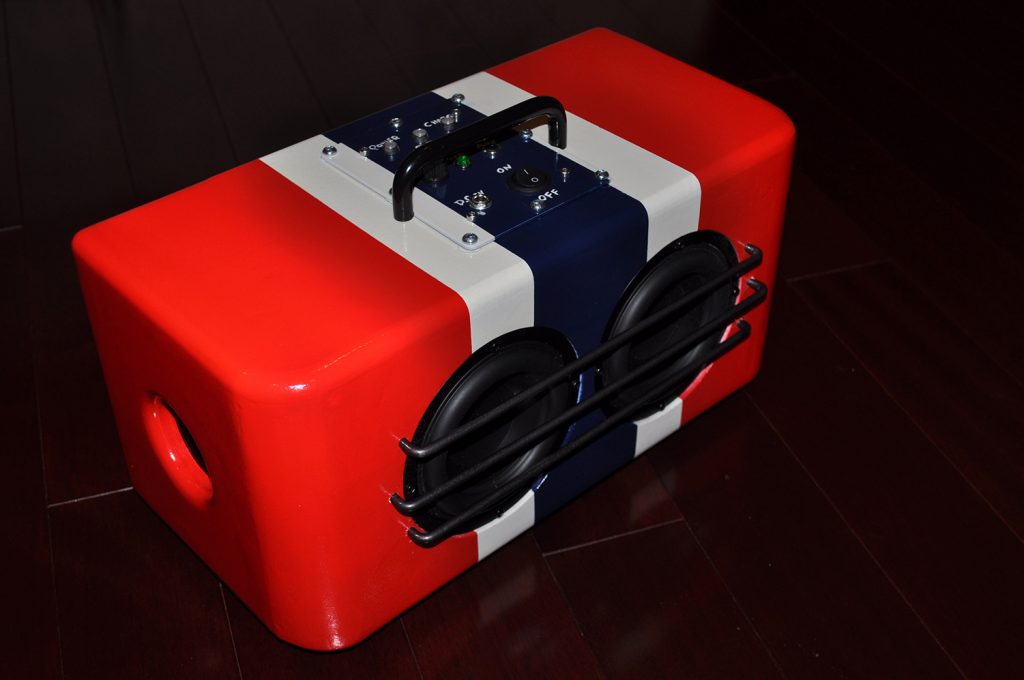 Habs Speaker
---
Designer:
cmro327
Project Category:
Portable Speakers
Project Level:
Beginner
Project Time:
8-20 Hours
Project Cost:
$100 – $500
Project Description:
An X-Mas present for my daughter the Montreal Canadians fan (even if I'm not).
Design Goals:
Had to be portable to bring it to the rink. Durable in case of an inadvertent high stick or rogue puck. Loud enough to be heard over screaming 8 year old's during the pre-game. Lastly, cool enough that it wont embarrass her in front of her team mates.
Driver Selection:
GRS 1TD1-8 1″ Dome Tweeter 8 Ohm x2
Dayton Audio TCP115-8 4″ Treated Paper Cone Midbass Woofer 8 x2
Enclosure Design:
5/8″ MDF, measures about 11″x6″x6″, front corners are a kerfed curves, interior lined with 1″ OC ridgid fiberglass. Tweeters are interior mounted on the sides (likely breaking some sort of acoustic law I realize).
Enclosure Assembly:
A whole lot of glue and routing with the rabbit bit. Routed edges sealed with drywall compound then multiple coast of primer, sanding, then spray painted.
Crossover Design:
Crossovers are assembled Uxcell 130W 2-Way at 3500Hz.
Tips & Tricks:
Hadn't tried kerfing corners before, definite trial and error, but the end results were great.
Conclusion:
We'll see on X-Mas morning!
About the Designer:
I seem to enjoy these projects more and more the older I get. A great mental outlet and stress reliever from my policing job.
Project Parts List: