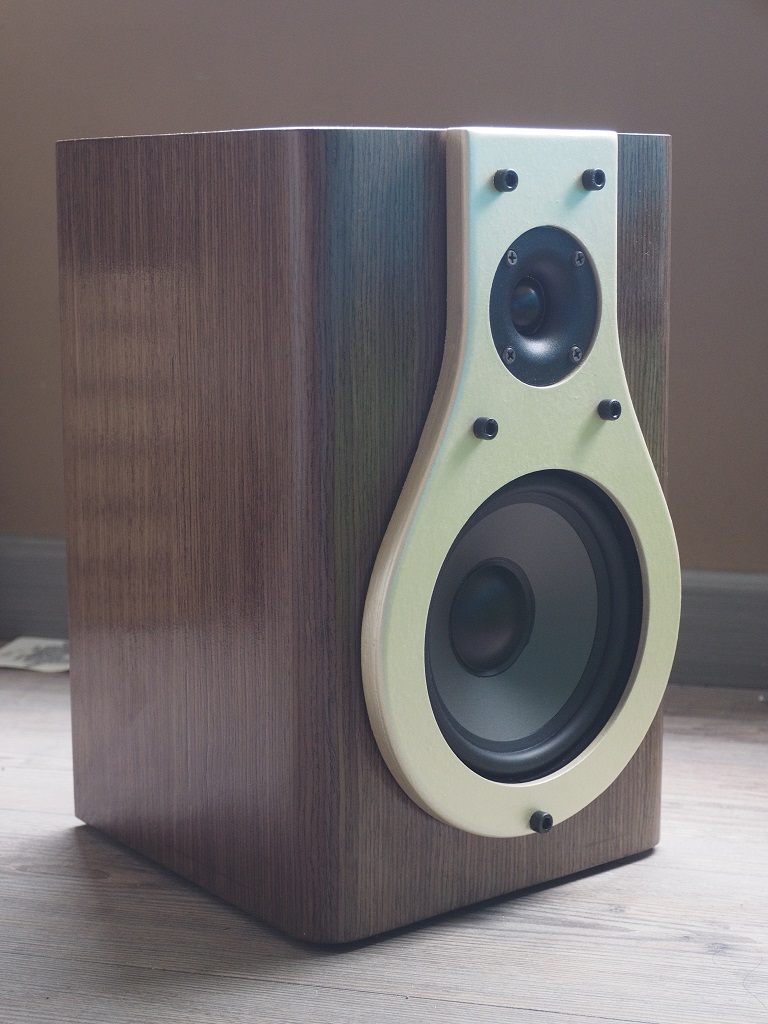 Little Infinity
---
Designer:
Heldesign
Project Category:
Bookshelf Speakers
Project Level:
Intermediate
Project Time:
8-20 Hours
Project Cost:
Under $100
Project Description:
Bookshelf speakers based on Infinity SM 85 crossovers for my son's room and his Kenwood RXD-C3 compact system
Design Goals:
The idea was to reuse some crossovers from Infinity SM 85 speakers. Due to the limited space available, they were made with 6-inch drivers, which would look modern and attractive with a good sound.
Driver Selection:
I used a 6-inch midwoofer and a 1-inch tweeter with a small base to accommodate the design I had already developed. They had to be 4 ohm like the Infinity originals. I chose a Peerless by Tymphany BC25SC06-04 1″ Textile Dome Tweeter and a 6-1/2″ Poly Cone Woofer 4 Ohm Midbass
Enclosure Design:
The design I developed is trapezoidal to avoid some internal refractions with a reflex port on the back and a cover that will help me hide the edges of the woofer in a contrasting tone with the box. Use dark brown veneer on the box with a gloss lacquer finish and an almond-tone metallic vinyl for the lid.
Enclosure Assembly:
The box was assembled using only carpentry glue, it was made of 15mm MDF for the whole box and it was lined with gloss catalyzed lacquered Oak veneer. The top was also made of MDF and finished with metallic almond vinyl.
Crossover Design:
used a couple of Infinity SM85 speaker crossovers
Tips & Tricks:
Nothing should be wasted, reuse as much material as possible. the minimum thickness of the box material must be 18 mm. Always try to do the best possible finishes, you will not regret it.
Conclusion:
I achieved my goal, the boxes were modern, the sound is very decent, they complement the kenwood very well. The negative is that as I use 15 mm MDF there is a bit of resonance from the boxes, they have good padding material, I am thinking of reinforcing the interior walls but it would reduce the interior volume, for now I leave them like that, I am very satisfied.
About the Designer:
I am an Industrial designer, lover of good audio. I have been working with wood for some time.
Project Parts List:
| | | |
| --- | --- | --- |
| Part # | Description | Qty |
| 299-609 | 6-1/2″ Poly Cone Midbass Woofer 4 Ohm | 1 |
| 264-1028 | Peerless by Tymphany BC25SC06-04 1″ Textile Dome Tweeter | 1 |