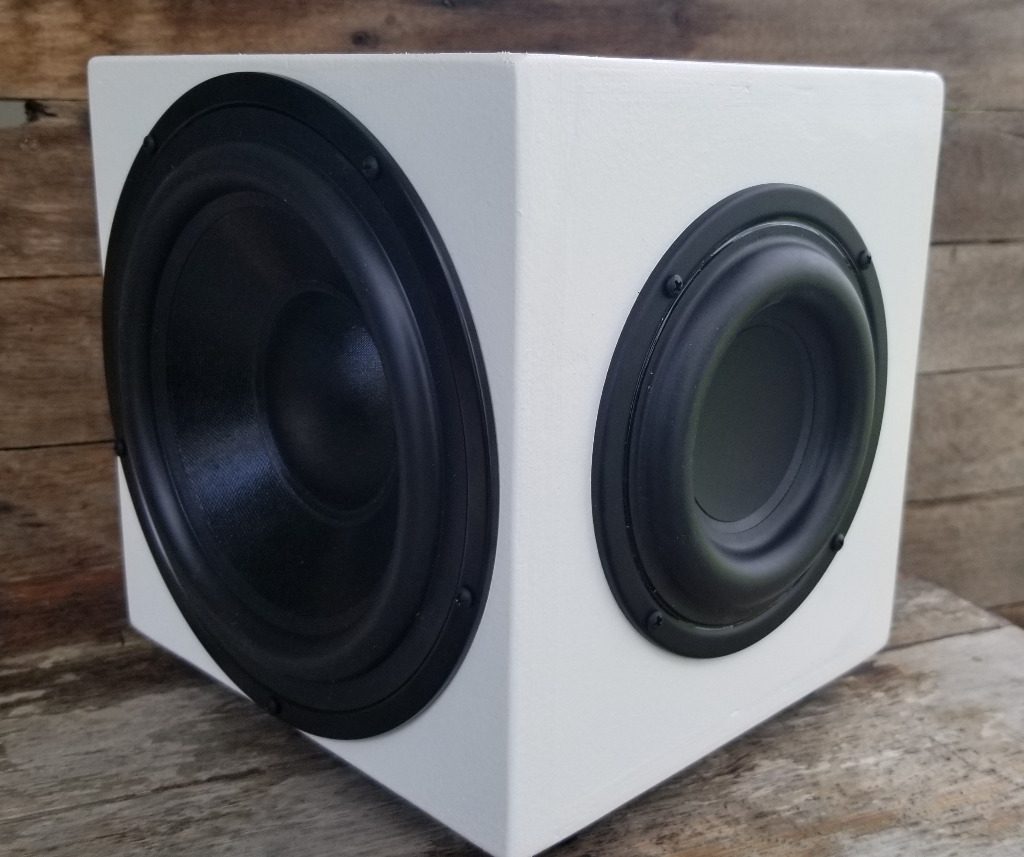 Micro Subwoofer Tang Band W5
---
Designer:
Ryan C
Project Category:
Subwoofers
Project Level:
Intermediate
Project Time:
1-8 Hours
Project Cost:
Under $100
Project Description:
Passive subwoofer utilizing a Tang Band W5 subwoofer and 8″ Dayton passive radiator.
Design Goals:
Utilize Tang Band W5 for a micro subwoofer to accompany a 2.1 setup.
Driver Selection:
264-917
Enclosure Design:
Enclosure is 0.26 cubic feet (8.5″ x 9″ x 9″) constructed of a mixture of 1/2″ and 3/4″ plywood. Added 1/2″ acoustic foam to the side along with poly fill.
Enclosure Assembly:
Glue only construction
Crossover Design:
N/A
Tips & Tricks:
Cut all common dimensions at the same time on the table saw to ensure consistency.
Get lots of clamps.
Add acoustic insulation before you put the last panel on.
Conclusion:
I am very pleased with outcome. The Tang Band driver is an excellent low frequency driver but can be challenging to use in a traditional vented enclosure because the optimal cabinet is so small and the tuning frequency low. I think I need to add the included passive radiator weight though because the tuning frequency seems to be a little too high.
About the Designer:
I am a music lover, musician, and amateur woodworker, so this is the best hobby for me. I still have my Infinity SM62 speakers I purchased when I was about 13 years old.
Project Parts List: