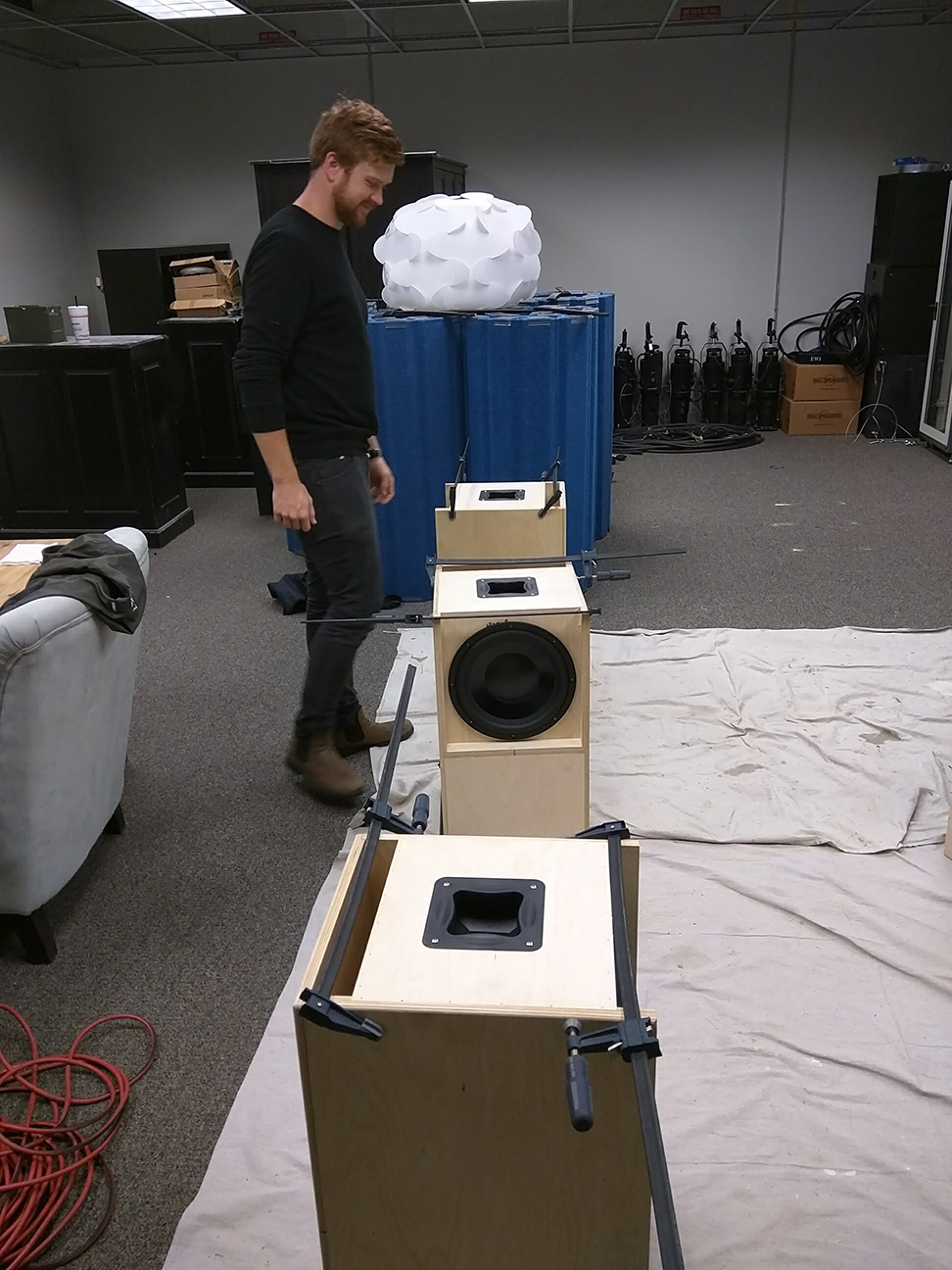 Mini Subwoofer
---
Designer:
Phil
Project Category:
Subwoofers
Project Level:
Intermediate
Project Time:
20+ Hours
Project Cost:
Over $1,000
Project Description:
Our church was outfitting a new space with a 21″ platform height. Commercially available low profile installation subwoofers command a hefty premium to less architecturally friendly models, so we decided to fabricate enclosures for the space.
Design Goals:
We wanted to utilize an enclosure well under 21″ high that would not attract attention in the space in a black finish. Extension below 40Hz was desirable, but not mandatory.
Driver Selection:
The Dayton Audio RSS315HO-4 (295-466) driver was chosen. With high Bl, low Cms, and three shorting rings, this driver is built more like a typical professional audio woofer.
Enclosure Design:
The enclosure is a conventional vented box with slotted port tuned to 31 Hz. Woofer fires down from a small recessed location.
The enclosure is designed to have a slight peak at Fb to facilitate use of a second order Butterworth HP filter above Fb, giving an overall flat aggregate response.
Enclosure Assembly:
Enclosure flats were CNCed out of 18mm, 13 ply baltic birch plywood. Enclosures were assembled using Titebond III wood glue and 18ga brads.
Drivers and handles are affixed via #10 flanged barbed inserts. Neutrik NL4 inputs are retained using #6 t-nuts.
Crossover Design:
Loudspeaker is processed using church system DSP. Baseline filter is 2nd order Butterworth HP at 33Hz. Final filter parameters to follow after we complete ground measurements on the finished units.
Conclusion:
We assembled five enclosures on Saturday evening, and deployed the unfinished units for the first Sunday AM service in the new space.
About the Designer:
Phillip Graham moonlights in professional audio and has been building speakers off and on since the mid 1990s. From October 2011 to October 2016 he wrote the technical column for Front of House, a leading professional audio trade magazine.
Products Used:
Project BOM, DXFs for cabinet shop, PDFs of CAD, all Solidworks files, and build photos may all be found at the following Google Drive link. Measurements to follow in the coming weeks:
https://drive.google.com/drive/folders/0BwZr3b_1ro5UTjUxYXFBU3FTUzQ?usp=sharing