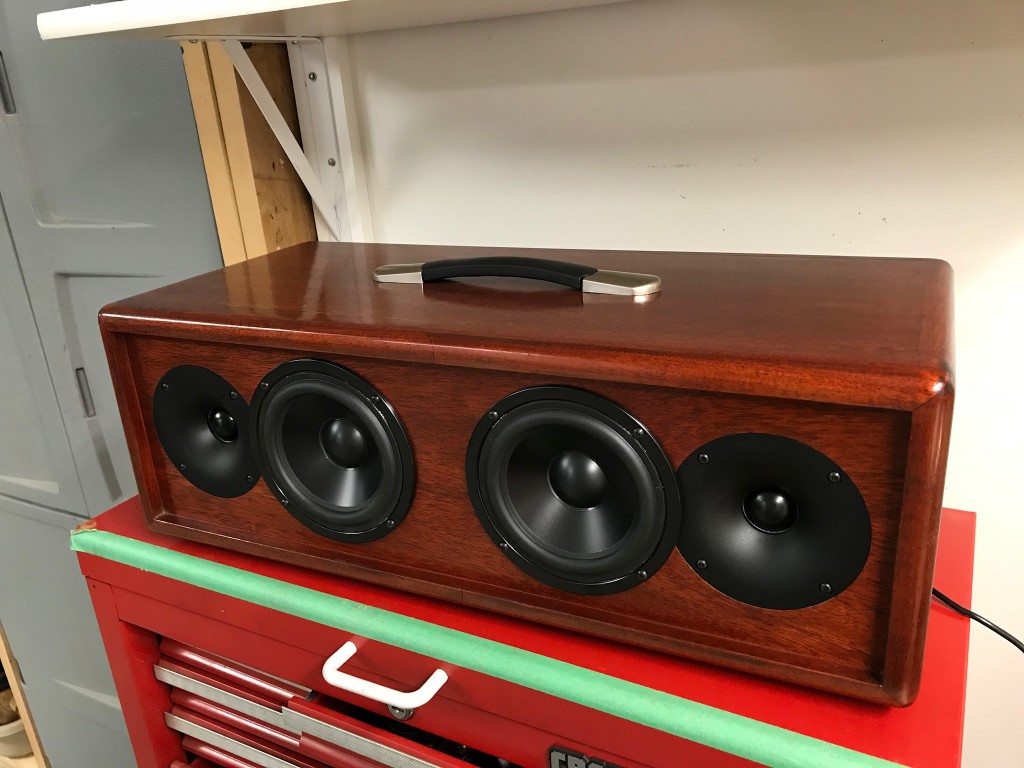 One-Note
---
Designer:
Carr
Project Category:
Portable Speakers
Project Level:
Intermediate
Project Time:
20+ Hours
Project Cost:
$100 – $500
Project Description:
This is an AC Bluetooth portable speaker.
Design Goals:
My goals were to have a portable Bluetooth speaker for my garage shop, and vacation poolside. It was to have a finished wood cabinet, with no end grain exposed using stable plywood, and solid mahogany. Also, light weight, and good SQ.
Driver Selection:
After much review, I based the design on the C-Note kit offered here.
Enclosure Design:
1/2" Mahogany plywood surfaces with solid mahogany to accommodate sealing end grain, and rounding edges. Grill retained with imbedded magnets.
Enclosure Assembly:
Plywood surfaces and mahogany strips are all splined and glued together providing self alignment during assembly, and secure joints.
Crossover Design:
C-Note design
Tips & Tricks:
This concept could be used to combine most any existing speaker kit. The C-Note was selected because of its combined size to SQ.
Conclusion:
My signal generator produced audible sound starting at 20hz to beyond anything I am capable of hearing. SQ was accomplished, as well as portability. The cabinet construction process was particularly fun for me.
About the Designer:
Retired guy working in garage workshop looking forward to next project.
Project Parts List: