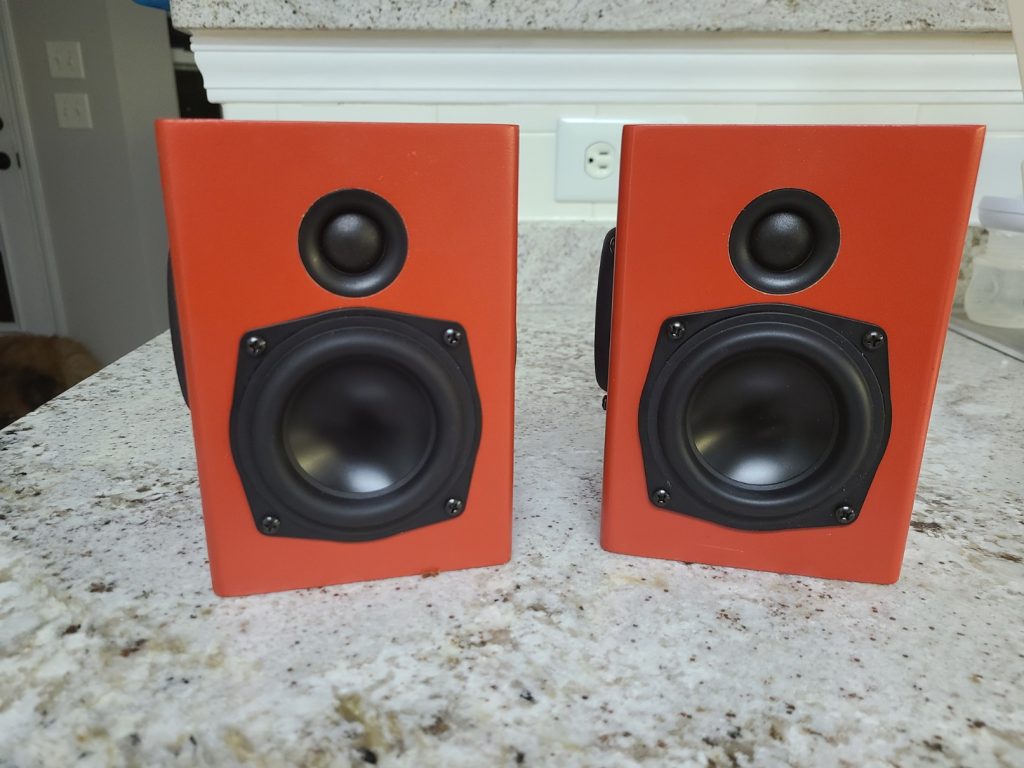 Passive Aggressive Desktop Speakers
---
Designer:
Alex Boyd
Project Category:
Bookshelf Speakers
Project Level:
Intermediate
Project Time:
8-20 Hours
Project Cost:
$100 – $500
Project Description:
I had the itch to build something new and came across this build while researching desktop speakers.
Design Goals:
Build either a small set of speakers or soundbar that would fit the new desk layout I have at work. Ideally I wanted to find a design that would provide adequate near field bass so I wouldn't feel like I needed to add a sub.
Driver Selection:
290-224 275-035 290-209
Enclosure Design:
Shown is the enclosure from the PE kit.
Enclosure Assembly:
I glued up the provided panels and used a few clamps to hold it in place. It's small enough and the routing quality is good, so brads were not necessary to hold it in place.
The cut quality of the panels was very good, it didn't require much post processing. I sealed the edges with diluted wood glue, I still had a little bit of an issue with the edges eating up paint but that may have been my fault for not priming properly.
Crossover Design:
The crossover design is part of the kit.
Tips & Tricks:
As you will read in other peoples builds, make sure to build the enclosures before you start on the crossovers. The space is very tight, but doable. The most difficult thing is placing the inductors so they do not come in contact with the drivers while also keeping them apart from each other to mitigate shared inductance. The hand drawn diagram they provide is a good layout, but still make sure you do multiple checks as you assemble.
Make sure you seal up the cut mdf edges very well, it will save you a lot of time when painting.
Conclusion:
I am very happy with the sound quality of the speakers, it's amazing the bass they can pump out in such a small package. These need more power than my last set of bookshelf speakers, I'm currently powering them with a KAB 2x30w, but have a SMSL AD18 on it's way.
If you are looking for a new set of book shelf speakers, these are the way to go!
About the Designer:
I am a mechanical engineer who typically enjoys building things more than I actually enjoy using them.
Project Parts List: