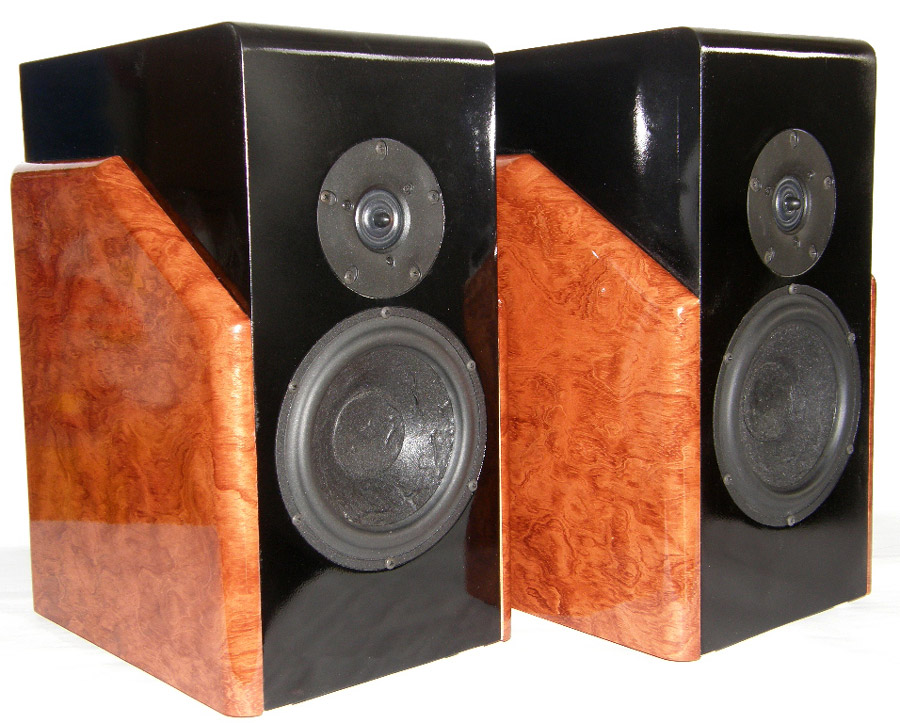 The Chorales: An Usher/Vifa Project
---
Designer: Hong Nguyen
Project Level
Advanced
Project Time
20+ Hours
Project Cost
$500 – $1,000
Project Description
The Chorales are 2-way high quality speakers designed for music listening.
Design Goals
Over the years, I have heard nothing but good feedback on Usher products, so I decided to take the plunge and do a design from scratch. I have accumulated quite a large library of FLAC files, mainly ripped from my CD and DVD collection, so the idea is to build a pair of speakers that will bring out all the nuances of this lossless technology.
Driver Selection
I chose the Usher 8945A woofers and the venerable Vifa XT25TG30-04 tweeters. The Usher 8945A, allegedly modeled after the ScanSpeak, is a high value driver due to its performance to price ratio, while the XT25TG30 has been known for its excellent sound quality for many years.
Enclosure Design
The vented enclosure is 0.60 cu.ft in volume, modeled in Bassbox using the "high fidelity" setting to provide a flat response, after the driver was broken in overnight. Box tuning was at 40Hz, with a F3 of 45Hz. The single vent is 2″ wide by 7″ long. I only used a single brace due to the thick 3/4″ "wood" sides providing additional support to the box. The enclosure is from 3/4″ MDF, and painted with satin black Krylon paint. The sides are also 3/4″ MDF wrapped with 3M DINOC vinyl (glossy Bubinga wood).
Enclosure Assembly
The woofer opening was chamfered to provide good air flow for the woofers, and screw holes were reinforced with plywood to prevent stripping. The interior was lined with PE's Acoustic Eggcrate Foam.
Crossover Design
FRD and ZMA files were measured in box. Near and Far Field FRD files were combined using the FRD Response Blender, then imported into WinPCD. The drivers were crossed at 2KHz, with a third electrical slope chosen for the woofer, and fourth electrical for the tweeter, resulting in a total of 12 components for both drivers. Phase tracking is excellent, and impedance stays well above 7 ohms, dipping to 5 ohms at 2,300Hz, so these speakers are very easy to drive. SPL is about 89dB at 2.83V.
Parts Used
The Usher 8945A woofers and Vifa XT25TG30-04 are currently in stock at PE. All passive components, vents, binding posts, and foam can be sourced through PE as well, to be mindful of availability and cost effectiveness.
Conclusion
This was a good project from start to finish, with plenty of help by the guys on the forum. The resulting sound is exquisite with a wide sound stage. Instrumental music as well as vocals are well defined. For a little more than $500 in drivers and components, this is definitely a high value project to consider.
About the Designer
Hong Nguyen (hongrn) is a former emergency/trauma nurse who has been in healthcare for over three decades, and currently specializes in the development and management of ambulatory surgery centers. He resides in Orange County, CA, with his wife and two grown daughters. In his spare time, he enjoys family, travels, movies, music, and of course, speaker and amplifier building. He is an active member of Tech Talk, and appreciates the coaching and support of fellow DIYers.