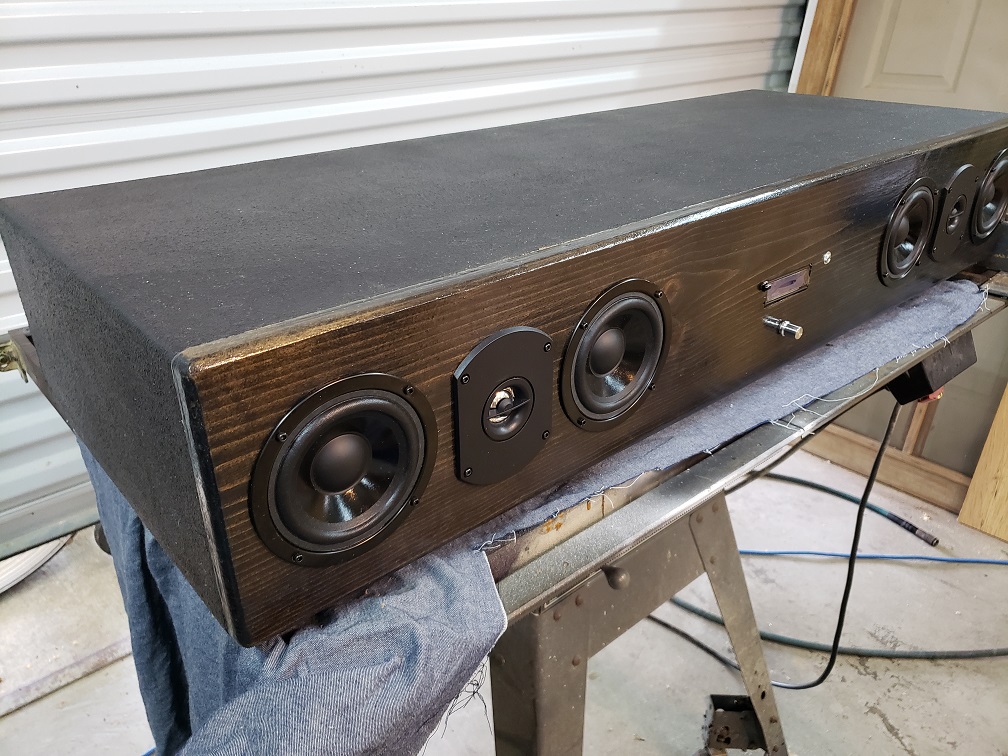 $100 Sound Bar
---
Designer:
Brian Raulerson
Project Category:
Home Theater
Project Level:
Beginner
Project Time:
8-20 Hours
Project Cost:
Under $100
Project Description:
A powered 2.1 sound bar using very affordable components. Everything together (but the amp) came to a total under $100.
Design Goals:
I wanted to design and build a 2.1 sound bar for a friend of mine using close-out and buy-out drivers.
Driver Selection:
I decided to use a pair of the 16 ohm Dynalab woofers 299-320 wired for 8 ohm and pair those with a Dynalab 8 ohm tweeter299-4006. I picked the 4 ohm Dynalab 8″ subwoofer 299-4004 because the amp could drive a 4 ohm sub.
Enclosure Design:
I decided to seal the left and right and port the sub enclosure. I designed it to be 48″ wide and for some unknown reason I cut the MDF to 42″ instead. Left and right compartments measure 16x7x6 each. Original measurements are 48″ wide, 6″ tall, and r14″ deep. A 1″ port was needed so I glued another 1/2″ piece of MDF to the back and drilled a 2″ hole through it.
Enclosure Assembly:
I used 3/4″ MDF on the bottom due to the sub being attached there. 1/2″ MDF on the rest except the front baffle which is pine. I reused a piece of pine I had in the shop that was going to be used in a project for my mother-in-law but didn't happen.
Crossover Design:
I don't remember what frequencies I crossed over at. I'll attach a picture of the actual design with values listed on them.
Tips & Tricks:
My best tip would be watch Toids DIY Audio on youtube and call the tech department of Parts Express. Nick from Toids was a giant help with the crossover design and the Tech Department was also super helpful. As for tricks, use hot glue and regular wood glue to help with air leaks and cracks. You can paint over it just like wood.
Conclusion:
This was the most complex build I've done so far. It was fun and challenging. I think it sounds very nice. I would put it up against anything from the store up to the $350 price point.
About the Designer:
This is just fun for me. I don't know much at all about any of this but I have access to some really smart and talented people that encourage me.
Project Parts List:
| | | |
| --- | --- | --- |
| Part # | Description | Qty |
| 299-4004 | DynaLab V22-DR-0003 8″ Paper Cone Woofer 4 Ohm | 1 |
| 299-320 | 4 Treated Paper Cone Woofer 16 Ohm | 1 |
| 299-4006 | DynaLab V22-DR-0004 1″ Mylar Dome Tweeter | 1 |
| 320-636 | 2.1 Amplifier 50W x 50W x 100W with Built-In Bluetooth 3.0 Backlit LCD Screen, and IR Remote | 1 |