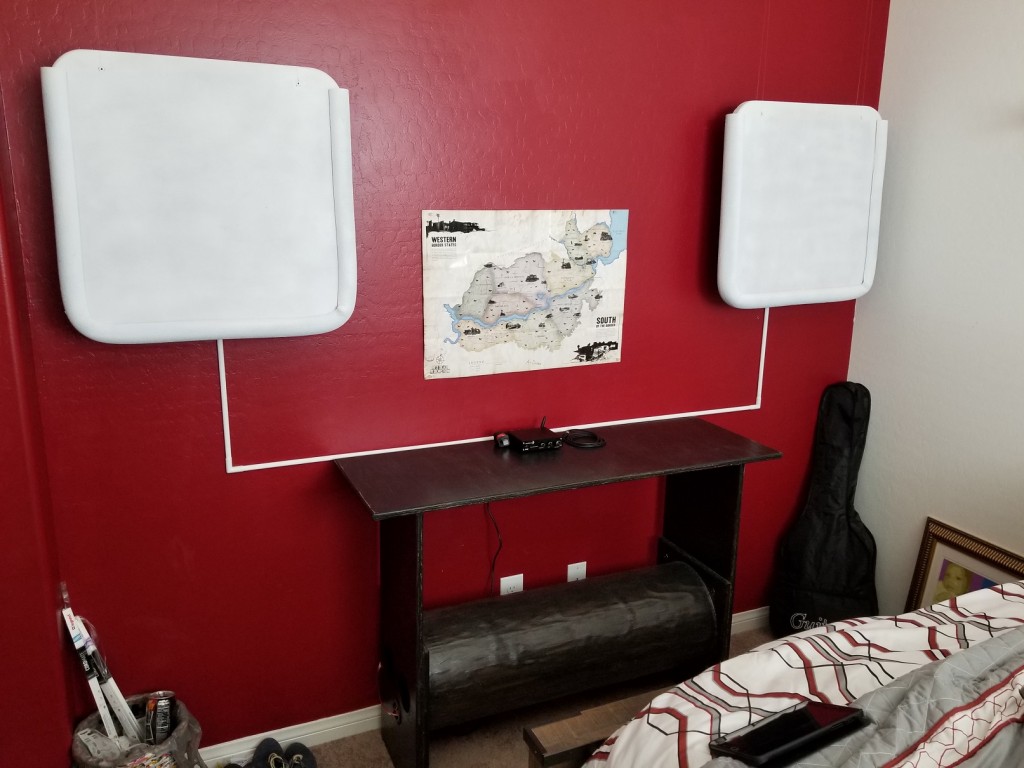 2.1 Junior
---
Designer:
Yogi
Project Category:
Home Theater
Project Level:
Intermediate
Project Time:
8-20 Hours
Project Cost:
Under $100
Project Description:
2.1 system for music and future TV/video game use.
Design Goals:
2.1 system for music and future TV/video game use. Fill a bedroom with good sound but not occupy too much space. Combine subwoofer and table for future space to hold video game console. Flat panel exciter style speakers to save floor space. Must be able to survive 10 year old boy and his dog.
Driver Selection:
1 – 12″ Subwoofer SD315A-88 #295-488
2 – Exciters DAEX24X4-4 #295-242
Enclosure Design:
Mids and highs are played on flat panels driven by exciters. After doing some research and a little experimentation I ended up using 1″x2'x2′ XPS foam panels.
The subwoofer is a ported tube style woofer with a net volume of 2.15 cubic feet tuned to 38Hz. This enclosure along with the voice coils wired in parallel yields a nice response curve and good control of the woofer.
Enclosure Assembly:
The XPS panels had the corners rounded with a 4″ radius and the faces sanded. Foam pipe insulation was used to dampen excessive high frequencies resonating. Spay painted white and hung from ceiling at listeners head level.
The subwoofer enclosure was made from 3/4″ red oak plywood and a 12″ diameter sonontube laminated in red oak stuffed with polyfill. Two 4″ diameter ABS ports were used to keep port noise pretty much nonexistent. Surface finished in an ebony stain and lacquered to match the other furniture in the room.
Crossover Design:
The exciters are given a full range output from the DTA-2.1BT. I experimented with different caps to roll off the low end but the natural roll of from the panel/exciter set up ended up sounding best.
The subwoofer was using the low pass provided by the DTA-2.1BT. I ended up adding a 8mH coil to roll off a little more of the higher end the DTA-2.1BT was allowing to get through to the woofer.
Tips & Tricks:
Use rope to wrap the laminate on to the tube when gluing it down. Enclose the ends to prevent lift.
Be willing to spend time listening and experimenting with the exciters and panels to get the best sound you can out of them. There are pretty significant changes possible by modifying the panels different ways.
Conclusion:
This sounds great and fits the room nicely. These exciters with these panels have a surprisingly airy and clear sound. The addition of the coil to the subwoofer made the blend from high to low seamless in the room. The sound image comes from the level of the panels.
This was an interesting project to watch develop from idea to end.
About the Designer:
Went to school for audio engineering 25+years ago. Still like to do projects when the opportunity arises.
Project Parts List: