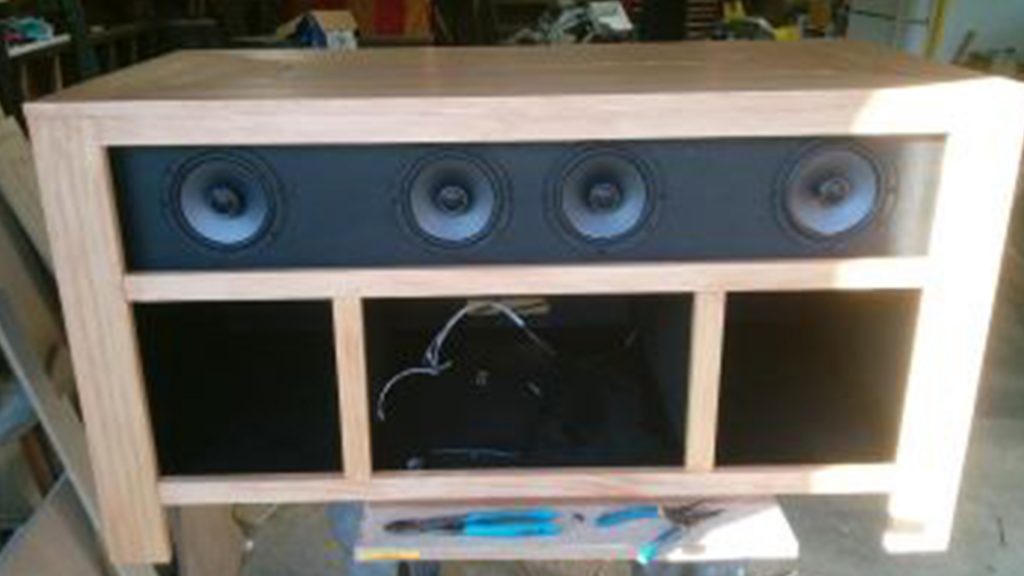 All in one entertainment stand
---
Designer:
mike weatherill
Project Category:
Home Theater
Project Level:
Intermediate
Project Time:
20+ Hours
Project Cost:
$500 – $1,000
Project Description:
A nice TV stand with built in speakers.
Design Goals:
A single piece of furniture that houses the left, center and right speaker for the front stage, plus the ported subwoofer enclosure, the sub amplifier and be able to hold a large TV and the associated electronics.
Driver Selection:
I wanted to avoid having separate components for ease of design and construction, so I went with 6.5″ coaxials by HIVI for the front stage. The center speakers are in series and the left and right are run straight. It was going in a smaller room, so it wasn't going to take much as far as bass reinforcement and that lead me to the Peerless 8″.
Enclosure Design:
There's two main sections to the audio section of this piece, the 3 sealed chambers in the front for the front stage and then the ported section in the rear for the subwoofer. This is mainly being used for movies but will be doing some music as well. It is 1/2″ MDF for the enclosure and sub frame and then clad in 3.5″ pine slats that are .75″ thick.
Enclosure Assembly:
With the MDF sub-frame everything in glued and countersunk and pre-drilled with wood screws. All of the cladding was wood glued and clamped so no screws or nails would be seen. For the top cladding, I simply took each piece out to the longest edge and then cut a 45 degree and pieced it together like a puzzle. When I got to the center the was a 1 inch gap, so I ripped a 2″ piece down to 1 inch then split the last 3.5″ piece down the middle to give it that concentric effect. Then sand, sand and sand some more. Painted the MDF black and stained the cladding in light oak.
Crossover Design:
No passive crossovers were used. The sub amplifier was crossed over at 85hz for the Peerless 8″ sub.
Tips & Tricks:
Measure twice and cut once. Lay awake at night going over and over your design to make sure you didn't miss anything.
Conclusion:
This was a project that I designed for a good friend of mine for his daughter. They were both very excited with the final result. I was impressed with the clarity and especially the volume this achieved. Bass was good, solid and room filling and went deep. The vocal and voices from the font stage were very impressive and it switches very easily from movies to music.
About the Designer:
Mike has been in the car and home audio scene for over 20 years, first professionally and now as a hobbyist. He enjoys audio, wood working, spending time with his family and brewing great beers.
Project Parts List: