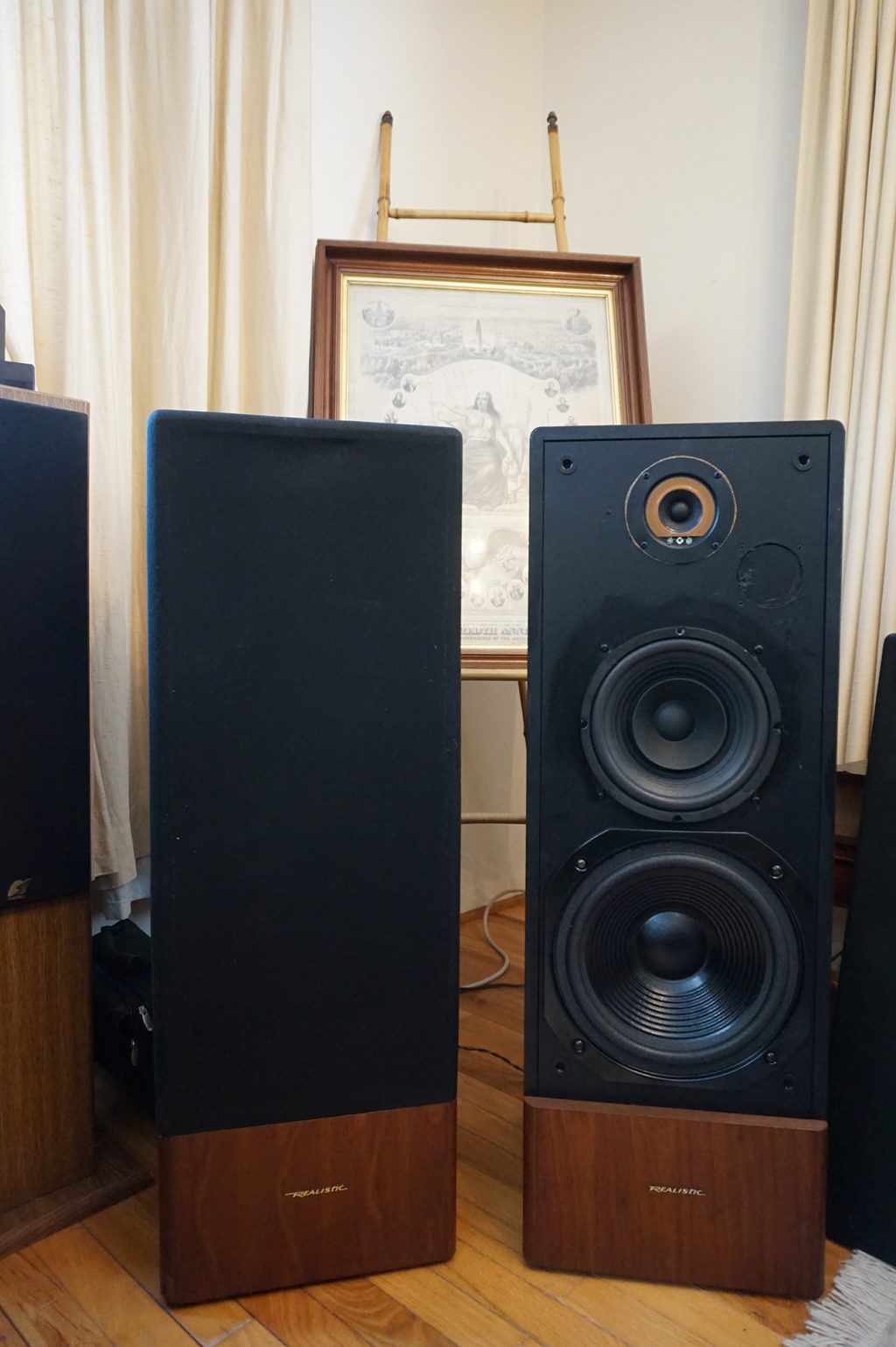 Cabinet reload
---
Designer:
Bob
Project Category:
Tower Speakers
Project Level:
Beginner
Project Time:
1-8 Hours
Project Cost:
$100 – $500
Project Description:
Cabinet reload of spent pair of Realistic Optimus T-100's
Design Goals:
revitalize load speakers
Driver Selection:
GRS PRT Phenoic Ring Tweeter
8″ Pioneer type B2OFU20-51FW full range speaker
10″ square frame GRS10SFPC-B
Enclosure Design:
Realistic Optimus T-100's. Originally this was an 8″ 6 ohm driver with a sealed 2 ohm tweeter with L-pad & diffuser and a 10″ passive radiator. Foam surrounds shot on radiators, also one driver replaced & also rotted out. tweeters worked but replaced anyways.
Enclosure Assembly:
Just because I have a bunch of hand tools & a job site style table saw – it doesn't make me a cabinet maker. Much easier to adapt an existing housing. Got these walnut veneer cabinets tossed in during house sale haggling for $25 or less. After washing off a decade or two of nicotine & restoring an oil finish, additional internal bracing, foam backing, etc.., rebuilt as an three-way speaker cabinet.
Crossover Design:
Parts Express Speaker Crossover 3-Way 8 Ohm 800/5,000 Hz 100W Part#260-210
Tips & Tricks:
Had to make a plug for the L-pad hole and moved the off set tweeter back on axis. The midrange cutout was a hair big & also required help to except new drivers. Two part plumbers putty or the slightly more expensive JB Weld wood putty did the trick.
Conclusion:
Initial thoughts "What a waste of time & $$", but after about 4-6 hours of burn in they started to find their voice. Quite happy with the results using bargain components.
About the Designer:
I'm still using the first two pairs of Realalistic speakers which were purchased back in the 1970's when I was still in high school. My friends could afford the more popular Japaneese brands back in the day, I had to watched for "2 for 1" clearance at Radio Shack. Have served me well.
Project Parts List: