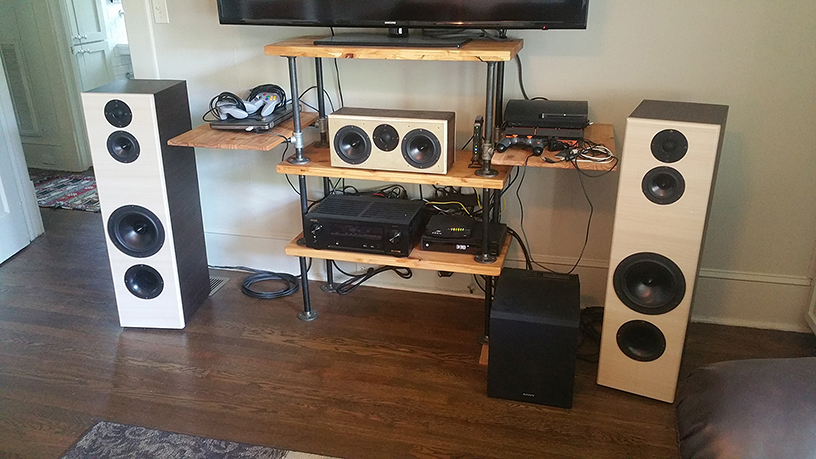 Dayon Reference Series Towers and Center channel
---
Designer:
Joe Edgar
Project Category:
Tower Speakers
Project Level:
Intermediate
Project Time:
8-20 Hours
Project Cost:
$500 – $1,000
Project Description:
3 way tower speakers and 2 way center channel speaker using all Reference series drivers.
Design Goals:
I wanted to upgrade my home theater speakers but but didn't want to break bank in the process. I started researching and my conclusion was that making them myself was the way to go. I chose the Dayton reference line because of the glowing reviews and value they presented. It was also extremely helpful that Dayton Audio gives you the necessary files to sim crossovers. This was also a big reason I chose to use these speakers.
Driver Selection:
Dayton Audio RS28F-4 1-1/8″ Silk Dome Tweeter
Dayton Audio RS125-8 5″ Reference Woofer
Dayton Audio RS225-8 8″ Reference Woofer
Dayton Audio RS150-8 6″ Reference Woofer
Enclosure Design:
The 3 way towers are a Bass Reflex design using a 3″ port tuned to 35hz. The section containing the RS225-8 is 1.4 cubic feet in volume. The mid(RS125-8) and tweeter(RS28f) are contained in an upper sealed section that is .15 cubic feet in volume. The center channel is a sealed enclosure with bracing and .28 cubic feet in volume (2 RS150-8) (1 RS28f).
Enclosure Assembly:
The 3 way towers are made out of 3/4″ MDF assembled with 1-1/2″ countersunk screws and wood glue. I then back filled the screw holes and covered them in 2 colors of wood pattern vinyl. This was a much bigger task than I originally expected so for the center channel I used 3/4″ birch and oak plywood to mimic the color pattern from the towers. All joints were caulked and foam was added to all interior surfaces except the baffle. The speaker cutouts were rounded over on the rear of the baffle and the mids and tweeters were flush mounted.
Crossover Design:
The three way towers crossover design was given to me by another member in the Tech talk forums (Filmslayer) there were some minor tweaks made. The towers are crossed at 450 hz and at 2400 hz. The center channel kept the tweeter section crossover design ( with slight modification) from the towers but the RS150's are crossed with the RS28f at 1900hz
Conclusion:
I was able to make home theater speakers that sound absolutely amazing for a fraction of what it would have cost me to buy the equivalent from a manufacturer.
About the Designer:
I work in Pro A/V but this is my first speaker building project. I am hobbyist wood worker and a home audio enthusiast so this allowed me to combine those hobbies.
Project Parts List