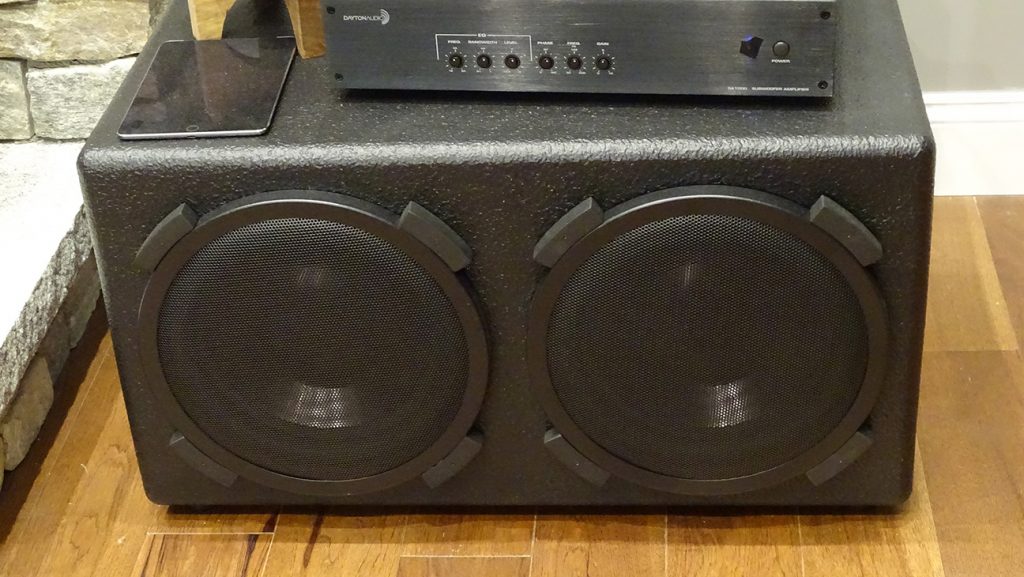 Dayton 12″ Subwoofer
---
Designer:
RB
Project Category:
Subwoofers
Project Level:
Beginner
Project Time:
8-20 Hours
Project Cost:
$500 – $1,000
Project Description:
My brother needed a good subwoofer for his living room, and this is what I came up with.
Design Goals:
Be able to play loud.
He has a hyperactive dog so I tried to build something that wouldn't be prone to damage.
Driver Selection:
Used the 8 Ohm Dayton Reference 12″ woofers.
I wanted the extra power handling, but still wanted a 4 Ohm load which was the main reason for using 2 woofers.
Enclosure Design:
I used the recommended volume for a sealed box. The interior is split into 2 compartments just for the added bracing.
Enclosure Assembly:
Entire enclosure is built with doubled 3/4″ MDF.
Added grills to protect the woofers. The mounting hardware didn't work with the reference woofers but figured out a way to mount them.
Glued everything together and used a 3/4″ roundover on all the edges.
Primed then rolled on DuraTex to finish it off.
Conclusion:
Im happy with the way it came out. I didn't realize how heavy this was going to be (well over 100 lbs.), needed 2 people to move it with the woofers installed.
About the Designer:
I enjoy audio and I enjoy building things so this is something to occupy my time.
Project Parts List: