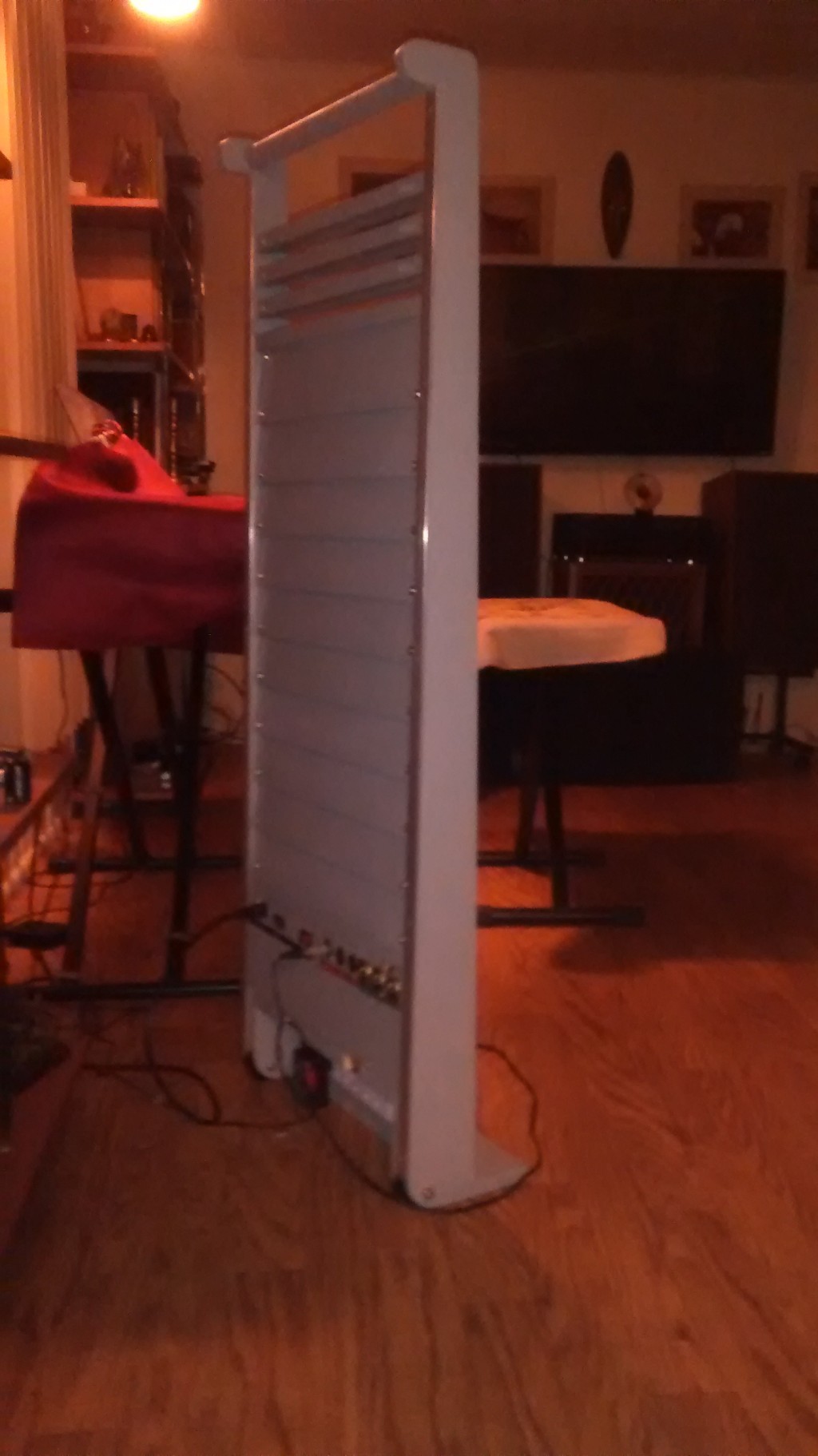 Handtruck Amp
---
Designer:
Fred van Sand
Project Category:
Portable Speakers
Project Level:
Advanced
Project Time:
20+ Hours
Project Cost:
$100 – $500
Project Description:
This is a handtruck with a light duty powered speaker built in for monitoring and setup. It will transport my synthesizer.
Design Goals:
Light, mobile, as near flat and as loud as can be accomplished for as little money as possible.
Driver Selection:
1 ea; Dayton Audio Bass Shaker; 300-386:
2 ea; Tectonics Exciters; 297-224
Enclosure Design:
panels delimited by hand truck dimensions…ratio 1:1.6 overall;
woofer panel long sides; 1:1.4, tweeter panel long sides 0.67:1
Enclosure Assembly:
48″h x 16″w x 3 1/2 thick except add 3 1/2 for blade
Crossover Design:
xkitz 2 way 24 dB active crossover set at 200 Hz
Tips & Tricks:
the overlapping panels on the back reduce drumming without increasing the weight.
Conclusion:
goals have been reached
About the Designer:
Fred van Sand is a professional musician who travels extensively. For ten years, he earned a living as a bench technician with a large audio repair service. Although he has retired from the repair end of the business, he maintains his music interest and hobbies at electronics. He builds everything wooden in his assemblage of instruments and has done so throughout his career.
Products Used:
Sure Power Amp board 2 x 50 320-310
Mean Well Power Supply 24 V 320-314
Xkitz 2 way Active Crossover
3ea: neutrik male xlr connector 092-034
3ea: female combo connector 092-043
1 ea: 2 pole slide switch (Radio Shack)
ac power connector 090-442
21 linear feet 1 x 4 poplar Home Depot
2 x 4 sheet 1/4″ plywood
24″ x 32″ 1/8″ luan plywood
box of kreg pocket screws 1 1/4″
16″ 1 1/8″ dowel
2 ea: salvaged 2″ casters
2 1/2″ x 1/4″ bolts (axles)
Heavy felt
batting
GE silicone caulk
Elmer's wood glue