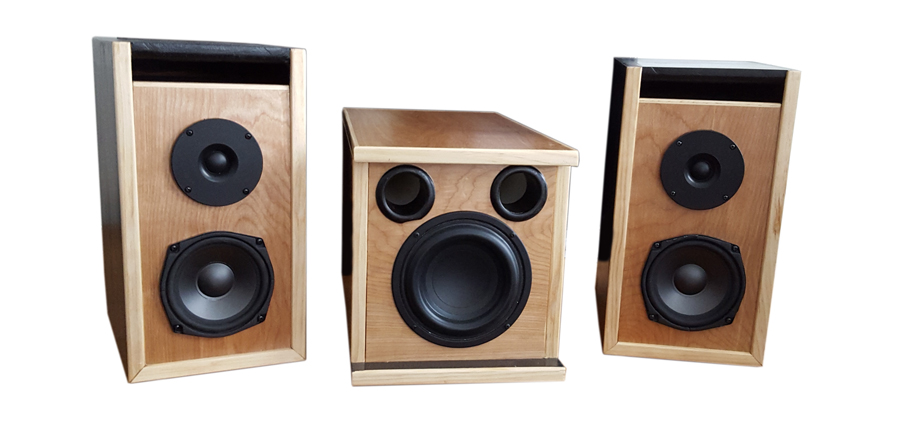 High Quality sounding 2.1 desktop stereo
---
Designer: Kevin
Project Category
Home Electronics
Project Level
Beginner
Project Time
8-20 Hours
Project Cost
$100 – $500
Project Description
Desktop 2.1 System with Lepai 2020 amp and DA 75 watt plate sub amp.
Design Goals
Get better at speaker building and woodworking skills.
Build a better full range near field sound system for the computer and TV in my home office.
Keep total budget low while delivering great sound.
Driver Selection
HP-5210 5-1/4″ Poly Cone Rubber Surround Woofer 8 Ohm (buyouts)
GRS 1TD1-8 1″ Dome Tweeter 8 Ohm (on sale)
Tang Band W6-1139SIF 6-1/2″ Paper Cone Subwoofer Speaker
Enclosure Design
Custom Subwoofer box (approx 0.7 cu. ft.), dual baffle, heavily braced with twin 2 in. ports tuned to 35 hz. Uses 70 watt Dayton Audio plate amp with high level inputs between Lepai amp and speakers. The ports were made with PVC pipe and finished with flanged 2 inch black port to mount to baffle and provide better look than PVC.
Speakers use an L-port design (approx. 0.4 cu. ft.) single baffle, braced tuned to about 45 Hz. The ports had a 3/4 inch round over on the exit and internal port entrance. I went slighly below the Fs of the current midwoofer since I knew I would not overpower them with the Lepai amp and in case I wanted to replace with better drivers if these low cost units didn't work out.
Both boxes are overbuilt to be certain to keep resonance as low as possible. The weight penalty was a minor concern.
Enclosure Assembly
3/4 inch MDF and 3/4 inch furniture grade plywood (one side had high quality veneer already applied) left over from other projects.
Both sub box and speaker boxes used 3/4 inch acoustic damping foam placed on some internal walls, not blocking ports.
MDF was painted black and plywood used unstained and protected with satin Polyacrylic. 3/4 inch pine trim also left unstained and sealed with polyacrylic.
Crossover Design
Since I'm just learning about crossover design, decided to just go with a low cost generic approx. 3kHZ crossover attached on the speaker terminals purchased off ebay ($9/ea). Crossover claimed to handle 60 watts, which should be plenty with the Lepai amp.
Tips & Tricks
Luckily, the lepai amp is arm reach from my office chair, so minimized the inconvenience of remote volume control.
Not really a trick, but because the black paint is acrylic latex, I was able to also cover the paint with the satin polyacrylic as well…provides a much nicer look than the raw paint finish alone since I could sand between coats and also cover the real wood surfaces as well.
Conclusion
All I can say is expectations were exceeded, especially on the sound quality. Even with the subwoofer off, the speakers sound so much better than my TV or computer speakers and with the sub on, it is really incredible. For near field application the Lepai amp produced very high SPL levels of clean sound beyond what would be normal listening levels. The little Tang Bang sub really hits low and hard really making for great music, gaming, and TV/movies in my home office.
Cheers!
About the Designer
Recent early retiree after a career as a chemist/science laboratory management. This was my first ground up build. Prior projects always were with car sub builds with premade boxes (only having simple hand tools) or driver replacement in existing old vintage speakers.
Parts Used
Lepai LP-2020A+ Tripath Class-T Hi-Fi Audio Mini Amplifier
I replaced the stock 12V, 3 amp power supply with a 12V, 6 amp supply to get full output possible from that amp.
Project Parts List