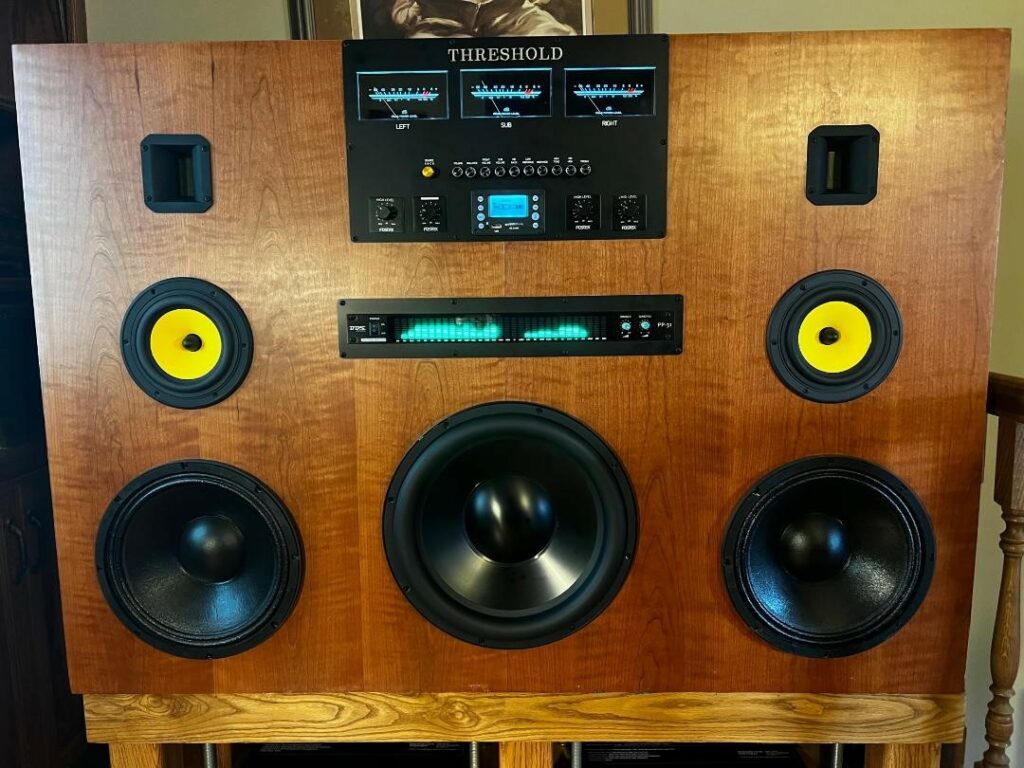 Threshold
---
Designer:
Mark Bandoszeski



Project Category:
Home Electronics



Project Level:
Advanced



Project Time:
20+ Hours



Project Cost:
Over $1,000
Project Description:
Project Threshold is a 2.1 channel system packing a total of 8,000 watts. The left and right channels are rated at 2,500 watts each and the subwoofer channel is rated at 3,000 watts. Drivers used were as follows tweeter ribbon horn x 2, midrange 6-1/2″ x 2, woofer 12″ x 2, passive radiator 12″ x 2, subwoofer 15″ and passive radiator 15″. Music can be listened to through Bluetooth, USB flash, SD card, vinyl record, CD and FM radio. The sound can be easily adjusted to the type of music being played or to meet the acoustics of the listening environment using the 10 band equalizer, 4 L-Pads (tweeter and midrange volume), DSP controller (subwoofer) and the spectrum analyzer. The system works effortless to reproduce music with clarity, exceptional bass and staging The enclosure size is 39″ H x 55″ W x 18″ & 22″ D weight 370 lbs.


Design Goals:
Design a 2.1 channel speaker system that can reproduce music at near audiophile levels even at high volume levels.
Driver Selection:
-Tweeter Fountek ribbon horn 
-Midrange HiVi F6 6-1/2″ 
-Woofer 12″ LaVoce WAF123.01
-Passive radiator 12″ Dayton Audio DSA315-PR 
-Subwoofer 15″ Dayton reference RSS390HE-22 
-Passive radiator 15″ Dayton Reference RSS390-PR 
Enclosure Design:
The enclosure was deigned using Solidworks 3D cad modeling software. Built using Medium Density Fiber Board 3/4″ and 1-1/2″ (front and rear baffles) thicknesses were used. Within the the enclosure are five separate speaker boxes. Each box was sized according to the manufacturers recommended internal volume size. The woofer and subwoofer boxes have internal bracing.
Crossover Design:
Three way high power handling with speaker protection.
Tips & Tricks:
N/A
Conclusion:
Although the project was extremely difficult the end result was worth the countless hours and cost of over $5,200 to build.
About the Designer:
I am a Mechanical Engineer and small business owner and spend my free time working on projects like this.

Project Parts List:
| | | |
| --- | --- | --- |
| Part # | Description | Qty. |
| N/A | Tweeter Fountek ribbon horn | 2 |
| 297-440 | Midrange HiVi F6 6-1/2″  | 2 |
| 293-719 | Woofer 12″ LaVoce WAF123.01 | 2 |
| 295-554 | Passive radiator 12″ Dayton Audio DSA315 | 2 |
| 295-292 | Subwoofer 15″ Dayton reference RSS390HE-22 | 1 |
| 295-504 | Passive radiator 15″ Dayton Reference RSS390-PR | 1 |
| N/A | Amplifier Wondom 2 x 2,500 watts AA-AD32491 | 1 |
| N/A | Amplifier Wondom 1 x 3,000 watts AA-AB31341 | 1 |
| N/A | Toroidal transformer 2000VA PS-RT11112 | 4 |
| N/A | Fast recovery rectifier capacitor bank 30A | 4 |
| N/A | Transformer 12-0-12 | 3 |
| N/A | Meanwell 12V power supply i | 1 |
| N/A | 2.1 channel pre amp board with 7 band EQ | 1 |
| N/A | 3-way high power handling crossover | 1 |
| N/A | Demeras speaker protection relay 7812+UPC1237 | 1 |
| N/A | HCDC 2 x 12 position terminal block distribution module | 1 |
| 230-520 | Dayton DSP controller | 1 |
| N/A | L-Pad Fostex R80B | 4 |
| N/A | Source selector switch 4 pair RCA input 1 output | 1 |
| 320-347 | Bluetooth board, FM radio, MP3, USB | 1 |
| N/A | FDSF vinyl record phono pre amp board MM F10-006 | 1 |
| N/A | VU meter driver board TS-VU0028 | 2 |
| N/A | VU meter with back light P-134 | 3 |
| N/A | Spectrum Analyzer 31 segment BDS PP-32 | 1 |
| N/A | RCA Cables Goalfish | 1 |
| N/A | -Custom front panels by Front Panel Express | 1 |