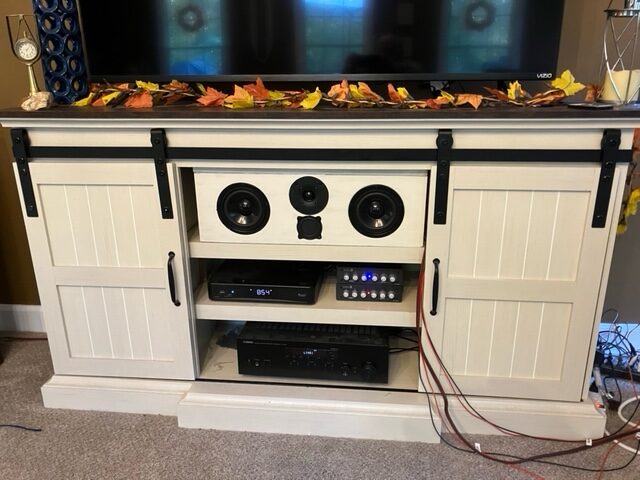 Lauda 3-Way Center Channel
---
Designer:
 Colonel7



Project Category:
Home Theater



Project Level:
 Intermediate



Project Time:
8-20 Hours



Project Cost:
$100-$500
Project Description:
A 3-way active center channel for television watching and home theater. It has a custom finish to match an existing tv stand and console.



Design Goals:
Very wide horizontal dispersion and elimination of lobing (dead spots with volume significantly reduced) caused by traditional MTM center designs. The tweeter directly over the mid as part of the 3-way design eliminates that issue. This speaker is used in a very wide room at a far distance. Tv watchers sit across a 12 foot wide line of listening positions about 14 feet from the tv. Woofers do not need to be bunched together because of the listening distance and summation.



Driver Selection:
 All bought at Parts Express. Woofers are 5" Visaton W130s-4 wired in series (no longer available). Midrange is a 3" Tectonic BMR TEBM46C20N (PE Part # 297-2157) for clarity and the tweeter is the very wide dispersion Peerless BC25TG15-4 (Part # 264-1040). The speaker is powered by the new KABD-430 (Part # 325-430) 4-channel amplifier. Woofers are powered by 2-channels bridged and tweeter and mid each have their own channel.



Enclosure Design:
The cabinet is 24" W x 8.5" H x 9" D, sealed. It is particle board due to cost. The top is removable due to me experimenting between passive and crossovers and trying out a ported design first. The mid has its own internal wood enclosure stuffed with alternating poly-fill and denim. Behind and around woofers is lined with 1/2 inch Sonic barrier (Part #260-520). I matched the cabinet color as best as I could to the tv console using a semi-gloss paint and then took gray stain and dry brushed it very lightly with a chip brush to match the finish.



Crossover Design:
Asymmetric with 18db 3rd order Butterworth low pass for the woofer at 850 with mid picking up at 900 for 2nd order Linkwitz Riley and LR24 as well for the tweeter at 3500. Since the woofers are sealed they have an F3 of about 85 but 2 subwoofers round out the low end.



Tips & Tricks:
An easy way to not worry about sealing the mid's wires and drilling into its own enclosure to fish them through is to use gasketed binding posts on the mid enclosure but inside the whole cabinet. A couple $ and much easier.



Conclusion:
This project came from a special request from my wife who wanted better clarity of sound and more volume of commentators voices for Formula 1 races – hence the Lauda. It works as designed and sounds great for music too. We've been asked how we bought a speaker and console together so it passes the eye test.



About the Designer:
Lifelong lover of audio and diy tinkerer who enjoys learning by doing. I've progressed from a speaker kit to building ported and sealed subwoofers, to designing my own 2-ways and now the 3-way. There is always something to learn so my next project will incorporate an open baffle for the mid.



Project Parts List:
| | | |
| --- | --- | --- |
| Part # | Description | Qty. |
| 292-564 | Visaton W130S-8 5″ Woofer with Treated Paper Cone 8 Ohm | 2 |
| 297-2157 | Tectonic TEBM46C20N-4B BMR 3″ Full-Range Speaker 4 Ohm | 1 |
| 264-1040 | Peerless by Tymphany BC25TG15-04 1″ Silk Dome Tweeter | 1 |
| 325-430 | Dayton Audio KABD-430 4 x 30W All-in-one Amplifier Board with DSP and Bluetooth 5.0 aptX HD | 1 |
| 260-520 | Sonic Barrier 1/2″ Acoustic Sound Damping Foam with PSA 18″ x 24″ | 1 |