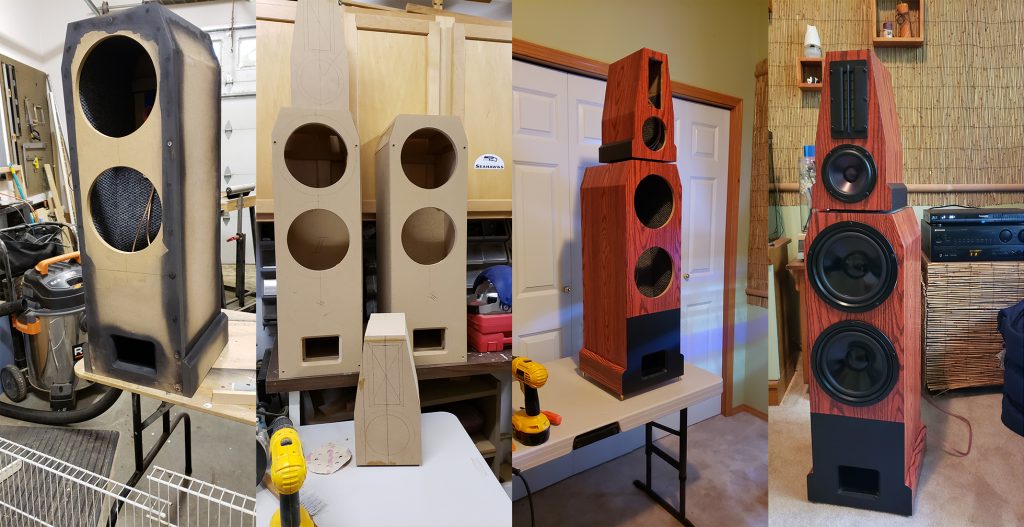 Prestonian ll's
---
Designer:
Bill
Project Category:
Tower Speakers
Project Level:
Beginner
Project Time:
1-8 Hours
Project Cost:
$100 – $500
Project Description:
3 way floor standing speaker
Design Goals:
Smooth crisp sound with a thump
Driver Selection:
DA. PT2C-8 Planar Tweeter.
DA. DSA135-8 Mid-Bass.
Visaton W200S-4 Woofer (2).
Enclosure Design:
Split enclosure lower enclosure bass reflex housing (2) 8" Woofers
with an attached smaller enclosure housing the Mid/Tweeter
Enclosure Assembly:
3/4 MDF lower unit: 32" tall x 10" wide x 14" deep
bass reflex with double front baffle
Upper unit: 14" tall x 10" tapering to 5" wide x 8" deep
Crossover Design:
Pre- assembled DA 8 ohm Crossover at 3,000 Hz. with
100 watt L-pad attenuator for the Tweeter and Woofers
wired in series for 8 ohm load
Tips & Tricks:
My only tip….do the research and read the reviews
Conclusion:
For a first time speaker project I am very pleased with the end result. Hooked them up and played Highway Star by Deep Purple
And they sound friggen' awesome. Cranked it up and smiling ear to ear….a 62 year old blowing out the walls. The Wife is in trouble.
About the Designer:
I'm an investigator for major airplane manufacturer that enjoys wood working and diy projects for a hobby. Soon to be retired.
Project Parts List: