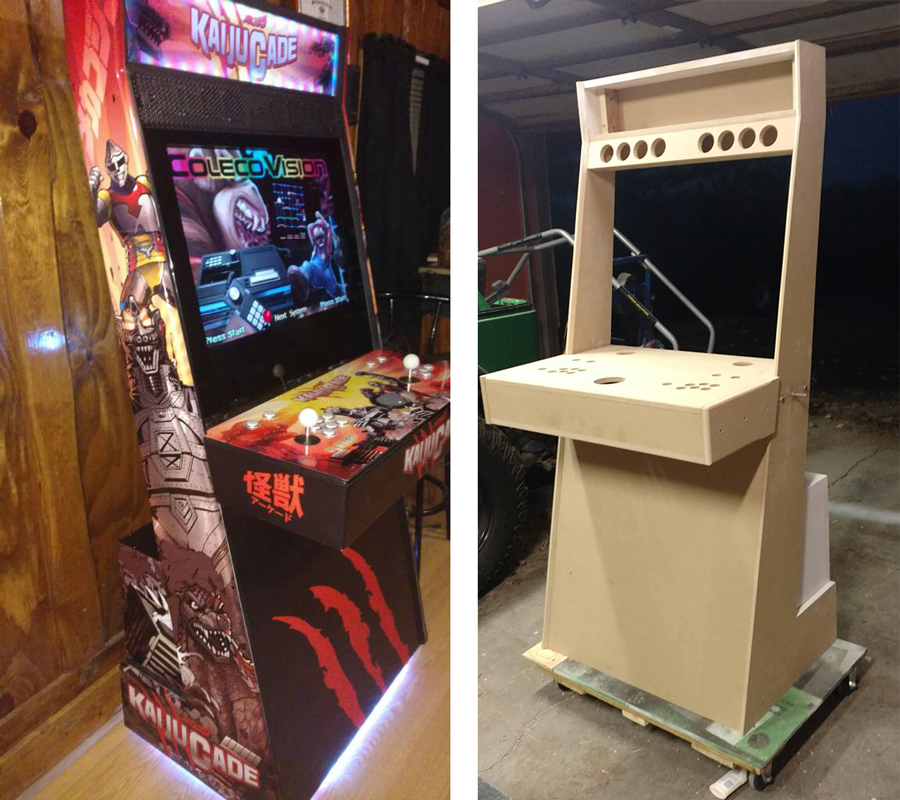 KaijuCade – Home Arcade Machine
---
Designer:
Derek Minor
Project Category:
Home Electronics
Project Level:
Advanced
Project Time:
20+ Hours
Project Cost:
Over $1,000
Project Description:
I've always been a fan of the games of my youth. In the past I built an arcade cabinet that had just MAME emulated games (arcade games) and was very utilitarian. So after I sold it I decided to build the arcade that I had always wanted.
The cabinet has over 30,000 games and will play M.A.M.E, NES, SNES, n64, Atari, Dreamcast, Genesis, and pretty much anything else you would ever want to play. It also doubles as a karoke machine and a jukebox.
I spent over 6 months on this designing and building, I tried to incorporate all the ideas and tricks I could to make it a system that would last and be easily maintainable for many many years to come.
Design Goals:
The goal was to build a system, that looked good, sounded good, reliable, and was easily maintained and/or updated.
Driver Selection:
299-208
Enclosure Design:
I designed this to have a small footprint, while still having a large control and display area.
Enclosure Assembly:
The box is made entirely of 3/4″ mdf. The sides are 2 sheets of 3/4″ screwed together to give the cabinet more rigidity during intense gaming sessions. The rear access panels are all attached using easily removable bolts for quick access to the electronics. I made sure to add in a number of fans to keep the heat down in such a small area.
Tips & Tricks:
Plan and plan some more, due to the constrictive space I had to layout all of the electronics, bracing and access panels ahead of time to make sure I didn't get into a bind with fitment.
Conclusion:
This was an extremely challenging build, but well worth the results. I love it, and everyone that has seen the design assumes it was 'store-bought'. The sound as well as video is loud and punchy which fits perfectly into the arcade vision.
About the Designer:
I like building things: speakers, arcades, furniture, anything I see on the internet or just come up with myself. Gaming and audio have always been a passion of mine.
Products Used:
The sound starts with 8 of the HiWave BMR12's. These little guys play relatively loud and decently down to 150hz, this allowed me to use one 10″ subwoofer in a rear firing vented enclosure to fill in the low end. Remember space is at a premium in the design.
Along with the HiWave's and the sub, I used a Nakamichi active crossover and 2 old Coustic car amps. Because the system is really just a fancy computer, I wired in 2 separate ATX power supplies. One controls the computer and temperature sensing fans, and the other controls the audio and led lighting.
I used a HP zr30w 16:10 monitor for the display, and off the shelf led strip lighting to light up the marquee and under the cabinet.