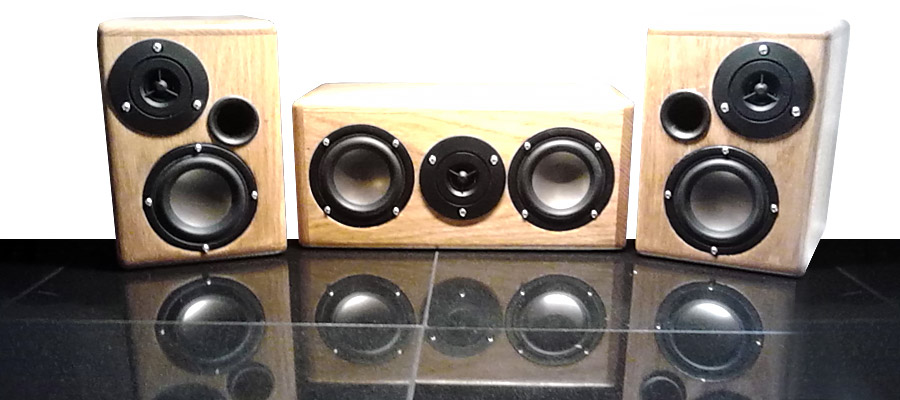 Low Cost Surround Sound Upgrade
---
Designer: Joel Hornbostel

Project Time: 1-8 hours
Project Complexity: Hobbyist
Project Cost: $100-$500
Concept
I had upgraded my surround sound system and was giving one of my daughters my old system. But it just did not have speakers I liked and wanted to give her more. Unfortunately the budget was very tight. Since I have not built speakers since high school I went to the web to see what I could find. Thank you Parts-Express. These are the speakers I put together for her.
Driver Selection
297-428 HIVI B3N 3″ ALUMINUM DRIVER ROUND FRAME
279-001 1/2″ MYLAR DOME SHIELDED TWEETER 8 OHM WITH 3.3 OHM RESISTOR
Enclosure Design
Home Depot has oak hobby boards for $2.99 5.5"W x 24"L x 7/16" thick. Two boards each speaker.
Enclosure Assembly
I used the width of the boards unchanged except for the center speaker front and back, which I ripped down to 4.5" wide. The speakers are 7″ tall plus 2 times 7/16 top and bottom plates. All are butt joints glued together. I have retired and moved to a house boat and no longer have a shop. So I only have hand tools, just trying to keep it simple.
Crossover Design
As far as cross overs I used the tweeter side of the Panasonic cross-overs on sale. I know this is not the best but the cost was right. I soldered wires to the tabs (see picture) for the woofers.
Conclusion
I finished the cabinets with shellac since it is easy to apply. This is what they came out like. By the way they are much better sounding then the speakers that came with the system. For around $20 each and $30 for the center, they are a great improvement.