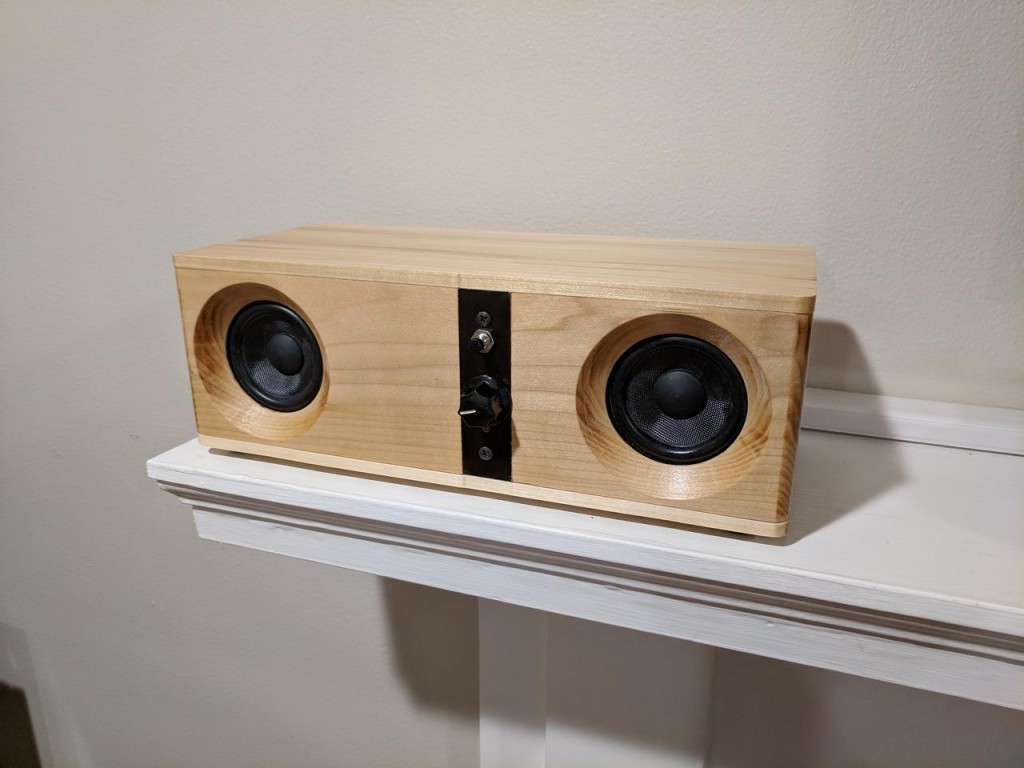 'Mira' Boombox
---
Designer:
Jonathan
Project Category:
Portable Speakers
Project Level:
Beginner
Project Time:
8-20 Hours
Project Cost:
Under $100
Project Description:
A small battery-powered boombox for the office.
Design Goals:
I wanted a small boombox for my office for streaming music. Besides the small size, I wanted it to run on batteries and be charged via USB.
Driver Selection:
I used the Dayton PC68-4 poly cone drivers (295-150) for their appearance, low cost, decent efficiency, and full-range sound. Due to the pincushion frames and 1/2″ baffle, I rear-mounted them.
The speakers are powered using a PAM8406 5v amplifier and a Sure BT2.1 board that can be powered by 5v. A single lithium battery cell is charged via micro USB and powers everything.
Enclosure Design:
Overall the box is about 12″ x 4″ x 5.5″ with an internal divider, giving a gross internal volume of 1.4L each. A single piece of 1/2″ PVC tunes the enclosure to roughly 80Hz. All of the electronics and damping material are split between the left and right enclosures, leaving a net volume probably closer to 1L each.
Enclosure Assembly:
I used 4″ (3.5″ actual) poplar board for the font and sides and 6″ (5.5″ actual) poplar for the top and bottom. This way I avoided any rip cuts and kept the assembly as simple as possible.
The drivers were rear-mounted and the sides and back are glued together and to the top. The insides are accessed through the bottom plate. The screws for the rubber feet also secure the bottom plate to the frame. The amplifier is mounted on a piece of anodized aluminum from a door kickplate and secured with matching screws.
Once assembled, I rounded the vertical corners and flush trimmed everything. The wood is finished with natural stain and several coats of satin poly.
Crossover Design:
Based on simulations, I used a notch filter to flatten the response. This consists of a 0.25mH coil, 22uF capacitor, and 2.4ohm resistor.
Tips & Tricks:
Mark the screw holes and driver orientation before drilling holes to rear-mount the drivers. This ensures the driver will be perfectly concentric with the hole in the baffle.
Conclusion:
I'm extremely pleased with this design and it serves as a great conversation piece in my office. It is perfect for listening to music to relax and focus throughout the workday.
About the Designer:
I'm a mechanical engineer who decided to pick up this hobby as a creative outlet and learning experience. I have minimal prior experience with music or electronics.
Project Parts List: