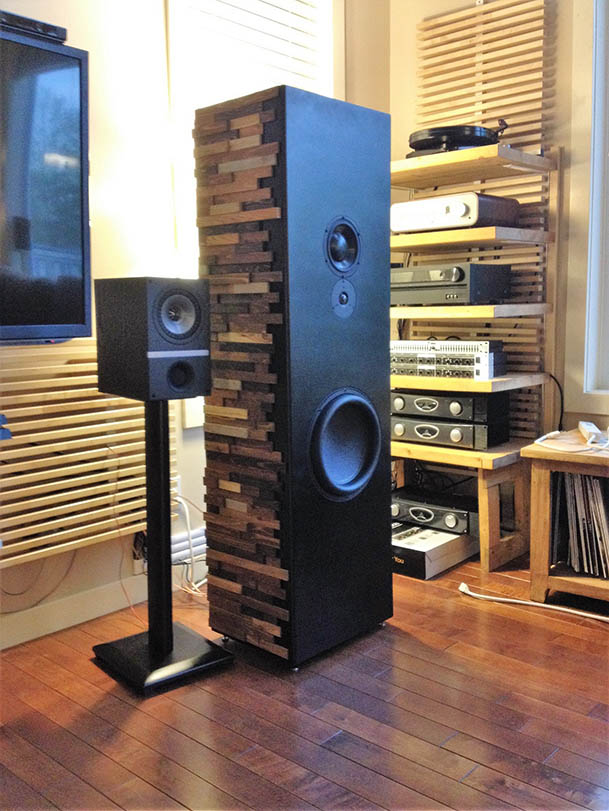 Perfection One
---
Designer:
Vaheed
Project Category:
Tower Speakers
Project Level:
Intermediate
Project Time:
20+ Hours
Project Cost:
Over $1,000
Project Description:
Project is about building a set of 3-way stereo speakers, as the name suggests they had to be perfect in everyway and I believe they are.
Design Goals:
The project has a "No Compromise" criteria, I wanted a detailed, natural sound on a sealed design to minimize the delay with 25hz-20khz extension at -+3dB
Driver Selection:
High frequency driver:
Morel CAT 308 1-1/8″ Soft Dome Tweeter (#277-082)
Mid frequency driver:
Morel TiCW 638Nd Titanium Series (#297-105)
Low Frequency driver:
Dayton Audio UM12-22 Ultimax (#295-512)
Enclosure Design:
To minimize the delay I chose the sealed design, Low frequency driver is sealed in the main enclosure and mid frequency is also sealed in another enclosure inside the main.
Enclosures are massive and heavy, each one weights closer to 400 lbs. Material used is 1″ MDF everywhere, tons of internal bracing with sluts and wave guides plus 3″ front baffles.
Enclosure Assembly:
I've only used glue and no screws. on joints I've used Titebond 3 and for layering, I've used Titebond melamine glue.
I've also used multiple layers of Bitumin paper and Melamine glue for vibration dampening everywhere and ofcourse pre-modelled extensive insulation.
Crossover Design:
It is an active dual mono 3-way crossover design.
Tips & Tricks:
Project was a huge success. I am very much happy with the results, Literature reviews took 3 months, design phase took 2 months and construction phase took another ~4 months.
Speakers are detailed and fast, base extension is lower than 25hz +-3dB in my living room, mid frequencies are to die for and high frequencies are silky and smooth, you simply can not stop listening to them.
About the Designer:
I am crafty and have experience in wood working.
This was my first serious speaker building project.