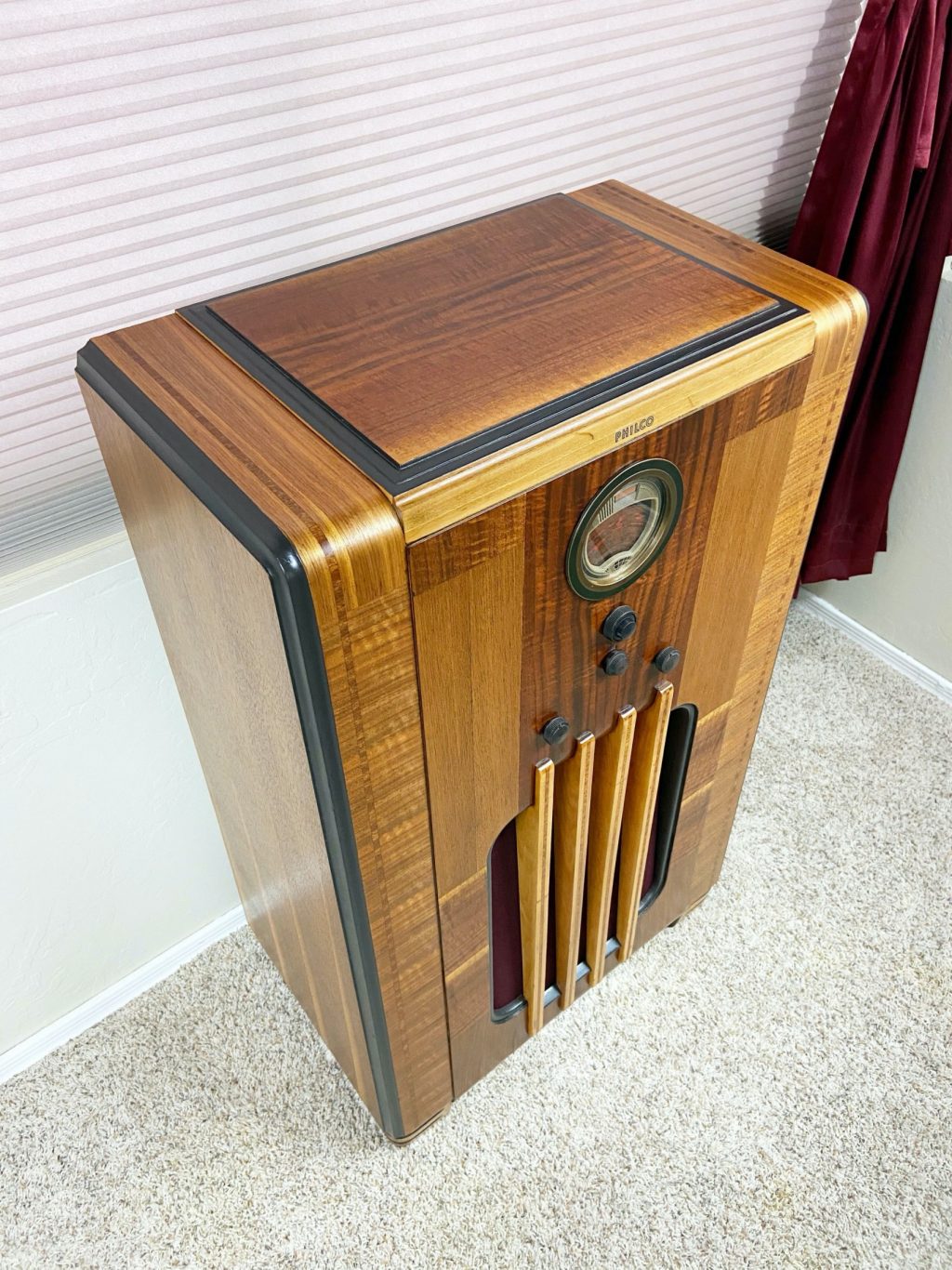 Philco 36-760X Revitalization
---
Designer:
David Hall
Project Category:
Home Electronics
Project Level:
Intermediate
Project Time:
20+ Hours
Project Cost:
$500 – $1,000
Project Description:
Refinish and revitalize an old 1936 Philco 36-760X radio into a powerful Bluetooth system.
Design Goals:
• Restore and retrofit a dead 1936 Philco 36-760X radio as a Bluetooth speaker
• It must capable of filling a large room with high quality low distortion sound.
• Due to the small space available in the cabinet a solution is needed to provide a healthy lower end of the frequency spectrum.
Driver Selection:
For this application I selected the ND140-8 drivers as they have good power handling capability considering the motor size and provide a decent low end for a 140 mm mid-bass driver. Each channel had two ND140 wired in parallel, providing 80 watts per channel.
For the high end, I selected the XT25BG60-04. It has respectable off-axis performance, which is important for this application as both channels are physically close to each other due to the relatively small cabinet size.
Enclosure Design:
While a 2.67 cubic-foot ported cabinet is optimal for the ND140-8, even one speaker cabinet would not fit in the Philco cabinet. I had to go with a closed speaker cabinet for two ND140-8 in parallel. According to BassBox Pro the idea closed chamber would be is 0.62 cubic feet. Due to space constrains, the final closed speaker cabinet for each channel was 0.589 cubic feet, which did not adversely change the roll-off portion of the curve, having an F3 of 76 Hz, versus the desirable 31 Hz for a ported box. Both channels were built in one enclosure with a reinforced divider separating each resonation chamber.
For cabinet esthetics, I sanded the Philco cabinet down to the wood then sprayed it with three coats of gloss lacquer, and one final coat of matte lacquer. The original mustard colored grill cloth was rotted, so I replaced that with an acoustically transparent burgundy grill cloth. I purchased a replicate radio dial because I damaged the original when I unsuccessfully cleaned it with alcohol, dissolving the printed bands on the dial. One knob was missing so I purchased an original knob I found on-line.
Enclosure Assembly:
I employed simple box construction using butt joints with reinforcing gussets and window frame strut to dampen any resonance from the box. I installed a drawer on glides for the electronics. Unlike the original radio, I added a back channel as 110 volts would be available to prying little fingers. Nothing really challenging here.
Crossover Design:
In order to boost the lower end an active solution is required, not a passive crossover. I tried the Dayton Audio DSP-408 digital signal processor (P/N 230-500) combined with Sure Electronics' 4×100 W amplifier board (P/N 320-305). I have used the amplifier board in several applications and have had no problems in achieving a clean sound. The system was powered with a 24V, 350W Mean Well switching power supply (320-3167).
Let me say at the start, the Dayton DSP-408 is amazing, and a great value for what it does. Dayton's user interface is simple and very clean, and easily navigable. I will use more of these in future designs as they provide amazing flexibility and the ability to compensate for delays between drivers as well as the listening space. The DSP truly allowed for easy optimization of the frequency spectrum. I have used other DSP and this one carries its own weight with ease. I really like and am impressed with the unit.
I used Seismic's 1-foot double patch cables to make connections between the Bluetooth receiver and the DSP, and the DSP to the amplifier board. The size is perfect for this application. I wish these, or ones like them, were available on Parts-Express, as the 1.5-foot cables Parts-Express are too long for a clean organized layout of the electronics.
All the electronics were secured to a drawer on linear glides in the upper part of the Philco cabinet, where the original radio receiver resided. The glides allow for easy access to the electronics.
Tips & Tricks:
When refinishing vintage radios, be prepared to do a LOT of hand sanding. Give the DSP a try; you will not be disappointed.
Conclusion:
Dayton's ND104-8 combined with their DSP-408 is a perfect combination to achieve a fantastic lower end. This paired with the Tymphany XTBG60-04 pumps out a clean crisp quality that fills any room with amazing sound. The DSP-408 provides a lot of bang for the buck. Oh, did I say I really like the DSP?
About the Designer:
I am a custom speaker and home theater designer. The favorite part of my job is speaker design and fabrication. I pursue unique cabinet designs and drivers that offer clients the look and quality of sound they desire. My philosophy is audio should be as pleasing to the eye as it is to the ear. It has to look as good as it sounds, and it must sound awesome! I focus on choosing drivers with optimal qualities to achieve the finest sound in order to diminish or avoid the electrical and acoustic challenges of crossover design.
Project Parts List:
Other things used in this project:
1 – BassBox Pro Software
1 – TinySine Bluetooth Audio Receiver board (Amazon Tin-8305)
3 – Seismic Audio Premium Red 1 Foot Dual RCA Male Audio Patch Cable (SAPRCA1-RD)
1 pr. – AB-5000 Ball Bearing Drawer Slides, 10 Inch, Nickel Plated-Steel
1 – URBEST Inlet Module Plug, 5A Fuse Switch Male Power Socket, 10A, 250V, 3-Pin, IEC320 C14
1 – 10 ft Standard Computer Power Cord (NEMA 5-15P to IEC 320 C13) – 18 AWG