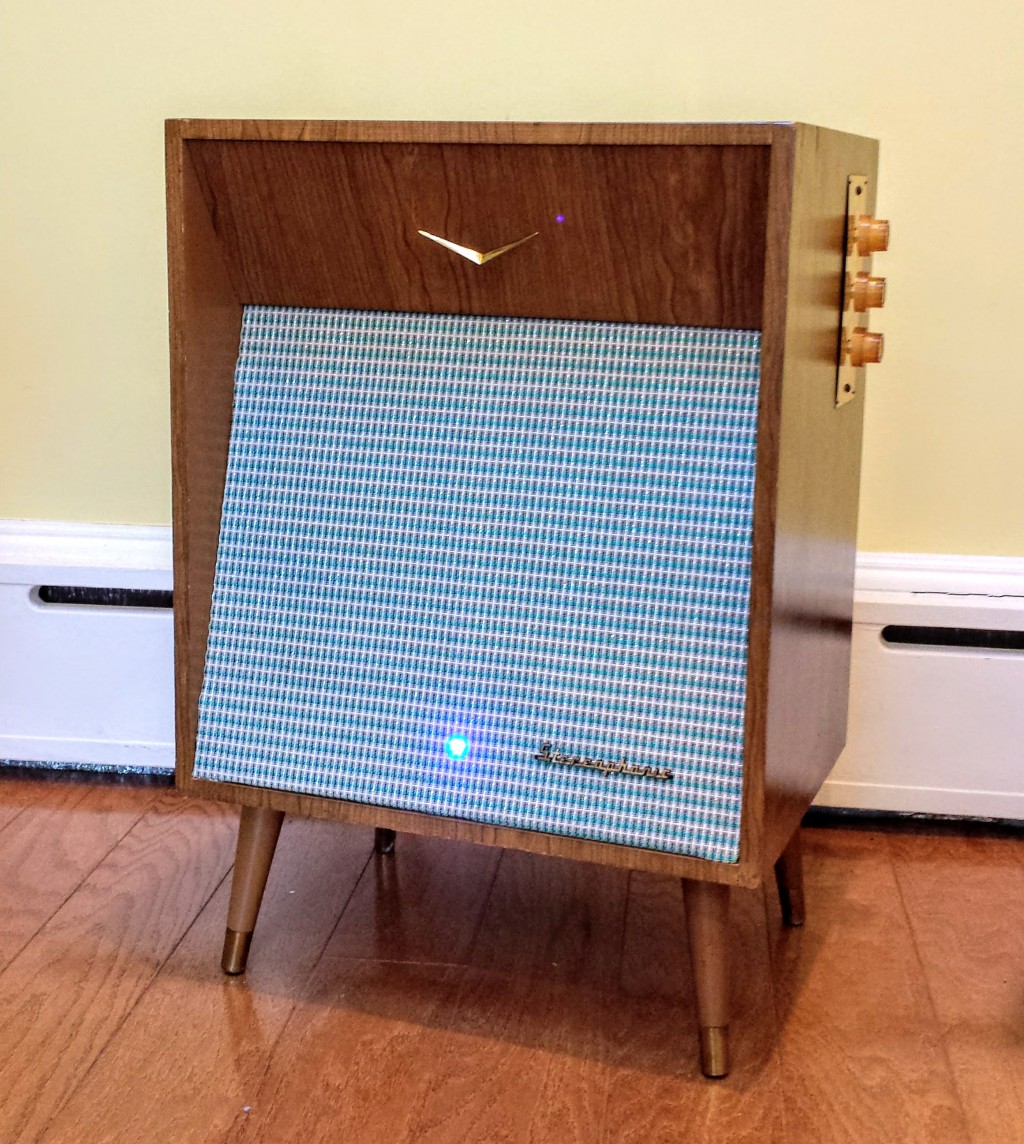 Refurbished Grundig WiFi Speaker
---
Designer:
entomophile
Project Category:
Furniture
Project Level:
Intermediate
Project Time:
8-20 Hours
Project Cost:
$100 – $500
Project Description:
I pulled the guts out of this old Grundig Stereophonic accessory speaker and outfitted it with a pair of bookshelf speakers, sub, wifi audio, and amplifier to make a self contained stereo system.
Design Goals:
I had the speaker cabinet lying around and wanted to re-purpose it. I wanted it to be loud enough for parties, have good quality sound, and be relatively inexpensive. And of course, it all had to fit within the cabinet.
Driver Selection:
I chose the Dayton B652 Air bookshelf speakers for their great reviews and low cost. I wanted a bit more bass so I built the Voxel mini sub.
Enclosure Design:
The Daytons were used with the stock enclosures. The Voxel was built as described here http://techtalk.parts-express.com/forum/tech-talk-forum/58008-voxel-a-mini-sub.
Enclosure Assembly:
Space was a little more limited than I anticipated. I wanted the sub to come through the base of the cabinet but that would have raised the Daytons above the grille cloth. So the Daytons were screwed into the base and the sub was secured on top of the Daytons. That worked fine. Once the cabinet was closed up, it added a nice boom to the Voxel. The amplifier was disassembled and the volume, treble, and bass pots were removed from the circuit board and placed on a custom mount where the original knobs were. The power button was also rewired to the back of the cabinet. I swapped the original incandescent power indicator lamp for a blue led behind the grill cloth. Audio is supplied from a Google Chromecast Audio puck.
Conclusion:
The speaker looks fantastic and sounds great too. The wifi audio is super convenient allowing me to play music from any internet connected device. I used pre-built speakers this time for a quick build but next time I will likely use component speakers and build a custom enclosure that makes better use of the space. I think the amp is a bit under powered for this setup and may get upgraded in the future but it was a good value. Total cost was about $150 not including the Grundig which I got for free.
About the Designer:
I am an audio noob but I like to update vintage radios with modern components & technology to give them a new life.
Project Parts List: