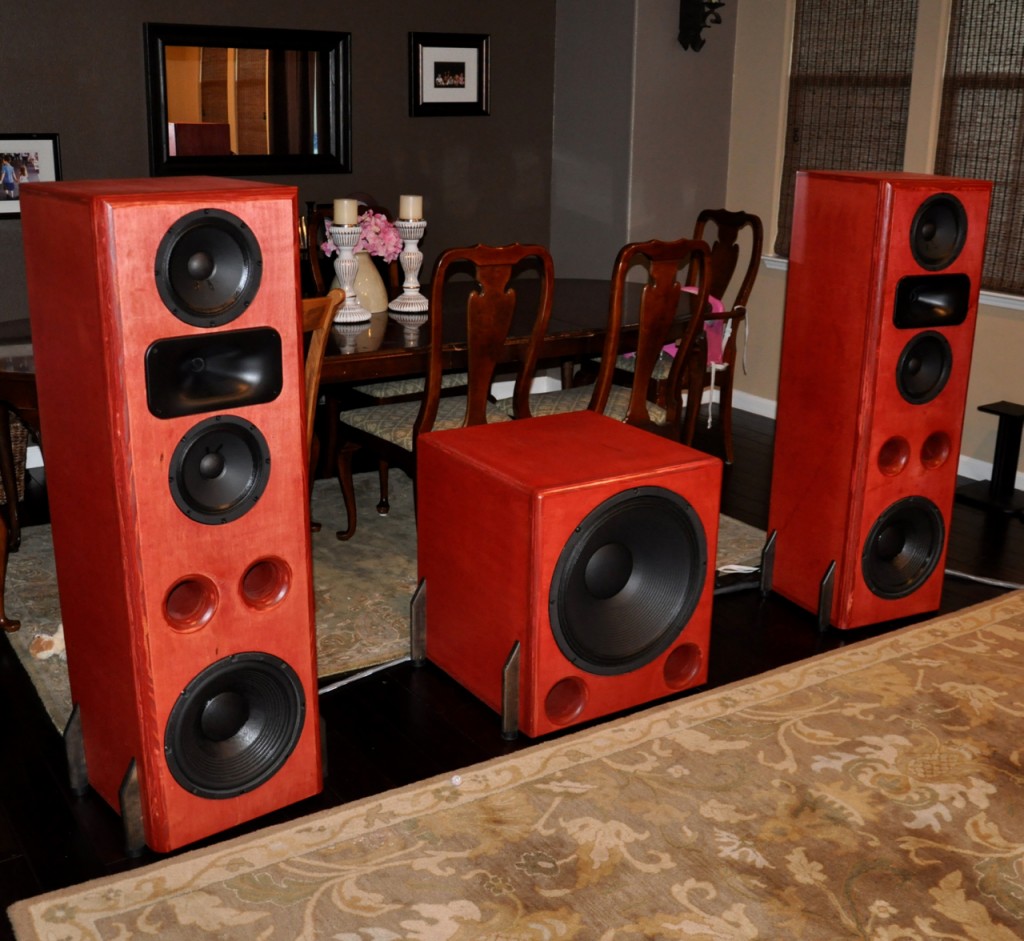 SFE-812 Pro Audio Reference Speakers
---
Designer:
Javad Shadzi
Project Description:
The SFE-812 project utilized pro drivers to create incredibly and incredibly dynamic speaker system that meets critical audiophile standards while creating SPL's well into the 120 decibel range for the highest level of clarity and impact.
Driver Selection:
B&C DE250 Compression Driver 294-605 x 1 each tower
Faital Pro 8FE200 8″ Mid Woofer 294-1171 x 2 each tower
Seos10 Horn
Eminence Mag 12 Subwoofer x 1 each tower
Dayton PA465S 18″ Subwoofer x 1 total 295-042
Enclosure Design:
Large enclosure, dimensions 50″ tall, 15.5″ wide and 15″ deep. Total weight 98lbs including drivers.
Extensive bracing leaving no surface more than 8″ unbraced, bracing heavily engineered and windowed to mantain maximum rigidity with minimal weight and volume displacement.
All drivers flush mounted including Seos10 horn
Enclosure Assembly:
3/4″ maple plywood construction, front baffle 1.5″ thick, only glue used, no metal in enclosure other than screws holding in drivers.
Crossover Design:
Fully active miniDSP 4×10, laptop programmable, crossover points as follows:
Tweeter – 2000hz 24db/octave
Midrange – 150hz 12db-2000hz 24db
12″ Subwoofer – 30hz 48db-150hz 12db
18″ Subwoofer – 20hz 48db-80hz 12db
Tips & Tricks:
Build thread chronicling construction at http://techtalk.parts-express.com/forum/speaker-project-gallery/1277937-seos-12-faitalpro-8-mtm-12-subwoofer-towers
About the Designer:
I own an engineering and manufacturing company for high performance automotive products, I recently rekindled my passion for speaker building and have built over 10 pair of speakers this year since Feb!