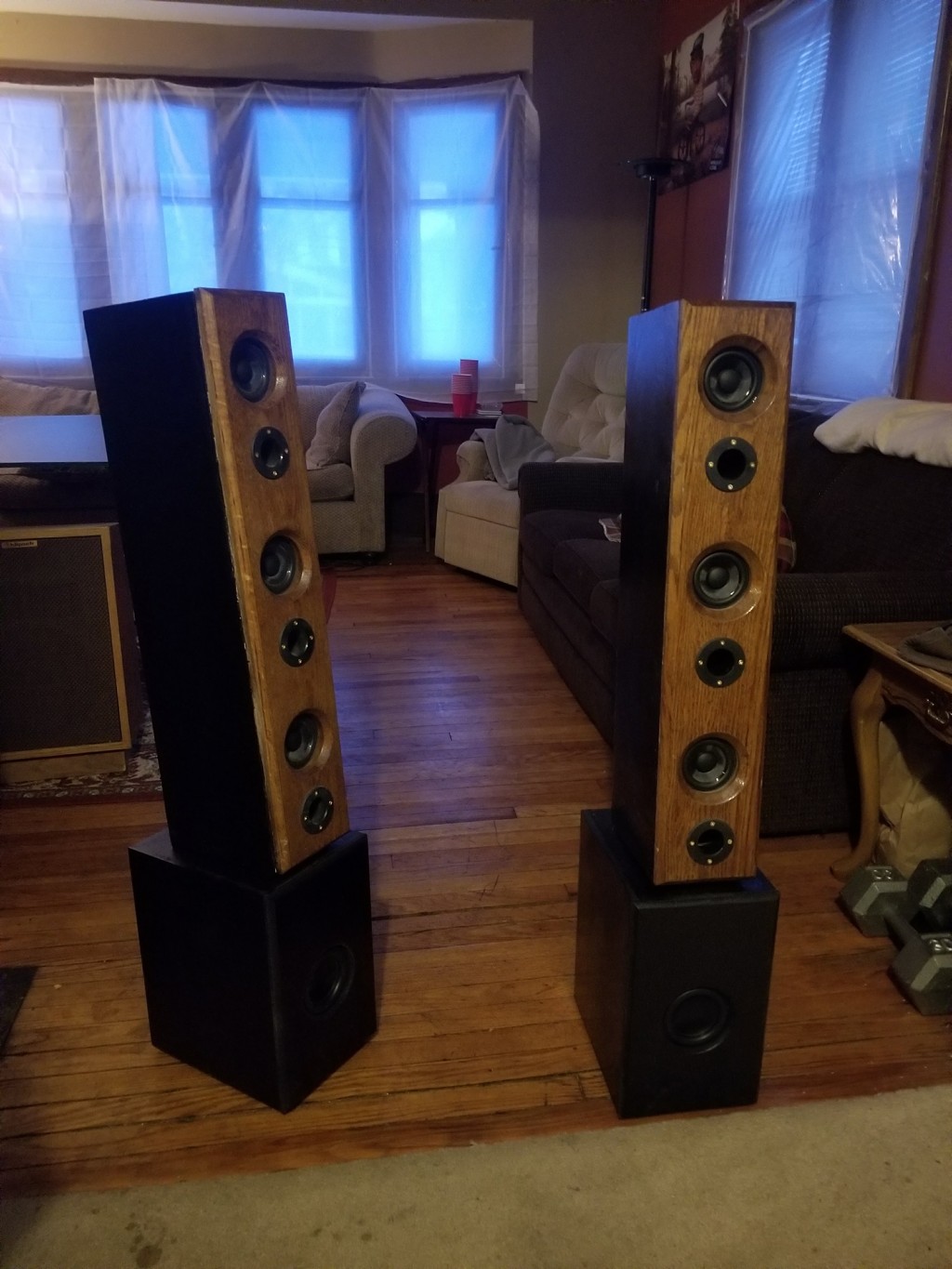 Sound Dream
---
Designer:
Martin
Project Category:
Tower Speakers
Project Level:
Beginner
Project Time:
8-20 Hours
Project Cost:
$100 – $500
Project Description:
After visiting my father for thanksgiving it occurred to me that he needed new speakers. I wanted these speakers to be tall in stature but lightweight and relatively small in size and offer the best sound quality possible
Design Goals:
I wanted the best sound I could get for cheap as possible.
Driver Selection:
after using two 3 inch drivers in my last bluetooth speaker build I knew I wanted to use 3 inch drivers for full range. the new Dayton Audio PC83-8 3″ fit the bill perfectly, 295-156. worried that these 3 inch speakers may not go low enough so I also purchased two ND 105-8, 290-214. I crossed the 4 inch woofer at 150hz using a simple 1st order crossover
Enclosure Design:
each tower has 3 3inch speakers with front firing ports, while the 4 inch woofer has a rear firing port
Crossover Design:
4 inch woofer ND 105 used a first order crossover at 150hz to help emphasize the low end I knew the 3's wouldn't be able to capture
Conclusion:
After doing some listening tests I was blown away at my creation. I turned my subwoofer off and I was pleasantly surprised with how low these got while retaining full rich highs and mids.
About the Designer:
I'm still very new to this hobby but making huge progress every time I build a new set of speakers. Im not sure if its even a good idea to use this design, I'm sure a couple seasoned vets could let me know if I'm headed in the right direction.
Project Parts List: