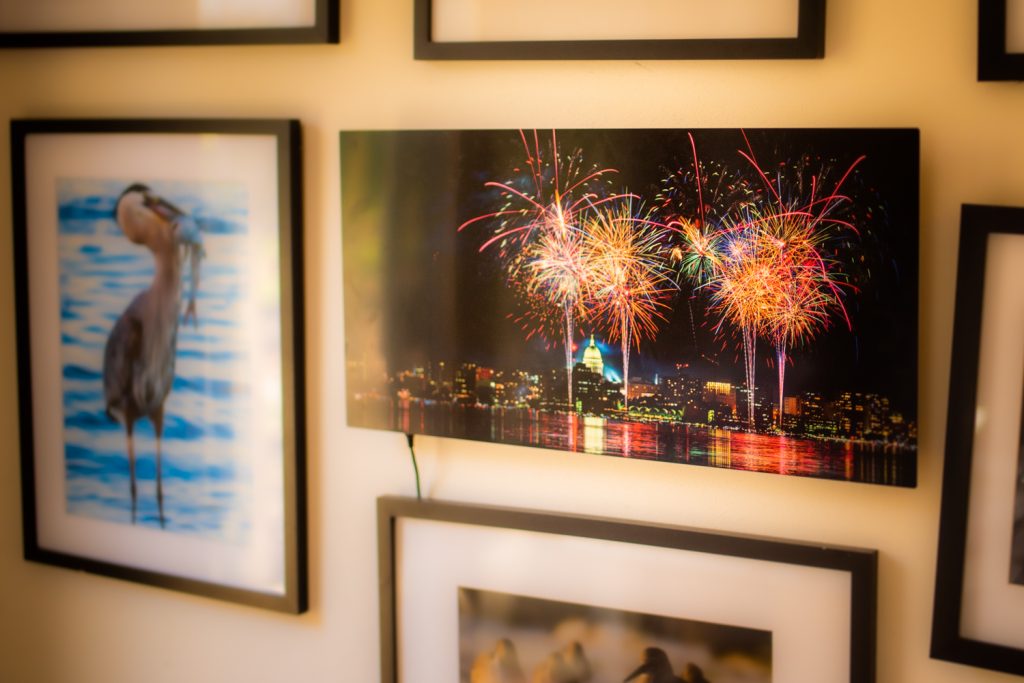 SoundPhoto
---
Designer:
David F Giroux
Project Category:
Furniture
Project Level:
Intermediate
Project Time:
1-8 Hours
Project Cost:
$100 – $500
Project Description:
I started with a vibrant 12×24″ metal print of fireworks over the Madison, Wis. city skyline — the "Shake the Lake" show over Lake Monona. This is my own photo, in a high-resolution professional print directly on a sheet of polished aluminum with1.5″ inset metal frame on the back. I installed a Dayton audio 15w/ch amp and 2 Dayton exciters behind the panel. Power switch, volume control, and aux audio input mounted discreetly on the side.
Print made by White House Custom Color
see video
Design Goals:
I wanted to conceal a stereo inside a piece of art. As a photographer and speaker builder, this is the convergence of my two hobbies!
Driver Selection:
Dayton Audio DAEX32EP-4 Thruster 32mm Exciter 40W 4 Ohm Model: DAEX32EP-4|Part # 295-230
Enclosure Design:
The Exciters are mounted directly to the back of the flat aluminum panel
Enclosure Assembly:
Exciters, amp bracket, and all wires glued or taped to the backside of the panel, concealed by the inset metal frame.
Crossover Design:
NA
Tips & Tricks:
Start with a really good photograph that people want to hang on the wall.
Conclusion:
This is more of a conversation piece than anything else. It's a great photo with a party trick hidden inside.
About the Designer:
David Giroux is a full-time marketing professional, part-time photographer, aspiring speaker maker, beer snob, foodie, husband and father — Not in that order. See DaveGiroux.com
Project Parts List: