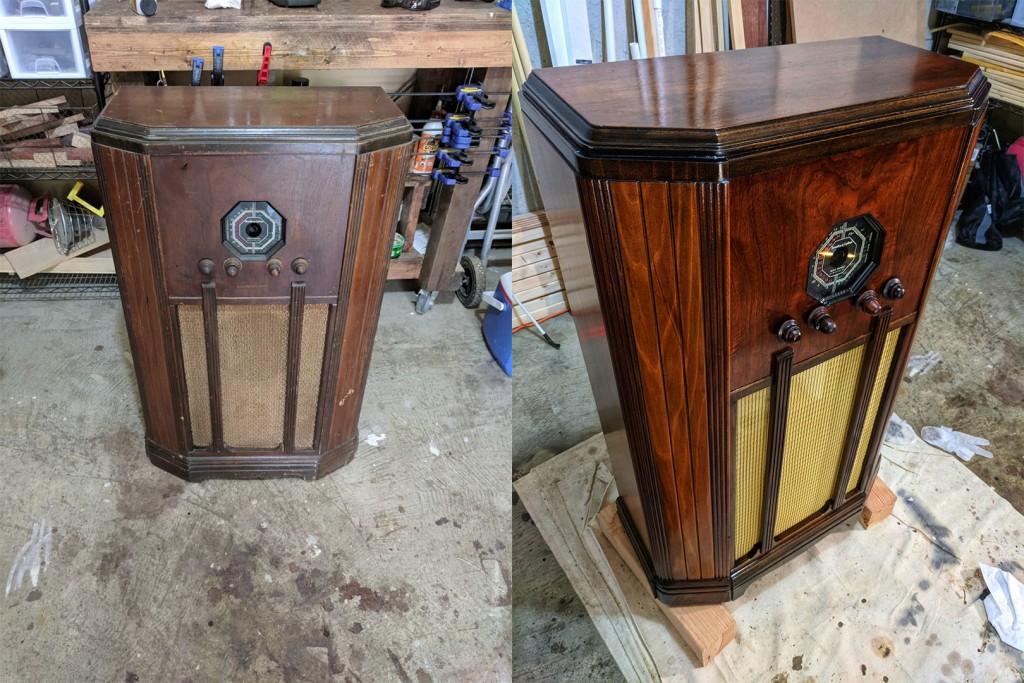 Stromberg Carlson Modernized
---
Designer:
Warren Peace
Project Category:
Furniture
Project Level:
Intermediate
Project Time:
8-20 Hours
Project Cost:
$100 – $500
Project Description:
I picked up a Stromberg Carlson 130-L floor radio at a local second-hand store. I have a soft spot for old radios. They are works of art, unlike today's black metal boxes. It is now powered by a class a/b 150-watt amp fed by a hybrid tube preamp and Echo Dot streaming Spotify Premium. Everything but the Echo is powered by a surge protector plugged into a TP-Link Smart PLug for voice on/off. Isolation foam covers the inner walls of the cabinet and the speakers rest on isolation mats to mitigate resonance in the old cabinet.
Design Goals:
I wanted to keep the look of yesteryear and add modern sound to it. I also didn't want the speakers in the cabinet to be permanent. The cabinet is easily upgradable since nothing is permanently mounted. Some of the scars have been left on the old veneer to retain its story/character.
Driver Selection:
I used Paul Carmody's Overnight Sensations designs for a solid sound and bang for buck ratio.
Enclosure Design:
The enclosure is per Mr. Carmody's design.
Enclosure Assembly:
I committed antique radio restoration blasphemy and stripped the original finish off the old cabinet. I restained to appear as close to the original as I could. I finished it with 5 applications of tung oil – 0000 steel wool rubbings between coats.
Crossover Design:
Crossovers are per Mr. Carmody's design.
Conclusion:
I am happy with the way it turned out. My living room now has a beautiful radio for some easy listening.
About the Designer:
I am a communication strategy Marine Corps gunnery sergeant. I manage the flagship social media accounts for the Corps.
I spend my free time in my garage building things. My grandfather was a woodworker, and so is my father. I am not as into as they are, but I picked a few things up. I like woodworking, but I also used metal and electronics.
Previous build:
Project Parts List: