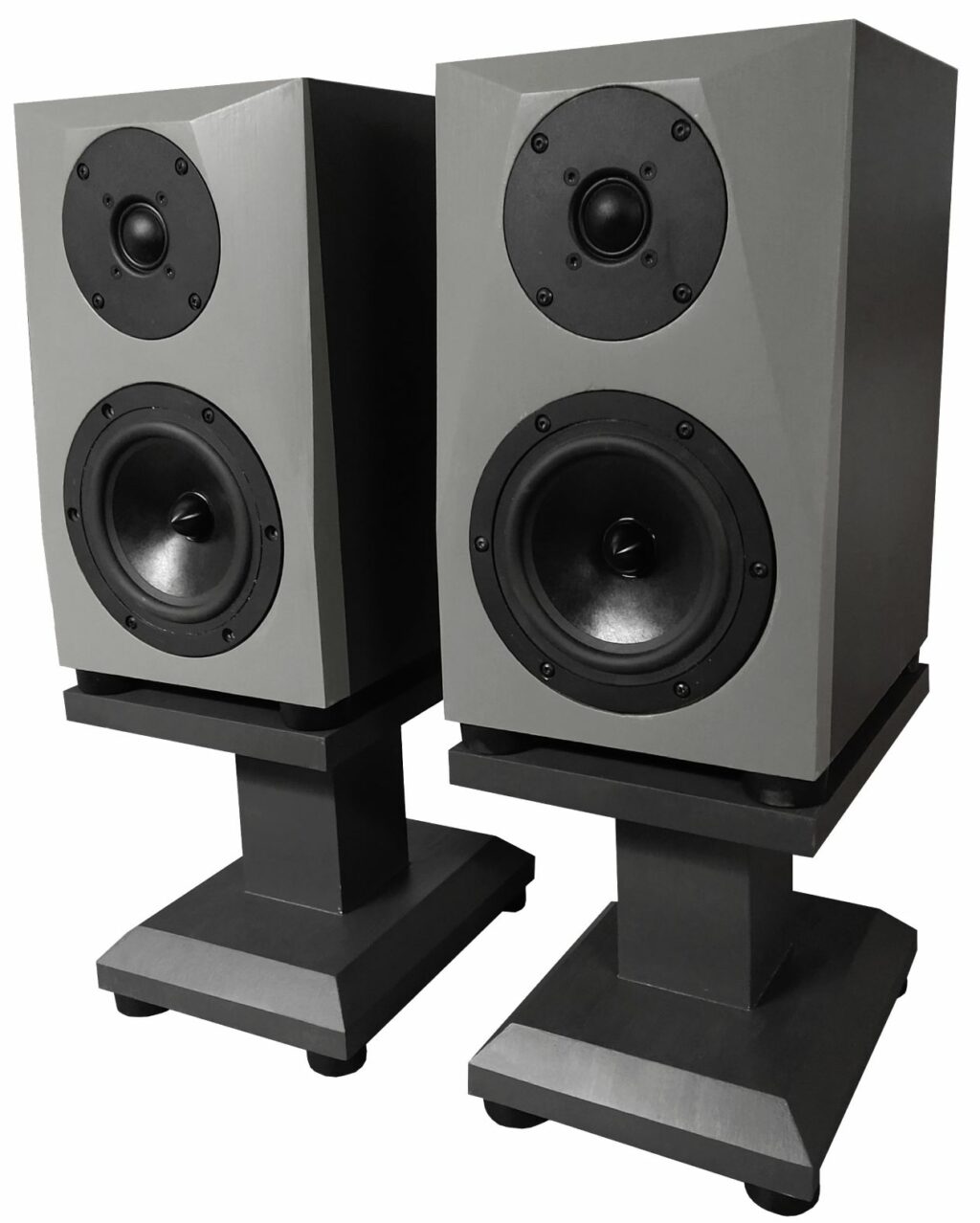 The Nighthawks
---
Designer: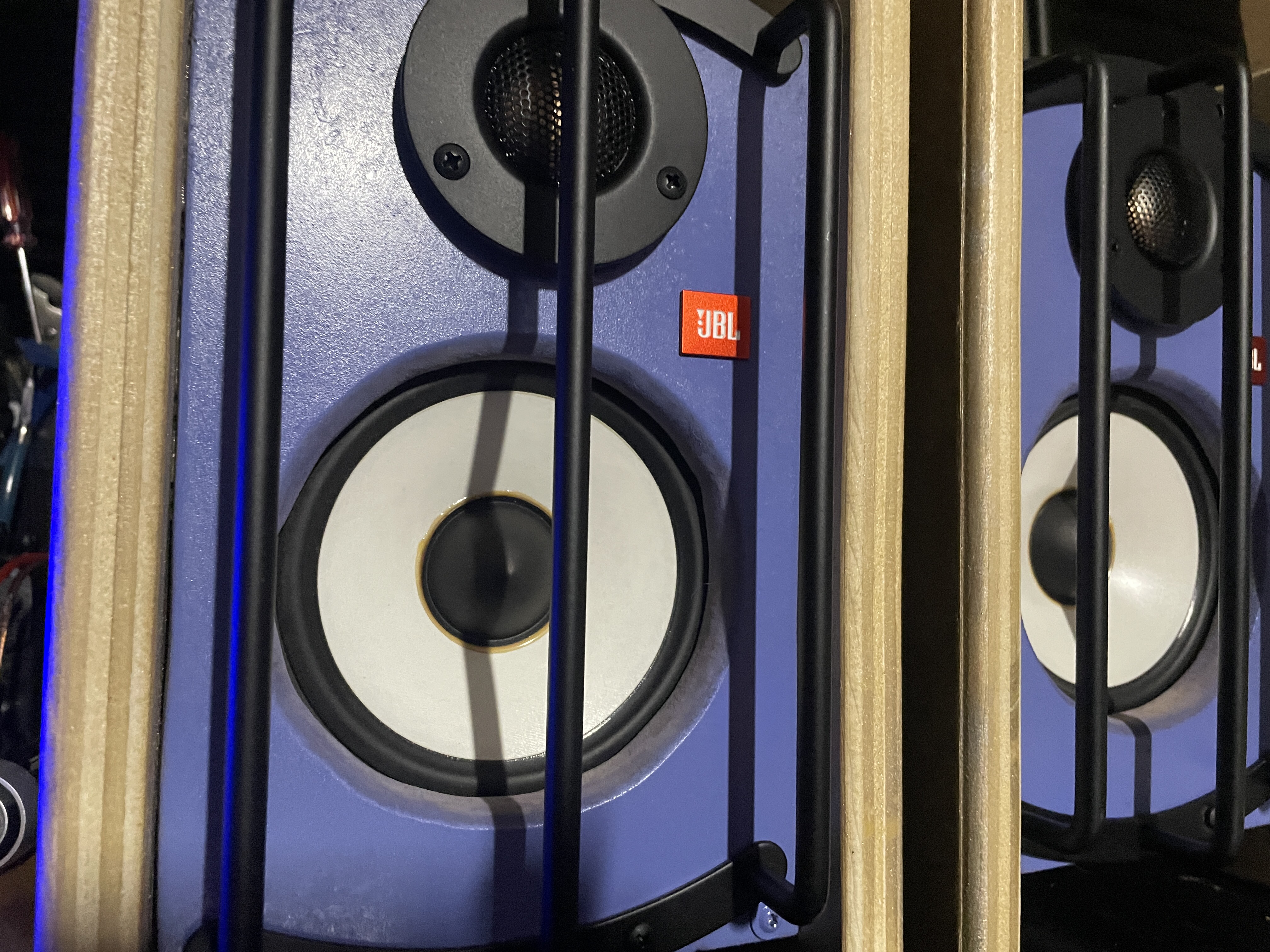 Taylor Hansen



Project Category:
Bookshelf Speakers



Project Level:
Intermediate



Project Time:
20+ Hours



Project Cost:
$100-$500
Project Description:
The Nighthawks are a pair of two way studio monitors intended for nearfield listening. Named after the Lockheed F-117, their modern design pulled inspiration from the stealth aircraft's sharp angles and deep color pallet.


Design Goals:
 
The end user is an avid PC gamer who works from home. Having a bright speaker playing for hours can be fatiguing over time, so a flat frequency response was highly valued. Additionally, due to the vast diversity of content these loudspeakers will recreate, a flat frequency response aids in the best shot of an overall enjoyable experience.
Driver Selection:
The Nighthawks employ the SEAS Prestige 27TDFC (H1189) 1" Textile Dome Tweeter, and the Dayton Audio RS150P-4 Woofer. Both of these drivers were obtained second hand, but measured well within OEM spec via FRD, ZMA, and T/S parameter checks.
Enclosure Design:
The ported enclosure has an internal net volume of roughly 8 liters, and is tuned to 45Hz via a 1-3/8" ID adjustable port. Beveled baffles were implemented for a smooth off axis response, but also played an important role in the visual styling of the loudspeakers. A fully removable rear baffle was incorporated allow access inside the small cabinet. Stands measuring 8-3/8" in height were built to raise the tweeters to ear level, regardless if the adjustable desk was in a seated or standing position.
Crossover Design:
Despite many creative design iterations, the final crossover ended up using traditional 3rd order HP/LP filters with a series resistor to attenuate the tweeter level. Note: tweeter must be wired out of phase to acoustically sum flat with the woofer. Crossover point is at 2.2kHz, with a decent reverse null. Resistor value has since been increased to 3 ohms to lower the treble response. Minimum impedance measures 5 ohms.
Tips & Tricks:
Everyone is on their own journey. Do not compare your work to others. Instead, strive to achieve better results with each iteration.
Conclusion:
They look great, and they sound very true to the source. Natural, warm, and smooth would by my 3 adjectives of choice. The off axis response turned out well, and really help with imaging. I'll probably still advocate for a small subwoofer to be paired with these, but having listened to them for some time without one, you can still squeak by in the nearfield with some boundary gain to help the low end.
About the Designer:
I am an electrical engineer, musician, wood worker, volunteer, husband, and father. I have found a love for speaker building, and dedicated a decade to the hobby so far. I learn as I go, and reach out for help along the way from those who have paved the way before me. Someday I hope to pave the way for someone else too.

Project Parts List:
| | | |
| --- | --- | --- |
| Part # | Description | Qty. |
| N/A | SEAS Prestige 27TDFC (H1189) 1" Textile Dome Tweeter | 2 |
| 295-563 | Dayton Audio RS150P-4 Woofer  | 2 |
| 260-388 | 1-3/8" ID Adjustable port | 2 |
| 081-435 | ¾" Screws | 2 |
| 081-430 | 1-1/2" Screws | 2 |
| 091-1245 | Dayton Audio Gold Binding Posts | 2 |
| 260-770 | Penn-Elcom Rubber Feet | 2 |