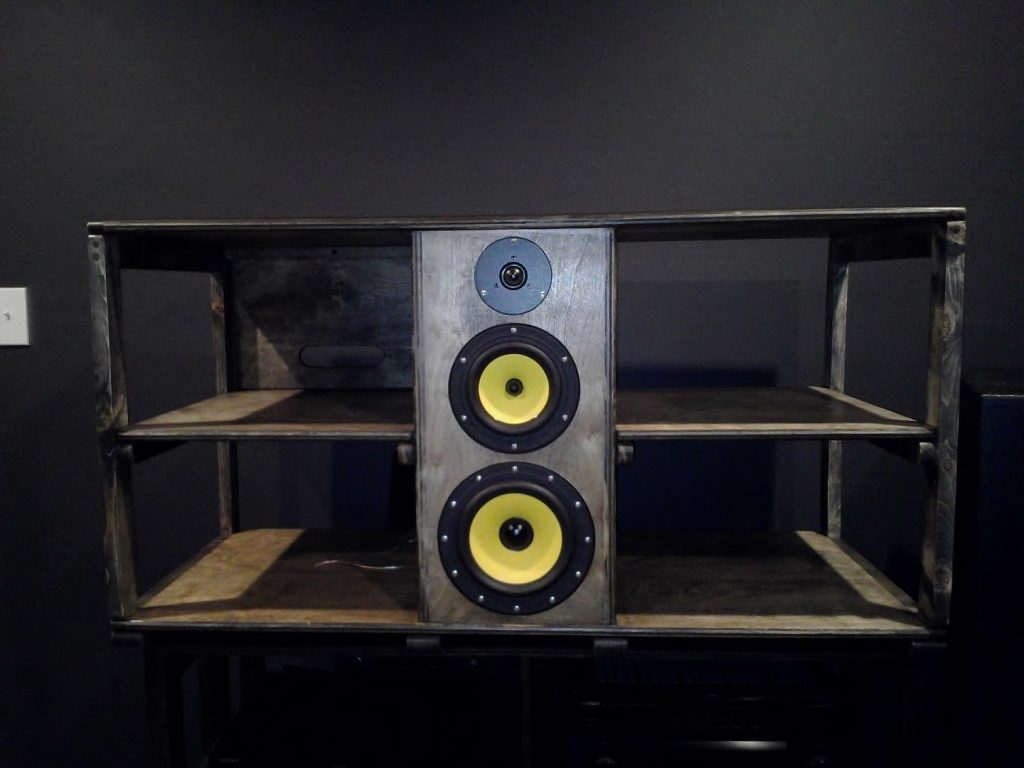 TV Stand Center Channel
---
Designer:
RB
Project Category:
Home Theater
Project Level:
Beginner
Project Time:
20+ Hours
Project Cost:
$500 – $1,000
Project Description:
I previously had my tv on a similar stand with the tv resting on my old center speaker. I didn't like how it looked or the added height it gave the tv.
Design Goals:
Have a center channel that can keep up with my front towers
Lower bottom edge of tv to just above my toes while reclined in my chair
Adequate space for av equipment
Driver Selection:
Dynavox TD2801XL 1-1/8″ Silk Dome Tweeter
HiVi F6 6-1/2″ Bass/Midrange
HiVi F8 8″ Bass/Midrange
Enclosure Design:
Built everything using birch plywood and 2 x 4's from Home Depot. Finished with ebony stain and 2 coats of wipe on poly.
Box was ported and tuned to 40Hz
Enclosure Assembly:
Speaker box was glued together with dowels on the 4 corners to simplify alignment.
Used 3″ pvc for the port.
Was planning on taking the drivers in and out a lot so I used 10-32 T Nuts for the woofers and 8-32 Nuts on the tweeter
Crossover Design:
I used PCD6 to design 2nd order filters at 250 and 2250Hz. I still have a lot to learn about crossovers. The end result wasn't perfect, but good enough for me.
Tips & Tricks:
Don't cross-thread your T-Nuts! I broke a 8-32 screw in one of the tweeter holes. Had to use a hammer to fix that.
Conclusion:
This was a fun project and definitely kept me busy for a while. If I could do it again, I would use traditional black colored woofers.
About the Designer:
Speaker building noob. This is my 2nd speaker project and after both projects I wanted to build more speakers.
Project Parts List: