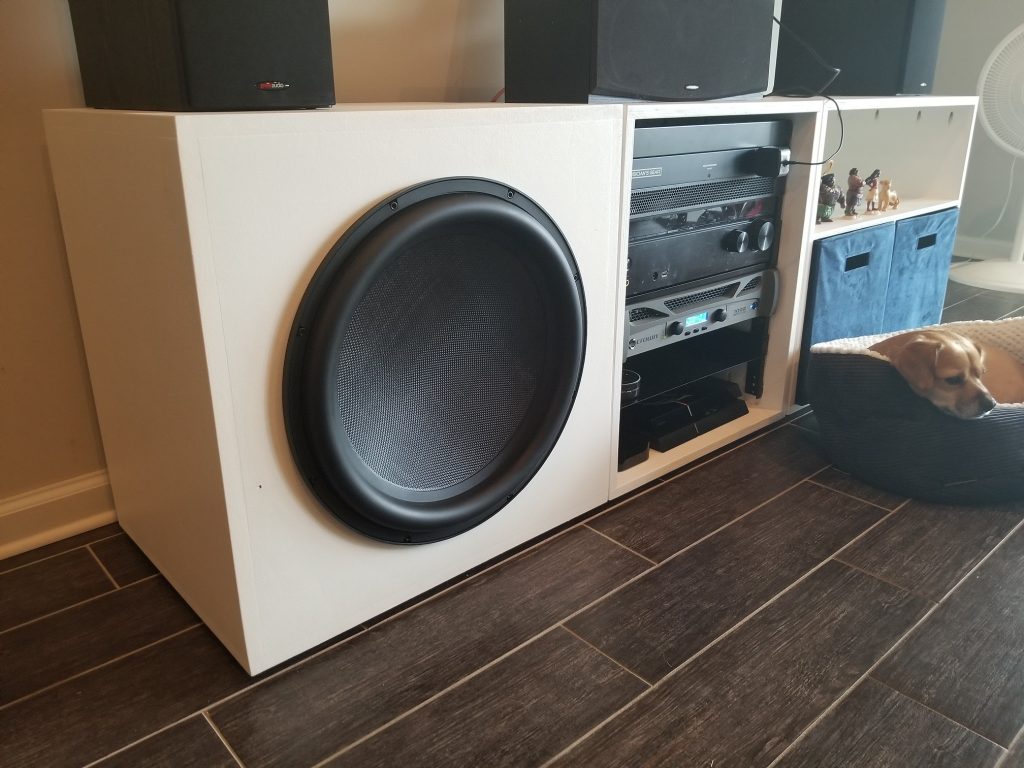 Ultimax 18″ w/Matching Entertainment Center
---
Designer:
Ryan Clark
Project Category:
Subwoofers
Project Level:
Intermediate
Project Time:
8-20 Hours
Project Cost:
$500 – $1,000
Project Description:
Entertainment Center w/18″ Ulitmax (sub, media rack, storage)
Design Goals:
Crushing bass, ascetically pleasing and functional
Driver Selection:
18″ Ultimax to replace my two 15″ Dayton Classic subwoofers which were each in a 3.6 cu foot cabinets. This design made my LCR entertainment center actually smaller with improved bass. The rack media section cleaned up all the gear so I don't have rats nest of cables anymore. Love it!
Crown XTi 1002 – I wasn't planning on using this amp but got a deal on it used and with its DSP functions decided to go with the smaller sealed enclosure with worked out fantastic. Now that I have this amp, I would buy it new for this project. It's DSP functions with Band Manager application is amazing!
Enclosure Design:
Essentially replicated the Denovo Ultimax cabinet. Pretty straightforward ~4 cu foot sealed cabinet. I did design all 3 components to match in height.
Enclosure Assembly:
Used 3/4″ MDF with a double front baffle, although I used 1/2″ plywood for the inside part. I did this for two reasons; wanted to make sure it wasn't too thick for the mounting kit I bought and the T-nuts set so much better in plywood than MDF (bad past experience).
The media section and storage section are made of 3/4″ and 1/2″ cabinet grade plywood.
Painted it all white
Crossover Design:
N/A
Tips & Tricks:
Plan every cut! I don't have a big table saw or a truck so I have them cut down the full sheet in store so I can easily transport and handle.
Use plywood for internal baffle, recess using a spade bit to ensure the T-nuts set in well.
Before securing your baffle to the cabinet, measure, drill mounting holes. Set the T-nuts in place and then make sure they all line up, before you attach to cabinet.
If you build a rack rail cabinet make sure to space it out with actual components. Rack gear is 19″ but you will probably want to shoot for 19.125″ so you have a little wiggle room. I went a little too wide and had to add spacers between the rail and cabinet.
Files:
um1822_entertainment_center_with_subs um1822_project
Conclusion:
Very pleased!
About the Designer:
I have been an aspiring audiophile since I was a teenager. I still have my first speakers – Infinity SM-62's I love building with wood – perfectly matched hobbies.
Project Parts List: