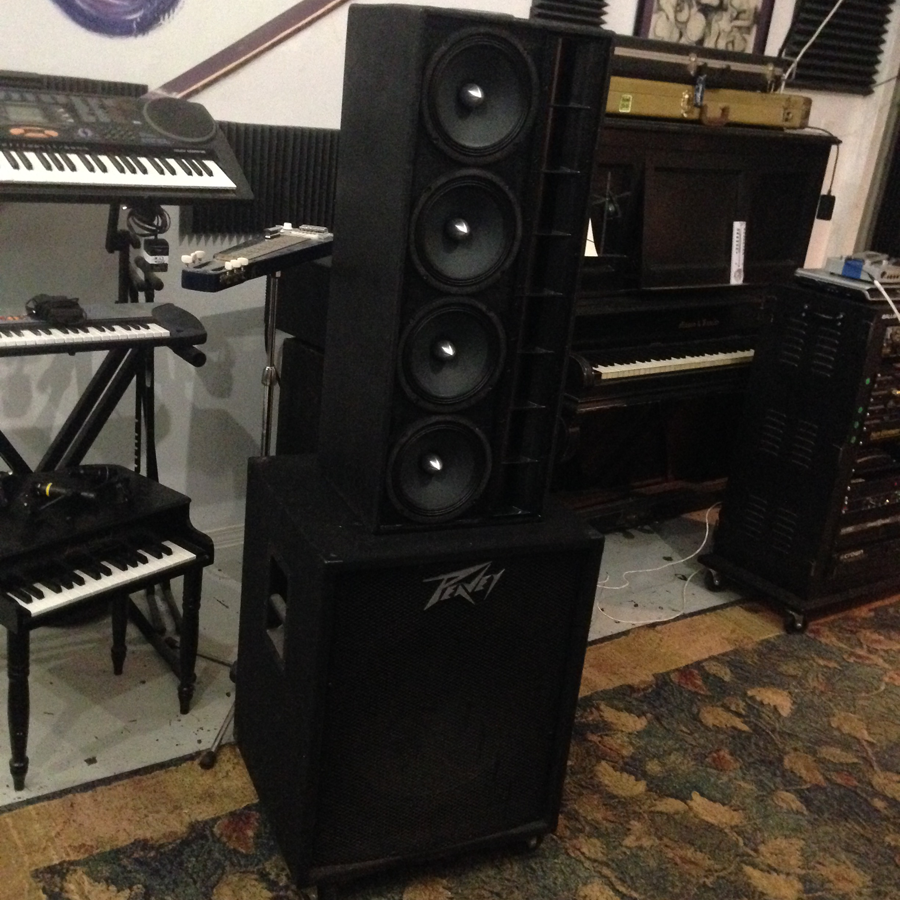 flame-thrower
---
Designer:
Matt Ristrom
Project Category:
Loudspeakers/Cabinets
Project Level:
Advanced
Project Time:
1-8 Hours
Project Cost:
$500 – $1,000
Project Description:
Flame-thrower: Stackable line array speaker for med size indoor or outdoor pro audio use.
Built for Rocky Rude, a notable live audio engineer (and ESPN live video tech). Rocky really likes the look of the PRV's with the aluminum wave guide and was hoping they would handle more bass than advertised. I was skeptical but the result is an amazingly loud, yet small, line array cabinet.
Design Goals:
1 – Line array physics: stackable, with all drivers coupling correctly.
2 – Very small cabinet
3 – Very high power handling
4 – Extremely high SPL for outdoor concert sound
Driver Selection:
4 x PRV Audio 8MR500-PhP-4 8″ Midbass Midrange Woofer 4 Ohm
4 x PRV Audio WG2-230Ti Two D230Ti Compression Drivers & Line Array Waveguide Package
Enclosure Design:
Sealed cabinet tuned to app. 100hz, 8″ mid-bass aligned vertically with speaker edges touching, horns aligned vertically with edges touching. Pole mount or stacking. Designed to be used with separate sub-woofer system to cover low end up to app. 140hz.
Enclosure Assembly:
3/4 plywood for baffle, 1/2 plywood for box. Glued and nailed. Epoxy added to all seams and corners after construction. Parts express HD stacking corners to allow ground stacking.
The next four cabinets will have added fly-supports for hanging.
Crossover Design:
100hz 2nd order high pass for 8″ mid bass speakers for extra protection as this speaker is designed to be bi-amped. Built in high pass capacitor was removed to allow lower bass.
1000hz 2nd order high pass filter used for horns for extra protection only as this speaker is bi-amped.
Tips & Tricks:
The PRV horn drivers are wider than the space I wanted to leave for the mounting screws. I keep the integrity of the cabinet I used a dremel tool to carve out two bowls in the inside mounting rail for the horn at the top of the cabinet. This allowed me to slide each horn into the cabinet and into position. CON: several horns may need to be removed to make a repair.
Conclusion:
This speaker actually out-performs several JBL, RCF and EAW products for indoor use because it is so good at focusing the sound energy on the crowd and not the walls. At 1250 watts RMS per cabinet it also provides enough SPL to keep up with much larger boxes.
About the Designer:
Matt Ristrom is the owner of Colorsound Recording Studio in DeSoto, Kansas. He has performed on guitar in Minneapolis and Kansas City and auditioned for the Red Hot Chilli Peppers in 1993. Matt is also the owner of RF Consulting LLC a company that has been installing cabling and providing IT support for telephone and computer networks since 1999. Matt has been building and designing speakers since the 80's.