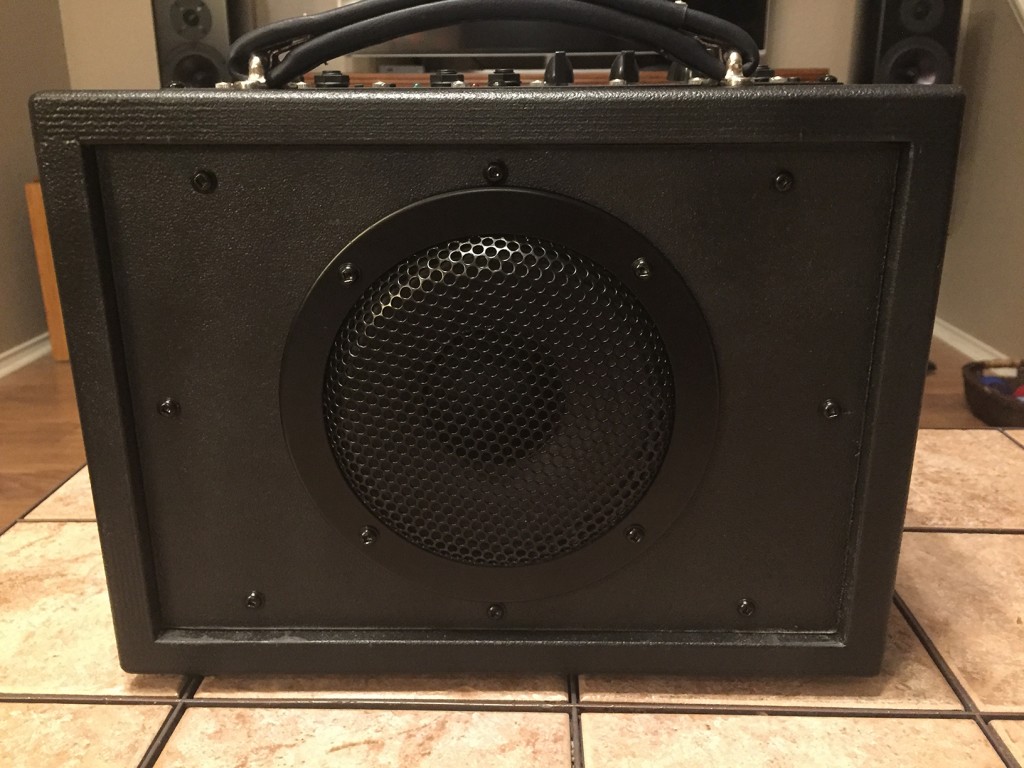 Footnote Amplifier Combo Kit Speaker
---
Designer:
Michael Murray
Project Category:
Guitar and Bass Speakers
Project Level:
Intermediate
Project Time:
8-20 Hours
Project Cost:
Under $100
Project Description:
Built the Footnote Amplifier Combo Kit which included the SKB Footnote Amplifier and Eminence 6 1/2″ Speaker. 18mm Baltic Birch Plywood was used in the build. The finish is Duplicolor Truck Bed Spray Liner. The Back is currently closed but was built with an option to run open depending on the needs.
Design Goals:
Build a very inexpensive Guitar Practice Amp Combo that still sounds very good. The small cheap practice amps out there are built with cheap parts and don't sound very good.
Driver Selection:
Eminence 6-1/2″ Guitar Speaker 20W 4 Ohm PE #299-402
Enclosure Design:
18mm Baltic Birch Plywood on all panels. The Back is currently a closed back design but have also made it with a removable panel. A small panel is then fitted to back to make it an open back design. One side, the bottom, and back panel are lined for absorption of the rear sound wave to keep it from going out through the speaker cone and affecting the midrange frequencies.
Enclosure Assembly:
A Kreg Pocket Hole Jig was used to drill panels and Kreg Pocket Hole Screws were used for assembly. All panels were also glued with Tightbond Wood Glue, Except the Front and Rear Panels which were made to be removable.
Conclusion:
This Guitar Amp Combo turned out to be a very well built and great sounding. The total cost was around $60.00 and even the cheap commercial amps on the market are around the $100.00 dollar mark. This sounds much better than those $100.00 amp combos!
About the Designer:
I am an Electronics Technician in the Semiconductor Industry. I also have worked in a Custom Woodworking/Cabinet Shop during my college days. Avid Woodworker, Speaker Builder, Electronics Geek.
Project Parts List: