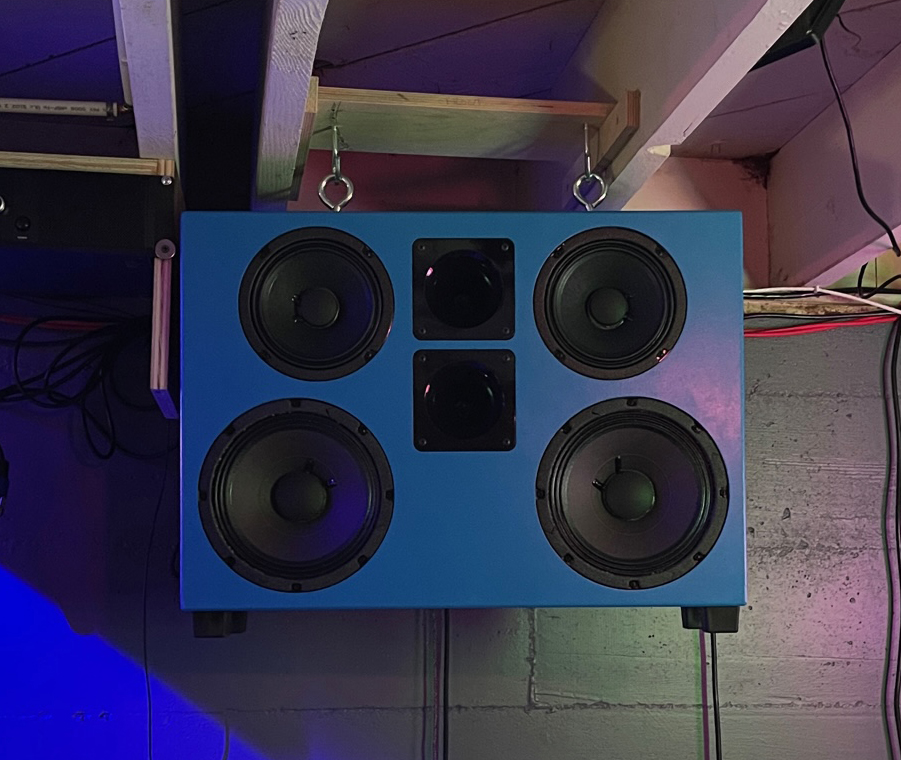 3-way PA cabinets
---
Designer:
 Anonymous



Project Category:
Loudspeakers/Cabinets



Project Level:
Intermediate



Project Time:
20+ Hours



Project Cost:
$500-$1,000
Project Description:
 I needed a pair of PA mains/tops for my basement jam space.


Design Goals:
Self-Powered, DSP programmable, Frequency response of 100Hz – 15kHz, as small as possible with respect to driver choice, affordable materials, sealed enclosure. Inspired by MTM type speakers.
Driver Selection:
For each cabinet: 2x Horns 299-107, 2x 8″ drivers: 290-404, 2x 6.5″ drivers 290-662, 1x KPX programmer 325-139, 1x KABD4100 amp 325-434.
Enclosure Design:
Each of the 6.5″ and 8″ drivers are isolated in their own sealed compartment of the cabinet. The volumes conform to the eminence specifications. The horns are sealed drivers so the power supply and amp could be in the same portion of the cabinet, but also be vented for airflow.
Crossover Design:
The KABD4100, SigmaStudio. All digital.
Tips & Tricks:
 I always recommend that you spend a LOT of time in the design phase. 3d modelling was super helpful in this case.
Conclusion:
This was a challenging design, but I am quite pleased with the results. I went with a nice blue paint reminiscent of vintage JBL speakers. The KABD4100 has an audible noise floor…a hiss through the horns. It's OK for my needs in this space but I probably won't use that amp in the future.

About the Designer:
 I make stuff. Lots of stuff.

Project Parts List:
| | | |
| --- | --- | --- |
| Part # | Description | Qty. |
| 299-107 | 025h27 8ohm Tweeter 150w | 2 |
| 290-404 | Eminence Beta-8A 8″ Midrange/PA Driver | 2 |
| 290-662 | Eminence Beta-6A 6-1/2″ High Power Midbass Midrange Woofer Speaker | 2 |
| 325-139 | Dayton Audio KPX In-Circuit Programmer USB | 1 |
| 325-434 | Dayton Audio KABD-4100 4 x 100W All-in-one Amplifier Board with DSP and Bluetooth 5.0 aptX HD | 1 |