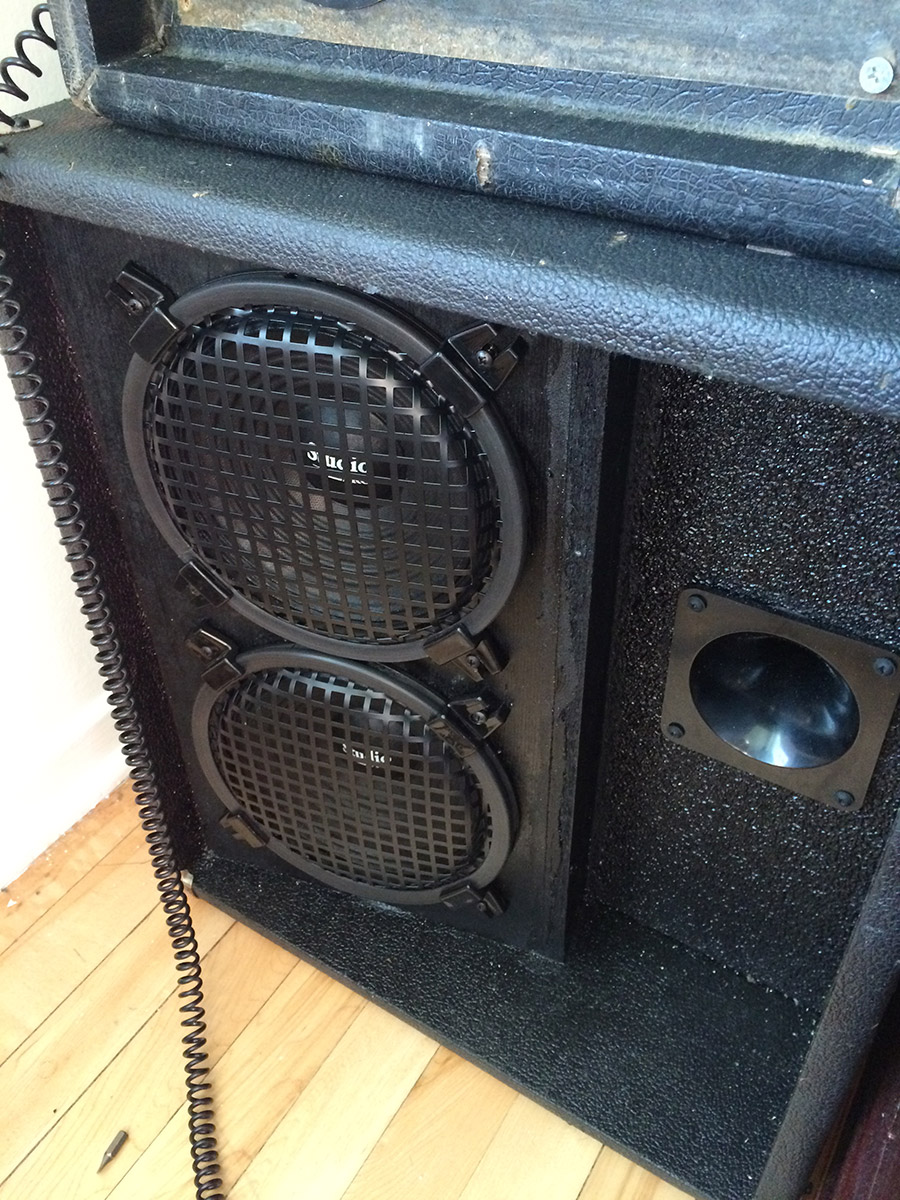 Modified Trainer BW-4 (Black Mambas)
---
Designer: Audio Artist

Project Time: 1-8 hours
Project Complexity: Intermediate
Project Cost: Under $100
Project Description
I bought a set of old school Traynor BW-4 speakers housing two 8″ woofers and a 4″ horn with a 1″ compression driver a while back. The original woofers and horn sounded superb but couldn't handle too much power. (Blew out one of the horns). So, I began thinking to myself, how am I going to upgrade these for professional audio applications?
Design Goals
So, my design goals were straight forward, same with my previous project Budget Bass Cannons, already built enclosures with a complete speaker overhaul. I needed woofers that didn't put moths into my wallet and I needed a popular horn driver that if needed, get replacement diaphragms for in case I push them too hard heehee.
Driver Selection
I selected for the woofers, the Pyramid Studio Pro WH-8 ribbed cone accordion surround woofers, couldn't beat the ten dollar value give or take at a high review rating, so I bought 6 of them at different times. The horns I replaced the originals with are a classic and famous 3.75″ Foster horn tweeter found in some classic brands like Cerwin Vega speakers and others. They are being used on the original crossover network which is just a high pass filter that's crossed over at it sounds good to my ears (Not sure).
Enclosure Design
The enclosure is a rather odd design, for the woofer baffle, it isn't completely sealed, there is a large gap used as a port. I'm slowly getting into enclosure design and vented designs. I tried the Studio Pros vented and they didn't produce any bass or provide any punch and resonated around the 600 Hz range very loudly. So I began trouble shooting and I sealed up the entire cabinet, I ran the tests and I get tons of punch with a bit of carry but they are primarily mid bass and used with a subwoofer which I haven't built yet, (Silly me), completely sealed I get the best sound yet so far until I calculate the actual volume inside the cabinet and compare that to each driver's required enclosure volume using braces and insulation if needed, plus they will soon have a full on 2-way crossover met to the driver's frequency responses.
Enclosure Assembly
Just a small piece of wood cut to plug the original ports on the side of each woofer baffle to make the perfect seal.
Crossover Design
Original high pass filter.
Conclusion
These updated, fresh Traynor BW-4 speakers pound hard and are bi-amplifiable utilizing two 1/4″ input jacks. If you have a set of old Traynor BW-4 or BW-3 speakers, seal them up and use the Studio Pro WH-8 8″ woofers, unbelievable sound quality!
Tips & Tricks
Use gasketing tape, be careful not to bend the baskets while installing woofers with a stamped steel basket, they warp easily, I bent one of my Studio Pros by accident using too thick of gasketing tape… oops.
About the Designer
I have been designing, overhauling speaker systems for 10 years now in car, home and pro audio applications with ear bleeding results of fantastic sound quality, using drivers at very good prices and designing small portable units to over the edge monsters. I've worked with top brands like Peavey, JBL, Cerwin Vega, Yorkville, Eminence, Pioneer, Sony etc.