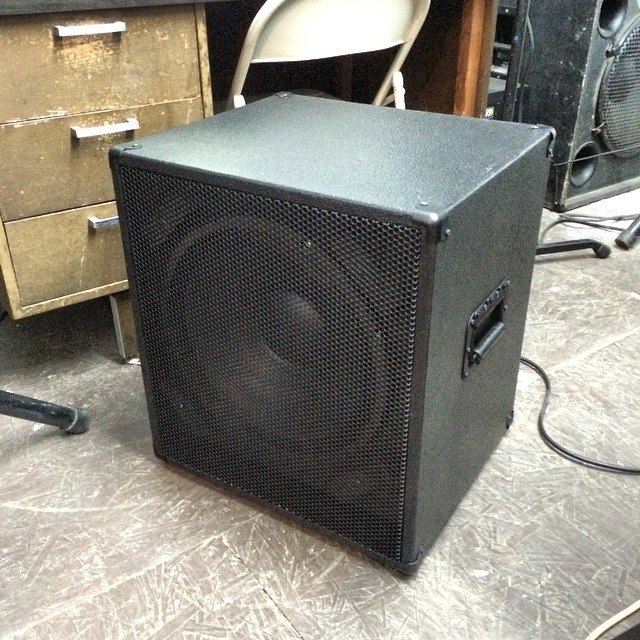 Natural Selection NSC15
---
Designer: Natural Selection
Project Time: 8-20 Hours
Project Complexity: Intermediate
Project Cost: $500-$1000
Project Description
Natural Selection Compact 15" Subwoofer1,000 Watts RMS, 4" Voice Coil, 8 Ohms.
Design Goals
The most bass in the least space. 2 of these subwoofers provide the low end for a PA Sound System that needs to be transported in a mid-size car.
Driver Selection
Dayton Audio PA385S-8 15″ Pro Subwoofer 4″ VC 8 Ohm
Part # 295-040
Enclosure Design
A vented enclosure was chosen to maximize loudness.
•The vent needs to be tuned at a certain frequency, and the lower that frequency, the bigger the enclosure needsto be.
•The lower the frequency of a sound, the more energy required to reproduce it from an amplifier. The human ear's lowest audible frequency is 30 Hz.
•A relatively high frequency of 37 Hz was chosen to keep the enclosure smaller, not surpass the mechanical limits of the chosen woofer, and put more of the amplifier's energy into loudness.
•Freeware WinISD was used to calculate the volume, andport dimensions.
Conclusion
The subwoofer is loud, yet still compact. It's been used both indoors and outdoors, and performs flawlessly.
About the Designer
Dave Clayton runs a small event DJing business in Chico, CA, and also runs the larger sound system for Idea Fab Lab events.
Project Parts List
| | | |
| --- | --- | --- |
| Part # | Description | Qty |
| 295-040 | | 2 |