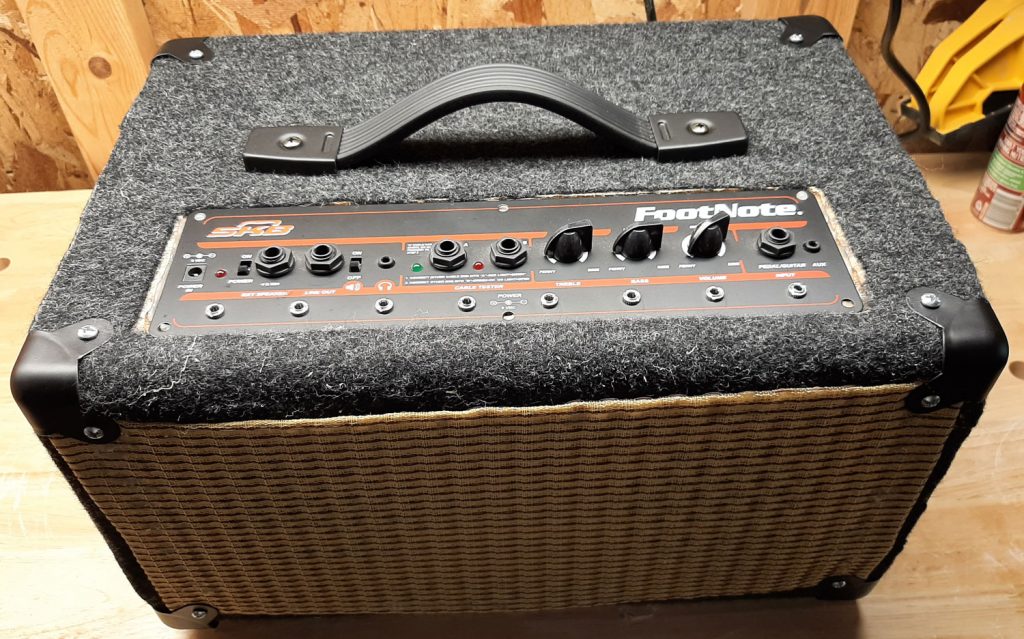 practice amp
---
Designer:
David Secord
Project Category:
Subwoofers
Project Level:
Intermediate
Project Time:
1-8 Hours
Project Cost:
$100 – $500
Project Description:
Dayton Audio 6-1/2″ Down Firing Active Mini Subwoofer Kit with 2.1 Channel Amplifier. MDS construction covered in African Mahogany veneer. Finished with clear polyurethane.
Design Goals:
Small footprint but good looking and good sounding.
Driver Selection:
Dayton Audio DCS165-4 6-1/2″ subwoofer
Enclosure Design:
Part # 300-7161 enclosure as knock down.
Enclosure Assembly:
Combination of Wood glue and banding to not only hold it stable, but wrap the veneer around the corners once that was applied.
Crossover Design:
Lepai LP210PA
Tips & Tricks:
I prefer not using adhesive-backed laminate veneer. Not only does the adhesive give up under the influence of finishes such as polyurethane but it is very thin and only allows a little bit of sanding. A full-thickness veneer is adhesed by contact adhesive and is much thicker and forgiving of sanding efforts. This cabinet necessitates covering a round corner. The only good way to do this is to slowly put the veneer around the edges after applying the contact adhesive and using large bands to move it to the corners and keep it there until the adhesive has set.
Conclusion:
MDF is a nice material with which to work, as it is readily affordable and available. It doesn't take a finish, however and needs to have a laminate or veneer. Once together, the subwoofer is a nice addition to the line out on my Bose clock radio.
About the Designer:
Currently seeing patients in mid-Wisconsin, but will be returning to the Valley of Texas, near the coast by late Spring.
Project Parts List: