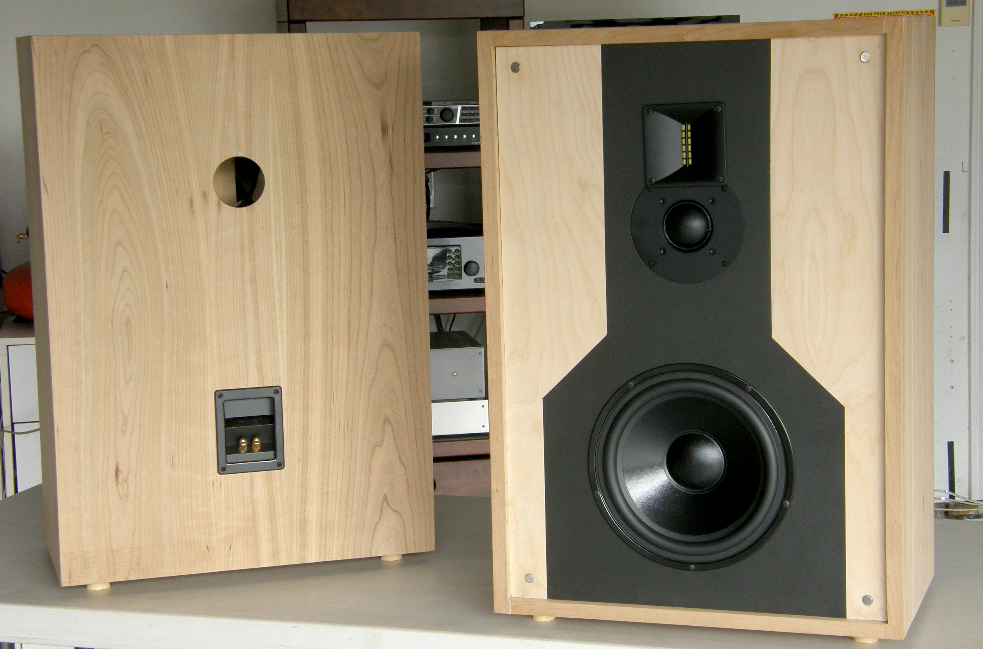 The Vintages
---
Designer:
hongrn
Project Category:
Loudspeakers/Cabinets
Project Level:
Advanced
Project Time:
20+ Hours
Project Cost:
$100 – $500
Project Description:
The Vintages are a 3-way design using the Dayton Designer Series DS270-8 10" woofer, the Dayton DC50FA-8 closed back midrange, and the Beston RTA002A ribbon tweeter.
Design Goals:
Remember the speakers of the seventies? Remember those monkey coffins? My overall goal is to replicate the same design approach – wide baffle, recessed grill – using drivers that seldom appear in DIY projects on the Tech Talk Forum.
Driver Selection:
1. I selected the Designer Series woofers due to their good looks, small box requirement, good excursion and therefore good value.
2. The DC50FA midrange, re-designed a while back, seemed forgotten as I don't see many designs using this driver, except for Paul Carmody's Classic Revival. The published frequency response is fairly flat, with a SPL of 89dB, closely matching that of the woofers.
3. The Beston RT002A is intriguing to say the least, a ribbon tweeter in a waveguide that only costs $42.
Enclosure Design:
Box was modeled in BassBox, tuned at 28Hz with a F3 of 30Hz. Box Volume is 3.3 cu.ft, external dimensions are 30" H X 21" W X 12" D, and Vent dimensions are 2.75" in diameter by 4" long.
Enclosure Assembly:
Nothing difficult to report as this is a box comprised of flat pieces of ¾" MDF assembled together and braced using Titebond wood glue. The vent is Home Depot black plastic plumbing pipe. For the grill, I glued and stapled grill cloth over a ½" MDF frame. Half inch neodymium magnets (also Home Depot) are used to keep the grills in place. Real cherry veneer was used to cover all MDF surfaces. The baffle is ¾" birch plywood reinforced with ½" MDF, so the total thickness is 1.25". The black part of the baffle was masked with Frog Tape, sprayed with gray primer, sanded, then finished with several coats of black "hammered" Rust-Oleum.
Crossover Design:
All measurements were made with the drivers mounted in box, with a calibrated mic positioned 1 meter away, on-axis with the tweeter. I use FRD Response Blender, WinPCD, PCD and ARTA to design and measure. ZMA files were generated using DATS, and FRD files using ARTA. Driver acoustic offsets were determined using WinPCD.
Crossover points are 600Hz/4,000Hz. I used a 2nd order electrical on the woofer, 3rd order on the tweeter, 3rd on the mid's high pass, and 2nd on the mid's low pass. This resulted in a 2nd order Butterworth on the woofer, 4th order BW on both the tweeter and midrange. Mostly inexpensive crossover components were used, including I-Core inductors to keep DCR low.
Frequency response is flat within +/-2.5dB, while phase tracking is more than satisfactory. Impedance drops to only 4.15 ohms between 2 and 3KHz, so these speakers shouldn't stress any amplifiers out there. Off-axis response is remarkable, as very little drop off was measured when one moves away from the center. Even at 45 degrees, the tweeter's waveguide did its job nicely.
Tips & Tricks:
1. Because of the total number of crossover components (13), I elected to put them on 2 different boards to minimize wiring errors.
2. If you have access to measuring gear, such as DATS, hook up your drivers and perform a quick impedance sweep after wiring the crossover to identify any errors.
Conclusion:
This was one of my most satisfying projects. 3-ways are so much more complex to model, and this one is no exception. I virtually spent two weeks in front of the computer screen trying to coax these drivers for the optimum crossover points, the flattest frequency response they will allow, adequate phase tracking, and an impedance that won't clip any amplifier. After 9 versions of the crossover, everything came together in a very good sounding package: the sound is crisp and detailed without any harshness, with an amazingly wide soundstage. Whether the track is instrumental or vocal, the mid comes through cleanly and competently. Bass is loud and clean, and the waveguide ribbon tweeter really shines. When implemented correctly, these high value drivers can more than deliver and keep up with high resolution digitally mastered tracks. I kept saying to myself that one of these days, I'd have to build a "cost is no object" system us ing some of the most expensive drivers out there. Cross that off my bucket list…
About the Designer:
Hong Nguyen is a registered nurse by training, and is currently employed by a healthcare company specializing in the management of ambulatory surgery centers. He was a member of the 2016 Speaker Building Design Team.
Project Parts List: