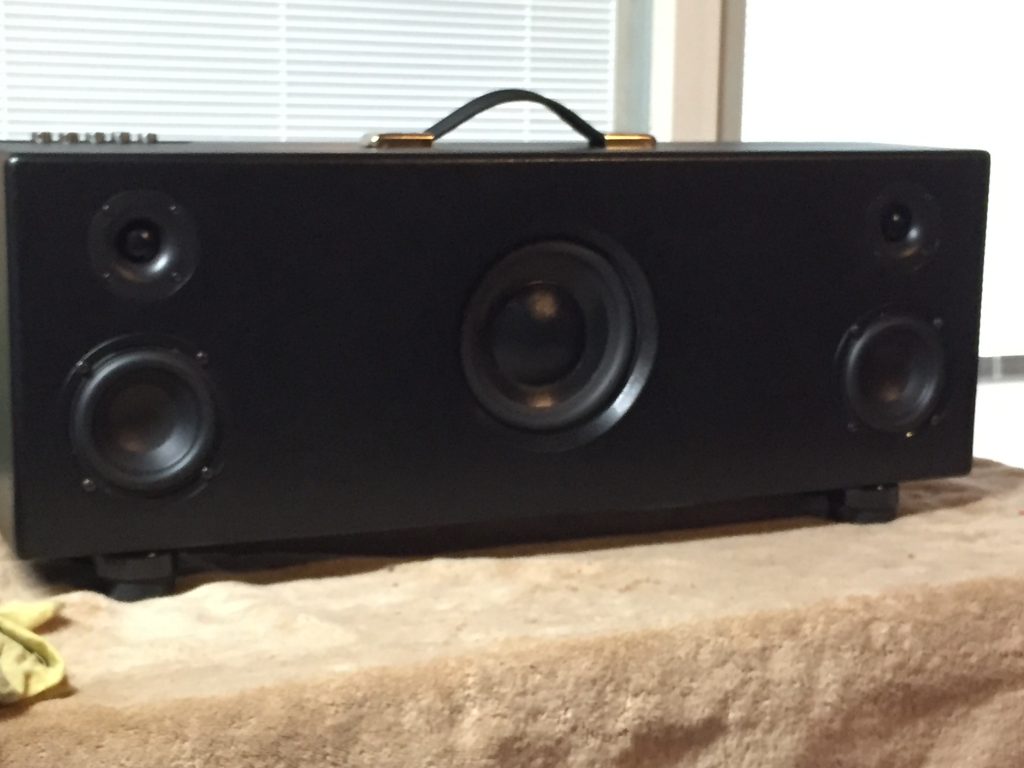 2.1 Bluetooth speaker with 6.5" Subwoofer
---
Designer:
radishmcadish
Project Category:
Portable Speakers
Project Level:
Beginner
Project Time:
20+ Hours
Project Cost:
$100 – $500
Project Description:
2.1 Bluetooth speaker with 6.5" Subwoofer.
Design Goals:
This is my first speaker build hence the 20+ hour build time! I wanted a large portable system that I really couldn't find on the market. This turned out better than my expectations mainly due to the quality components available at Parts Express. The sound from the highs thru the lower mid range is amazing. The low end could be better. I wasn't experienced enough to try a ported encloser. I ended up making it sealed and a bit bigger than recommended specs. Bass is good down to about 75htz below that it suffers a bit, but the volume and frequency of the sub can be adjusted to make it sound pretty darn good. I'm experimenting with ports and my possibly add one to this box.
Driver Selection:
1ea – #295-198 Dayton DCS165-4 Classic Subwoofer
2ea – #295-415 Dayton TCP115-4 Midbass Woofer
2ea – #264-1390 Peerless BC25SC08-04 1″ silk/w waveguide
1ea – 325-212 LBB-5v2 Battery board and #325-142 led light kit
#090-5012 DC jack
#060-924 Rocker switch
Amazon 2.1 TDA7498E high power amp board ZK-HT21
Enclosure Design:
Overall dimensions – 29.5″x7″x10.25″
Sub section 16″x7″x10.25″ about .33 cubes sealed w/3/4 sonic barrier on all surfaces
Stereo section each .06 cubes sealed Stuffed with polyfill
Enclosure Assembly:
Used 3/4″ MDF for the four sides front baffle and internal baffles. I went with 1/2″ MDF for the back to save some weight. The mid and tweeters are flush mount and woofer inside mount chamfered. The box is painted with Hurculiner bed liner spray can.
Crossover Design:
2 way 3500hz 12db for the mids and tweeters
The woofer is controlled by the amp from 200hz on down with volume control.
Tips & Tricks:
Always use a router counterclockwise with the piece on the right pulling it towards you. I learned the hard way.
Conclusion:
All in all, I'm very happy with how this turned out. It sounds really good and could be much better with a port on the sub and maybe a bit more volume. I will leave it as is for now as I'm already pushing the woofer too hard, so I don't know if I want to lower the power handling.
About the Designer:
I'm a noobie speaker builder just getting started with lots to learn and build. I've always been into HiFi in home and auto. This is really rewarding, and I will be building a lot more.
Project Parts List:
| | | |
| --- | --- | --- |
| Part # | Description | Qty |
| 295-198 | Dayton Audio DCS165-4 6-1/2″ Classic Subwoofer 4 Ohm | 1 |
| 295-415 | Dayton Audio TCP115-4 4″ Treated Paper Cone Midbass Woofer 4 Ohm | 1 |
| 264-1390 | Peerless by Tymphany BC25SC08-04 1″ Silk Dome Neodymium Tweeter with Waveguide 4 Ohm | 1 |
| 325-212 | Dayton Audio LBB-5v2 5 x 26650 Lithium Battery Charger Board/Module 21V with Charge Protection | 1 |
| 325-142 | Dayton Audio LBB-5CL DC Charging Power Cables and LED Light Kit for LBB-3v2 / LBB-5 / LBB-5S Battery Board | 1 |
| 090-5012 | 2.1mm Panel Mount DC Barrel Power Jack | 1 |
| 060-924 | NTE 54-645 SPST Round Hole Square Bezel Illuminated Rocker Switch with Red LED | 1 |