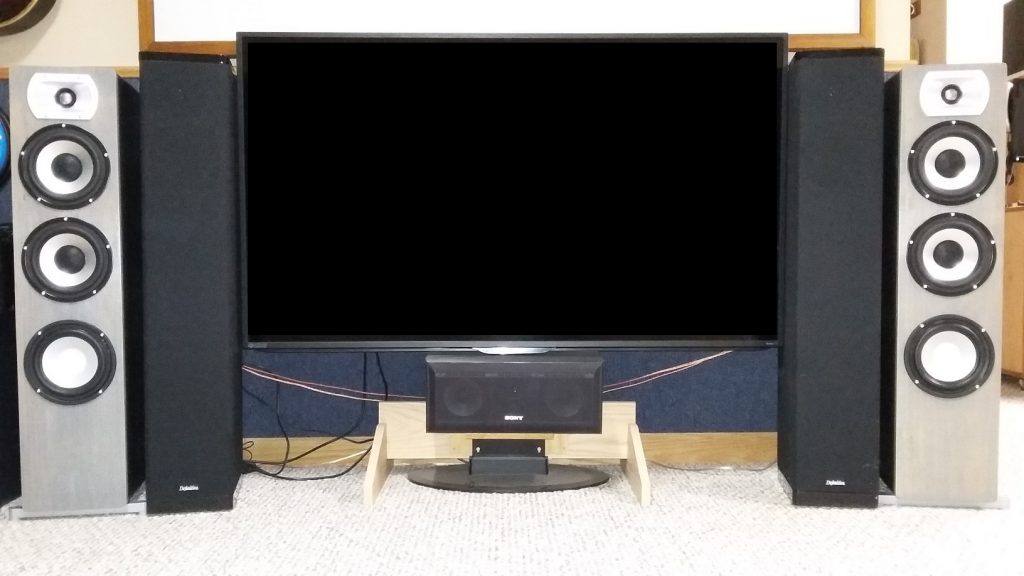 2 Way Towers With Built-In Subwoofers
---
Designer:
Jim O
Project Category:
Tower Speakers
Project Level:
Intermediate
Project Time:
8-20 Hours
Project Cost:
$500 – $1,000
Project Description:
2 way towers with active subwoofer incorporated.
Design Goals:
To build a small fairly low cost, but potent 2 way speaker system with subwoofer assist.
Driver Selection:
Dayton Audio NHP25Ti-4 1″ Titanium Dome High Power Neodymium Tweeter 4 Ohm 275-109
Goldwood GW-S650/8 6-1/2″ Poly Cone Woofer 8 Ohm 290-309
Dayton Audio DA175-8 7″ Aluminum Cone Woofer 295-335
Enclosure Design:
Bass reflex towers with rear slotted ports for upper section 2 way drivers and for the lower subwoofer section.
Enclosure Assembly:
The enclosure consists of 3/4″ MDF with a poplar front baffle.
Crossover Design:
2 way crossover designed using XSIM and PE parts.
Tips & Tricks:
I have found it works best to cut the front baffle a little larger than the front of the box and use a edge trim bit with a router to clean up. That way the front baffle fits the box perfectly. You can round-over upper and lower side corners as desired up to 3/4″ radius. I used a 3/8″ radius round-over bit for this build.
Conclusion:
Both upper and lower section boxes are tuned to 35 Hz and with no eq have a wide frequency response with very respectable low end.
About the Designer:
I am a retired aircraft composite tool builder and now an amateur speaker designer/builder hobbyist for my home stereos.
Project Parts List:
Other Items Used:
4 X 8 MDF sheet
1 X 10 poplar board
Pre-stain for poly urethane, poly urethane stain, poly urethane clear coat and black exterior latex paint
Polyfill
Outboard subwoofer amp driven with stereo amp high level out