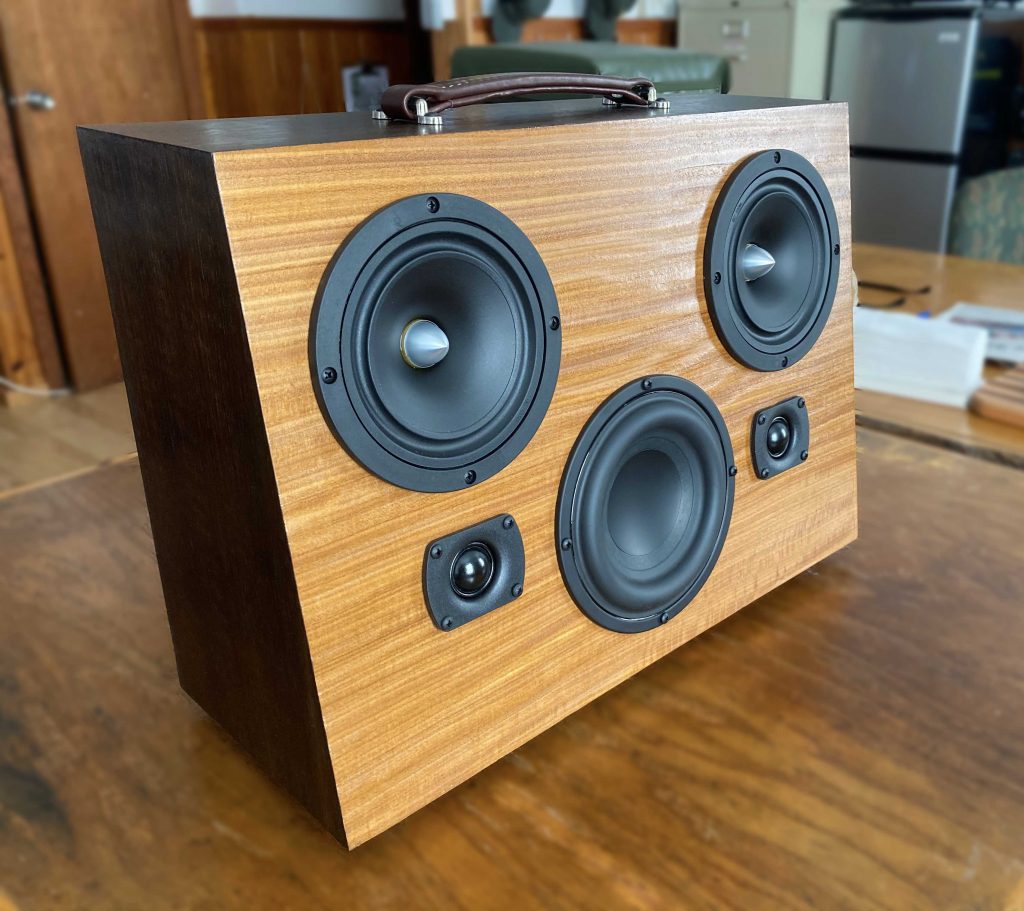 200W Boom Box Version 2
---
Designer:
200W Boom Box V2
Project Category:
Portable Speakers
Project Level:
Intermediate
Project Time:
8-20 Hours
Project Cost:
$100 – $500
Project Description:
200 W boom box Version 2
Design Goals:
After building the stock 200 W boom box I wanted to upgrade a few drivers, battery module, and use a cabinet that I had sitting around.
Driver Selection:
Tang Band W6-1139SIF 6-1/2″ Paper Cone Subwoofer Speaker
Part # 264-919
Dayton Audio PS95-8 3-1/2″ Point Source Full Range Driver 8 Ohm Part # 295-349
Enclosure Design:
This was actually a repurposed wedge cabinet that I purchased for $5. MDS construction but solid.
Enclosure Assembly:
Repurposed cabinet. I think it was originally created as a turntable platform.
Crossover Design:fi›
Same as stock boom box
›
Conclusion:
Stayed pretty close to stock boom box instructions. Very pleased with results. I think the veneer step makes a big difference.
About the Designer:
Beginner-intermediate level.
Project Parts List:
| | | |
| --- | --- | --- |
| Part # | Description | Qty |
| 264-919 | Tang Band W6-1139SIF 6-1/2″ Paper Cone Subwoofer Speaker | 1 |
| 295-349 | Dayton Audio PS95-8 3-1/2″ Point Source Full Range Driver 8 Ohm | 1 |
| 325-207 | 21V Output Power/26650 Battery Charger Bundle | 1 |
| 295-549 | Dayton Audio DSA215-PR 8″ Designer Series Aluminum Cone Passive Radiator | 1 |