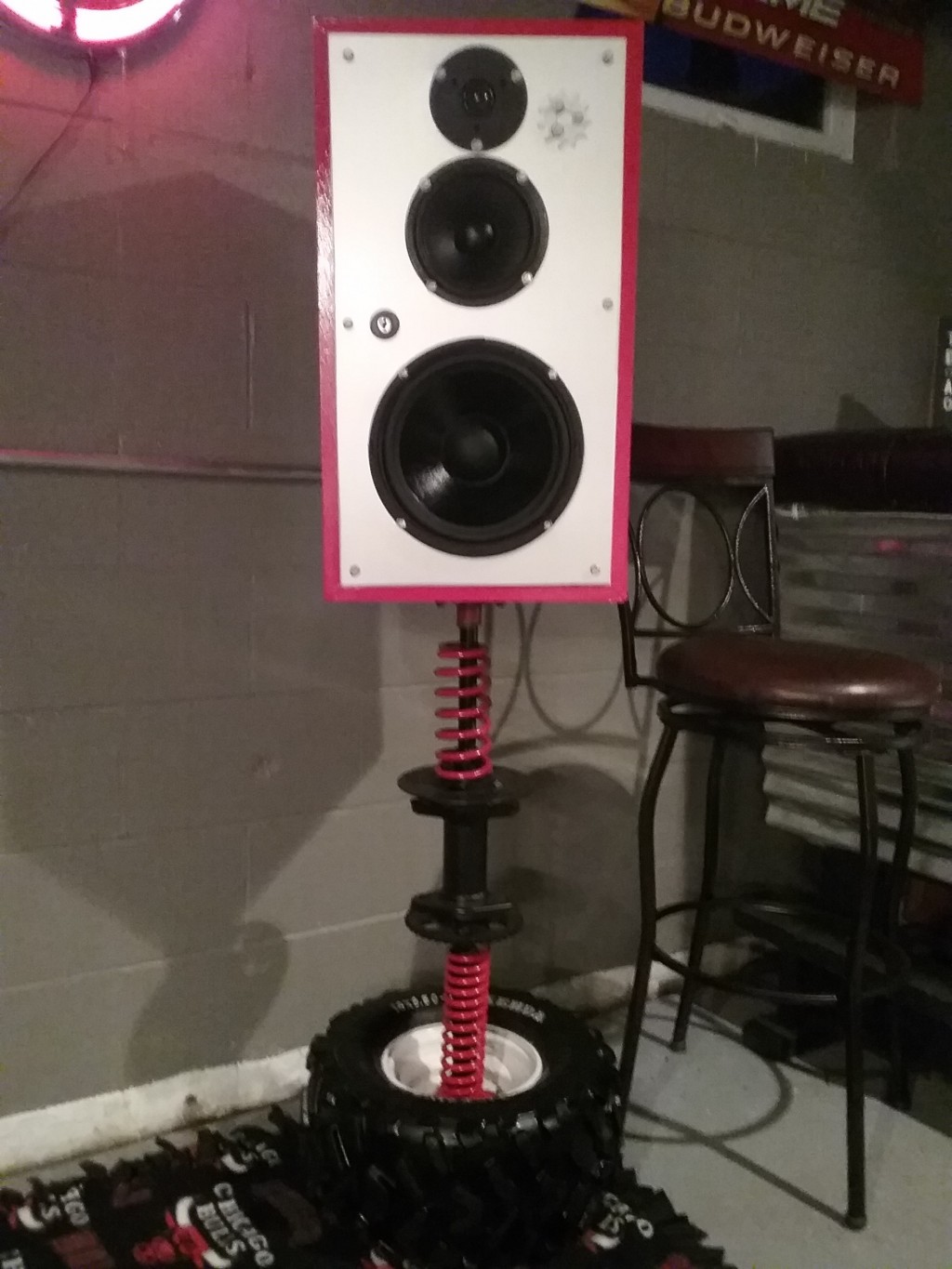 Outside the box
---
Designer:
Trash into treasure
Project Category:
Freestyle Speakers
Project Level:
Beginner
Project Time:
8-20 Hours
Project Cost:
$100 – $500
Project Description:
I found my speaker boxes in my child good barn, and the atv axles from my wife's friends mini atvs.
Design Goals:
I wanted to be creative but stay true to my self, I love the Chicago bulls and also love music and have always been a wanna be gear monkey. So wanted to incorporate all these things and stay on budget
Driver Selection:
DC250-8 10″ classic part # 295 315 from Dayton audio, 1 1/8 " silk dome tweeters from Dayton audio and 6 1/2 " I had previously purchased
Enclosure Design:
I used expand a foam around all the edges on the inside of the box, I used insulation also, for the paint I used an oil based paint and for the aluminum covers I used sky scrapper window parts. The rear ends for the stands were from mini atv along with springs, the stickers I actually printed at a previous job
Crossover Design:
I used the original cross over design that was in the boxes to begin with.
Tips & Tricks:
Use oil based paint and think outside the box, you don't need a lot of money to be creative and make something ure own in ure own way.
Conclusion:
Really loved watching all the pieces come to life, and I enjoyed using things that others see past. Sounds are perfect for my listening pleasure really matched up well.
About the Designer:
I am from a great city in Merrill, so grew up on a beef farm have a wonderful wife and a little dog named Boomer. I love bass and clear sound for my movies and music. My mom always said i could turn a elephant ear into a purse lol
Project Parts List: