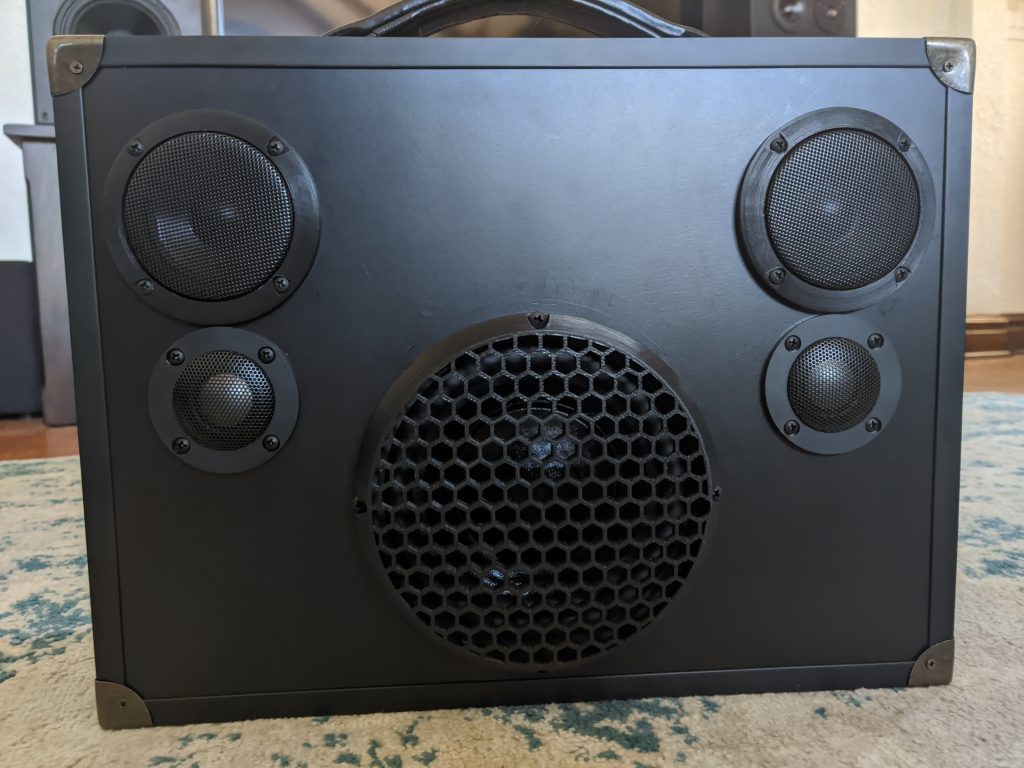 Blast Box 200 Watt Portable Bluetooth Speaker Kit
---
Designer:
dubbc553
Project Category:
Portable Speakers
Project Level:
Intermediate
Project Time:
8-20 Hours
Project Cost:
$100 – $500
Project Description:
Ruggedized Blast Box
Design Goals:
Utilize custom components and make a portable system that can be used to traveling. Able to be tossed around a bit without worry.
Driver Selection:
Drivers from the Blast Box kit:
https://www.parts-express.com/Blast-Box-200-Watt-Portable-Bluetooth-Speaker-Kit-300-7162
Other Parts:
For the 3-inch drivers, I purchased these for the mesh part of the grill. Then designed the outer plastic ring to be perfectly flush:
https://www.amazon.com/gp/product/B07S8ZV4MY/ref=ppx_yo_dt_b_asin_title_o06_s00?ie=UTF8&psc=1
These are the edge protectors I used: https://www.amazon.com/gp/product/B07MM6J8RR/ref=ppx_yo_dt_b_asin_title_o00_s00?ie=UTF8&psc=1
This is the adhesive I used for the edge protectors:
https://www.amazon.com/gp/product/B077QMLM7C/ref=ppx_yo_dt_b_asin_title_o08_s00?ie=UTF8&psc=1
Enclosure Assembly:
I used a block plane to smooth the joints. After sanding, I did two coats of spray poly to seal the box, then used Rust-oleum 2x Ultra Cover Utlra Matte Black spray paint. Sand in between poly layers with an orbital sander, and use steel wool between dried layers of the spray paint to ensure the finish is smooth with no swirls or imperfections.
Crossover Design:
Crossover PCB from mtg-90 on eBay:
https://www.ebay.com/itm/Pair-of-Crossover-PCBs-for-the-Blast-Box-DIY-Bluetooth-Speaker-Kit-PCB-Kit/283997254236?hash=item421f8e325c:g:odkAAOSwVexfTvJ9
Tips & Tricks:
If you have a 3d printer, you can print the speaker grill components in PLA+ or most other tougher materials. I have uploaded them to Thingiverse and they are free to download. Will post links soon, but they can be found by searching "Blast Box".
https://www.thingiverse.com/thing:4825264
https://www.thingiverse.com/thing:4824922
https://www.thingiverse.com/thing:4824917
Conclusion:
This was a very fun project. It was partially inspired from some other builds on here, but I added some of my own twists. I designed the speaker grills for the 3-inch drivers, the subwoofer, and passive radiator. I searched forever to find the best options, but nothing seemed to fit as well as I'd like, so I designed my own speaker grills that can be 3d printed.
About the Designer:
Engineer who likes to tinker with technology, woodworking, electronics, and additive manufacturing.
Project Parts List:
| | | |
| --- | --- | --- |
| Part # | Description | Qty |
| 300-7162 | Blast Box 200 Watt Portable Bluetooth Speaker Kit | 1 |
| 262-302 | Penn-Elcom H1008 Black Leather-Look Strap Handle 8.57″ Long | 1 |