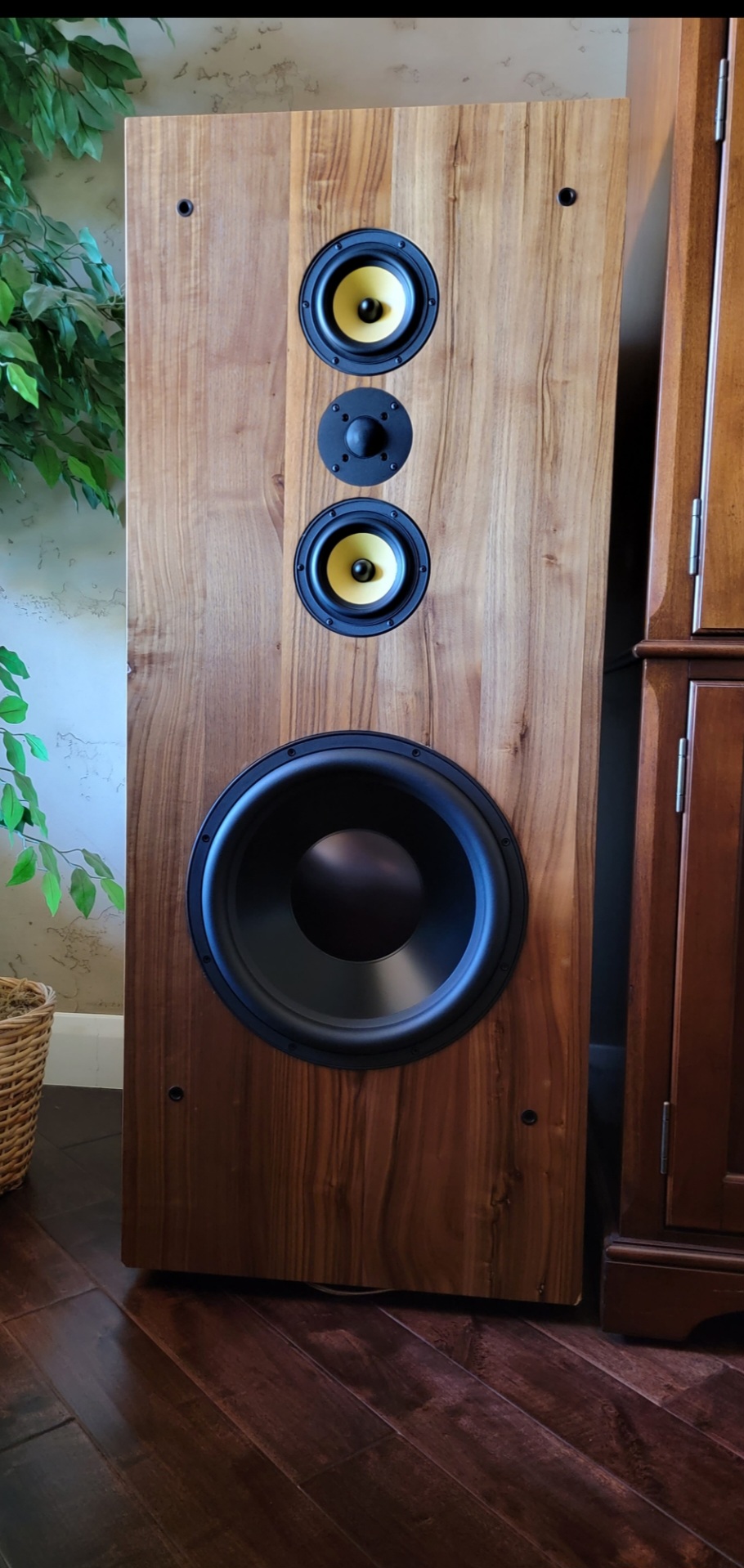 90dB Audio Onyx 1
---
Dave Dickson
Project Category:
Tower Speakers

Project Level

Advanced
Project Time:
20+ Hours

Project Cost:
Over $1,000
Project Description:
A BIG tower reminiscent of vintage audio speakers such as Klipsch and JBL, utilizing modern no compromise drivers and crossover components, housed in beautiful real wood walnut veneer cabinets.
Design Goals:
From the beginning, this project was meant to bring back the vintage look and feel of the beautiful speakers of the 1970s and 1980s. I remember going to dedicated audio stores that had high end audio equipment that you rarely see today. If you do see it, it requires an enormous investment to acquire, often well above 15K.
Driver Selection:
I wanted excellent drivers, but within reason. I found Dayton to be a perfect fit for many of the drivers.The drivers are as follows:
Dayton RSS390HF 15″ subwoofer
Dayton RST28F 1 1/8 fabric Dome tweeter
Hi Vi Research F5 midrange
Enclosure Design
The enclosure was designed around the magnificent Dayton RSS390HF subwoofer. I wanted maximum bass extention to hit the lowest octaves. The enclosure measures 52″H x 21″W x 20″ D. It features dual 4″ rear firing Precision Ports tuned to 19 Hz. The front baffle is two laminated MDF panels totaling 1.5″ thick. The enclosure is cross braced at multiple points, with extensive blocking and reinforcement internally. Each speaker weighs 241 pounds.
Crossover Design:
The crossover is a custom 3-way design 12db/Octave with crossover points at 2800 Hz and 200 Hz. Utilizing high-end inductors, coils and poly caps, mostly from Parts Express. 4 ohm impedance.
Tips & Tricks:
N/A
Conclusion:
I am very pleased with the Onyx 1 project. It is an intensely musical speaker with a wide and smooth frequency response. The highs are very transparent and open, but never harsh. The dual Hi Vi Research F5s in a D' Appolito array within a separate internal sealed enclosure don't disappoint. I feel the F5 is one of the finest speakers made. The Dayton RSS390HF is amazing. It reaches extremely low, but never muddy or booming. It is tight, refined and powerful. It is power hungry, and needs a separate amp (biamp speaker terminals) to make it sing. I would recommendat at least a 300 watt per channel separate amp.
About the Designer:
My first speaker design was 45 years ago in a Junior high school wood shop using Radio Shack drivers. It wasn't beautiful, but sounded better than the speakers that came with my Zenith all in one. There have been many projects in between that and the Onyx 1. It is extremely satisfying to design and build a speaker that outperforms anything anywhere near it's price point.
II hold a BA in business finance from the University of Utah with a minor in physics. I have designed and built many electronic projects through the years, but nothing as satisfying as high-end speakers.
Project Parts List:
| | | |
| --- | --- | --- |
| Part # | Description | Qty. |
| 295-468 | Dayton Audio RSS390HF 15″  | 2 |
| 275-141 | Dayton Audio RST28F 1 1/8 fabric Dome tweeter | 2 |
| 297-435 | Hi Vi Research F5 midrange | 4 |