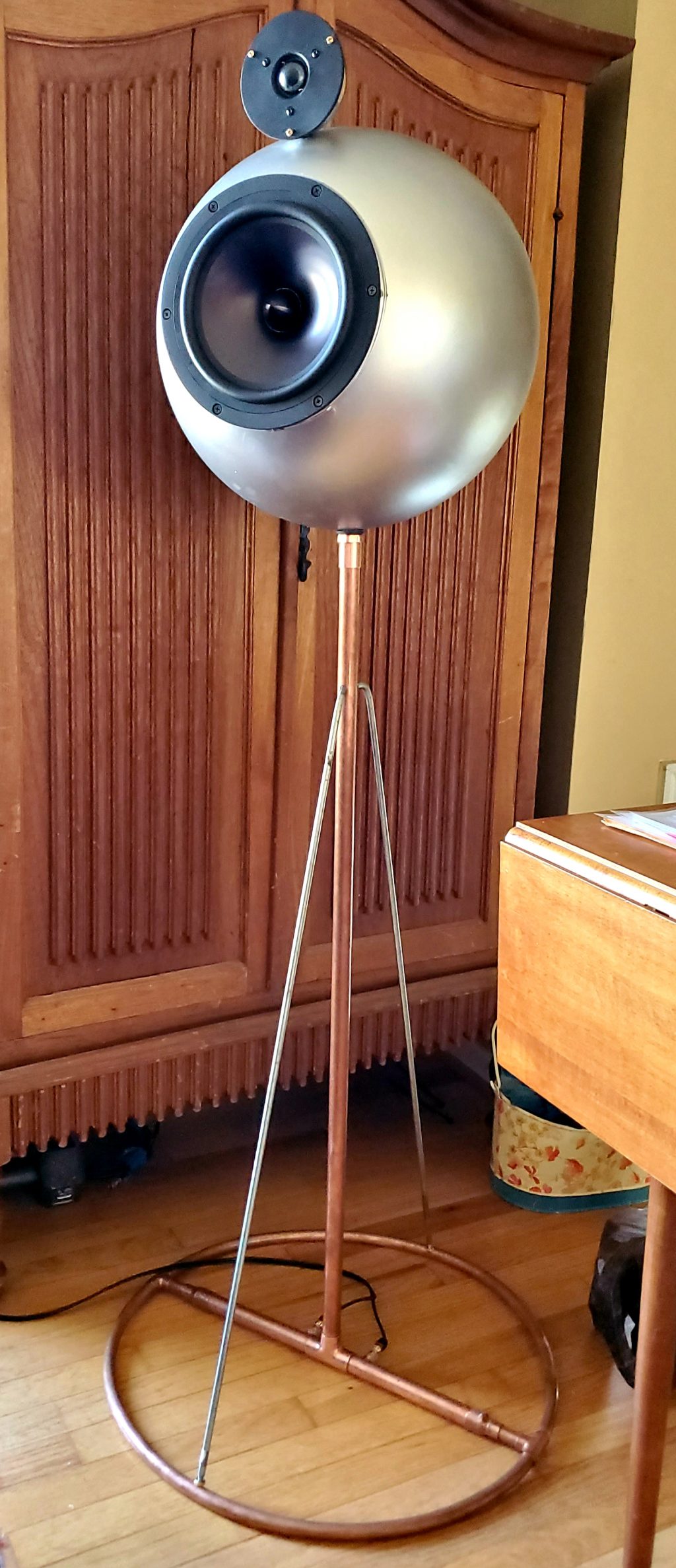 Acoustic Spheres
---
Designer:
Acoustic Spheres
Project Category:
Freestyle Speakers
Project Level:
Beginner
Project Time:
8-20 Hours
Project Cost:
$100 – $500
Project Description:
How to replace the Bozak LS-200s my dad bought for me in 1979?
To do them justice, I mimicked the one woofer and tweeter layout.
But, I'd heard that a sphere is acoustically best. So, I bought 24″ white acrylic globes with an 8″ opening. I thought they should be elevated, so I worked with copper pipe to make an industrial, functional base on a circe of copper pipe to echo the sphere.
Design Goals:
Unique design using spherical enclosures.
Elevated cabinets to enhance listening
Aluminum cone woofers (nod to Bozak)
Quality sound
Driver Selection:
Dayton Audio DC28F-8 1-1/8″ Silk Dome Tweeter
Dayton Audio RS225-8 8″ Reference Woofer
Enclosure Design:
24″ Acrylic lighting globe with 8″ opening for woofers
110 mm polished steel hemispheres for tweeters
Enclosure Assembly:
Lined acrylic globes with fiberglass bondo for strength.
Drilled holes for fittings to mount base and tweeter enclosures.
Glued 3/4″ quilting filler padding inside enclosures for insulation.
Low voltage lighting wire used to connect drivers and banana plugs at the base of the stands.
Crossover Design:
Dayton Audio XO2W-2K 2-Way Speaker Crossover 2,000 Hz
Tim at Dayton Audio helped me pick out tweeters and crossovers to match the aluminum cone woofers I picked out.
Tips & Tricks:
I put concrete at the back of the spheres to set the wooden plate where the crossovers are fastened. The concrete helps balance the weight of the drivers.
Made sure to reinforce the opening in the globe. the acrylic globe material was thin and fragile!
Conclusion:
I'm pleased with how the speakers sound and look!
I thought about a ported speaker design, but abandoned the idea.
I rounded out the sound with a Dayton Audio SUB-800 8″ 80 Watt Powered Subwoofer
About the Designer:
58 year old desk jockey who prefers to work with his hands.
Project Parts List: