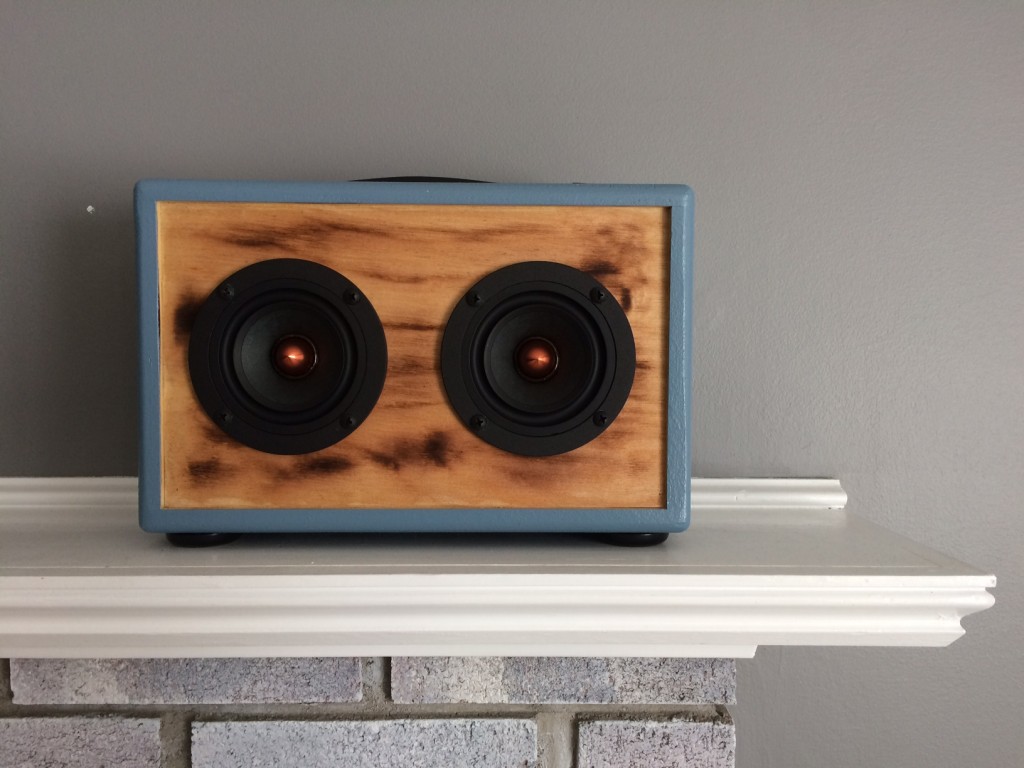 Alfresco
---
Designer:
Kev
Project Category:
Portable Speakers
Project Level:
Intermediate
Project Time:
1-8 Hours
Project Cost:
$100 – $500
Project Description:
The Alfresco is a portable Bluetooth speaker.
Design Goals:
The goal was to design a portable Bluetooth speaker with a clean look, long battery life and be capable of playing at full volume with little distortion.
Driver Selection:
(2) Dayton Audio PS95-8 3-1/2″ Point Source Full Range Driver 8 Ohm
Enclosure Design:
The box is .18 Ft3 and has (1) 1.5" diameter, 4" long Port.
Enclosure Assembly:
Nothing fancy with the box. All pieces were glued and brad nailed. Threaded inserts were used on the back so it could be removed to swap parts out as needed.
The board is powered by a 12V 6800mah lithium Ion battery. They come is a small plastic box with an on/off switch. I removed the battery from the package to reduce the overall size and also repurposed the switch to turn the board on and off. The battery packs come with a wall charger so all that was needed was adding a 2.5mm panel mount jack on the back.
Crossover Design:
1 non-polarized electrolytic 330uF capacitor inline on each positive speaker terminal.
Conclusion:
Very pleased with the overall look and sound. Music is detailed with some warmth in the mid range. It does lack some low end but at full volume I can still listen to most songs without hitting the mechanical limits of these speakers.
About the Designer:
I have enjoyed wood working since I was a kid. Time to take it to the next level by integrating speakers and electronics.
Project Parts List: